December 19, 2022
Riley Collier makes history for OCM BOCES with SkillsUSA bronze at national championships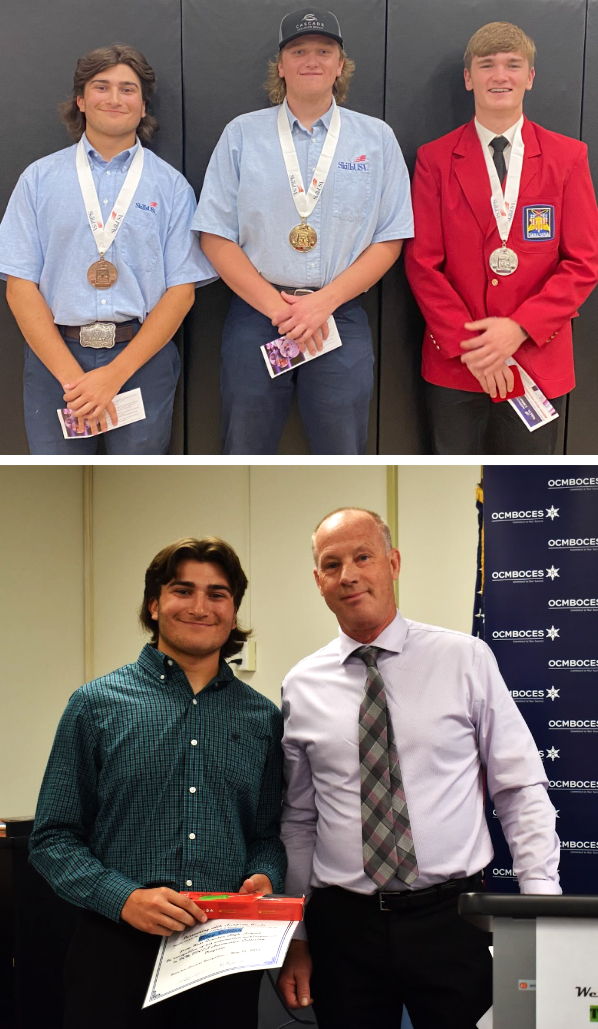 Riley Collier mentally shakes his head when he thinks about two years ago, when he had no idea SkillsUSA existed.
Today, his third-place finish in the national SkillsUSA competition has transformed his life. It put OCM BOCES on the map. No student in the 74-year history of OCM BOCES has landed among the top three winners at nationals, where state SkillsUSA champions compete against all the other state champions from 50 states plus the Virgin Islands and Puerto Rico. Students are tested on their skills and knowledge related to more than 100 trades and service occupations.
Riley captured the bronze among 51 competitors in the category of Collision Repair Technology. In all, he was among 5,200 students who traveled to Atlanta from June 20-24 to compete in an arena that occupies a space equivalent to 31 football fields. It was an exciting time for Riley, who had just graduated from West Genesee High School.
Riley remembers the competition well: It was long, exhausting and thrilling. Two days of written exams and hands-on work tested his expertise in welding, frame repair, aluminum panel repair, steel panel repair, and plastic repair. Riley was simply happy to be there, assuring himself he would do well if he "just relaxed and practiced" what he learned at BOCES. His goal was to land in the top third among his rivals, an achievement his BOCES Automotive Collision Technology teacher, Matt McGivney, supported.
When the testing was over, Riley remembers feeling satisfied with his performance but nothing beyond that. He sat patiently in the arena while the results were announced for all 107 categories, a process that stretched for hours. When the SkillsUSA organizers finally got to his category, he was stunned to hear his name for a spot at the podium.
"I couldn't believe it," he said. "I was ecstatic."
The outpouring of congratulations was huge.
People were over-the-top excited: McGivney, SkillsUSA advisors Danielle Curtis and Heather Hardke, BOCES teachers and other staff, his classmates, West Genesee teachers and educators, his parents, Mike and Michelle Collier, his family and friends, and just about everyone who knew about his achievement.
Riley received a medal for his third-place finish and other awards, including Snap-on tools and a $10,000 scholarship. That money was in addition to the $5,000 Riley received for his state-championship performance at SkillsUSA in April, plus another $2,000 he received at the regional SkillsUSA competition earlier in the year. In all, the program had awarded Riley $17,000 for tuition in a single year.
Today, Riley is studying at the Marine Mechanic School at the University Technical Institute in Orlando, Fla. He plans to earn a trade degree in marine mechanics technology and an associate's degree in diesel-science principles. Riley is coming home for a week over the holidays, but the program has him attending college year-round until he graduates in October. He is confident he will find a job at a marina; recruiters attend multiple job fairs held at the school.
More about SkillsUSA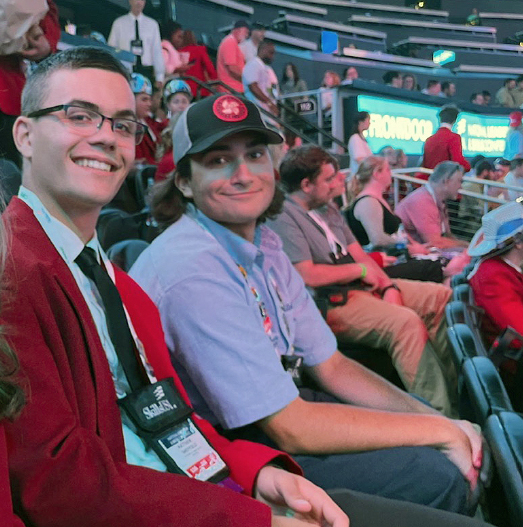 The SkillsUSA Championships are career competition events showcasing the best career and technical education students in the nation. Contests begin locally and continue through the state and national levels.
Through an investment from business and industry partners of approximately $36 million, the event occupies a space equivalent to 41 acres. In 2022, there were more nearly 5,200 contestants in 108 separate events. About 2,000 judges and contest organizers from labor and management made the national event possible.
The philosophy of the championships is to reward students for excellence, to involve industry in directly evaluating student performance, and to keep training relevant to employers' needs.
Last year, Riley Collier of West Genessee, and another student at BOCES, Matt Sheffield of Fabius-Pompey, competed at nationals after winning state championships at SkillsUSA in April. Riley competed at nationals in Collision Repair Technology, and Matt computed in Automotive Service Technology. Both worked exceptionally hard to win their state titles and a chance to compete at nationals. Riley took third at nationals, and Sheffield also performed well, landing in 25th place among state championships from all over the country. (In the photo, Matthew, left, and Riley pose for a picture at the national competition held June 20-24 in Atlanta.)
After the national competition, a magazine called RDN, which stands for "Repairer Driven News," featured this story to note the highly talented students who compete at SkillsUSA and the importance of their work.
Source: https://www.skillsusa.org/competitions/skillsusa-championships/
Riley said he was grateful for everyone who supported him. He was especially thankful for BOCES and for McGivney, who helped him prepare for the national competition. McGivney was instrumental in recruiting Riley to SkillsUSA and helping him secure a pair of three-week internships at Nino's Collision, an automotive body shop in Baldwinsville that later hired him for after-school and summers. The internship in a professional shop also helped prepared Riley for the national championships and his top-three finish.
"I really couldn't have done it without Mr. McGivney," Riley said. "Anything I needed help with, he was always there."
McGivney, in turn, said Riley had what it takes to reach that level of success, including hard work, patience, persistence, and the willingness to "go the extra mile" to prepare.
Before he graduated, Riley had received other accolades outside of SkillsUSA. He was named "Student of the Year" for Career & Technical Education at the OCM BOCES Thompson Road Campus. He was honored by local car dealerships in the school's "Tools for Success" awards. In class, Riley took the lead on refurbishing a 1979 Jeep Wrangler in hot-rod red body color — a showcase project for the program.
Riley said BOCES transformed his life by opening up new opportunities in high school and allowing him to compete at SkillsUSA, which is steering him toward a promising and satisfying career. He thinks more students could benefit from BOCES as long as they, like him, put their heart into their chosen program and make the most of the opportunities that BOCES has to offer.
"I would highly recommend BOCES," he said. "You just have to take it seriously, like any other school."
In the photos: Top: National SkillsUSA bronze winner Riley Collier, left, stands with silver-medal winner Shane Webb of the Vanguard-Sentinel Career & Technology Center in Tiffin, Ohio, and gold-medal winner Seth Christmas of Maple Mountain High School in Spanish Fork, Utah. Bottom: Riley stands with his OCM BOCES Automotive Collision Technology instructor, Matt McGivney, after receiving a "Tools for Success" award earlier in the year.