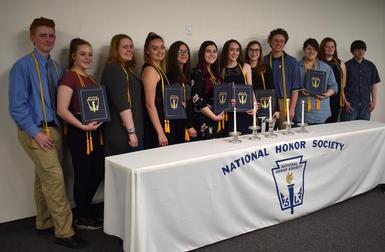 Congratulations to the 13 students from the Seven Valleys New Tech Academy who were recently inducted into the National Honor Society. The induction ceremony took place on May 17 at the Seven Valleys New Tech Academy.
The goal of the National Honor society is to recognize deserving students who have demonstrated excellence in scholarship, service, leadership and character. To be inducted into the NHS, students had to have a GPA of 85% or above, held a leadership position at work or in an extracurricular activity, performed some type of community service, and write an essay describing their character.
Following is the list of students inducted for membership, with their home school district listed in parenthesis.
Heather Decker (Cortland)
Daniel Dohanich (Marathon)
Mitchell Elston (Cortland)
Elizah Horn (McGraw)
Evelyn Hull (Homer)
Megan Lawrence (Marathon)
Hana Morsey (Marathon)
Megan Porter (Cortland)
Phoenix Rice (Cincinnatus)
Willow Rice (Cincinnatus)
Nicholas Ryan (Cortland)
Samuel Turck (Homer)
Chloe Zeeuw (Cincinnatus)