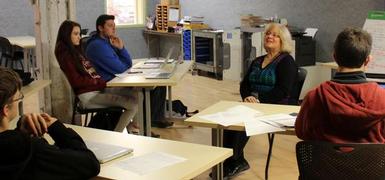 OCM BOCES offers a number of Career and Technical Education (CTE) courses for area high school students. Some are held at BOCES campuses in Syracuse and Cortland, but others are embedded in local businesses through partnerships with organizations like WCNY. Students in the OCM BOCES two-year Media Marketing and Communications program at WCNY gain valuable real-world experience, working alongside WCNY media professionals, while earning their Regents High School diplomas and up to 18 college credits through classes taught by Onondaga Community College professors at WCNY!
Second year CTE Media Marketing Communications students are taking on the task of reaching out to WCNY's ReadOut Radio listeners. ReadOut is a 24/7 free radio service for the blind or visually impaired featuring volunteers, including CTE students, reading regional newspapers, magazines, books and even grocery ads. WCNY wanted to update its ReadOut listener records and also ask listeners for feedback on the service. They turned to the CTE students to tackle this project.
The students gathered input from key stakeholders to develop a telephone survey that they will conduct over the next few weeks. What programs are most popular with listeners? When are they listening? What would they like to hear more of? Are the free radio receivers working well? Would listeners be interested in the service being streamed on the Internet? These are some of the questions students will be asking the listeners they call. Students also created a radio promo to alert ReadOut listeners that they will be calling and a survey collection tool. Students will be responsible for conducting the survey, compiling the data, and reporting the survey results to WCNY staff. Real-world projects like these prepare students for careers and college in the 21
st
century.
OCM BOCES student Alex Teeter works with
WCNY's Diane Jones

OCM BOCES student Alexander Zielinski works with
WCNY's Jim Aroune

OCM BOCES student Abin Boris works with
WCNY's Bruce Paulsen