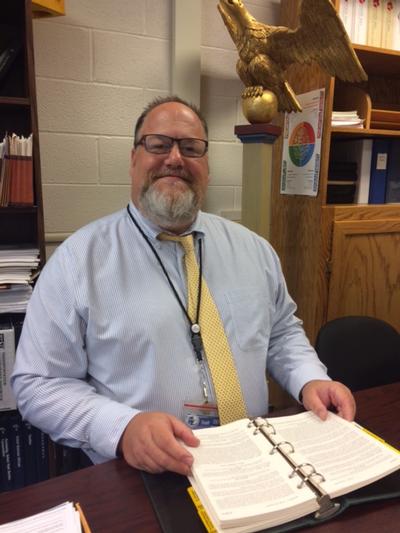 The OCM BOCES School Library System will present its 2016 Administrator/Advocate of the Year awards on May 11 to two outstanding library advocates who have made a difference for school libraries in their districts and buildings. The event will be held at noon at the OCM BOCES new Main Campus in Liverpool.
This year, the OCM BOCES School Library System is proud to recognize
Michael Falls
, Director of Business and Finance for the
Homer Central School District,
as Administrator of the Year.
Maria Natasi
, an English Language Arts teacher at
LaFayette
Junior/Senior High School, will be honored as Advocate of the Year.
The OCM BOCES School Library System Administrator and Advocate of the Year awards are presented annually to library advocates in the region who have demonstrated innovative administrative and collaborative initiatives in the area of school libraries and librarianship.
OCM BOCES School Library System Coordinator Doreen Bergman says, "This year's recipients are incredibly deserving of this recognition. Michael and Maria have both contributed to the advancement of school libraries in their own ways – through financial support, program participation, and simply by being outspoken advocates for their districts' incredible programs."
Michael Falls
(pictured left) has worked for the Homer Central School District for the past 13 years. According to four of their district's school librarians, Marcie Mann, Margaret Little, Gary Seymour and Diane Nachtrieb, who jointly nominated him for recognition, "Mike is our 'go to' guy for library budgets. He has supported the Cooperative Collective Development program at such a high level that Homer has out-distanced all other districts in this arena. It shows his grasp of the need for smart funding for school libraries," they wrote. "Mike understands the incredible value of this program and wholeheartedly supports it and in doing that, supports our library programs in a hugely generous way," they continued.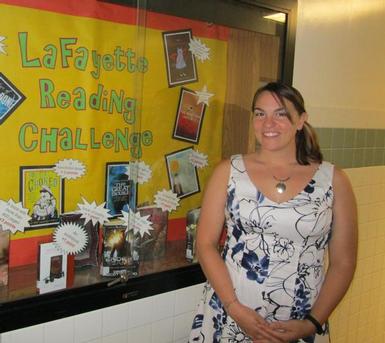 Maria Natasi
(pictured left), who was nominated for recognition by LaFayette Central School District librarian Sue Bang, is now in her fourth year in that district. In her nomination packet, Sue described Maria's library advocacy, saying, "Maria shows her support of the school library [through] her constant, avid use of the library as a learning center and [by utilizing] the library program as a way to enhance her curriculum. She encourages those values in her students [with] ongoing literature promotion, independent reading and engaging, authentic research projects. She allows me to work with her students by collaborating and co-teaching."
Sue touted Maria's library advocacy by discussing her promotion of student success through library collaboration to school and district staff as well as community members. "She describes [to them] what is going on in her classroom and in so doing, is quick to credit me for the roles I've played and always encourages other teachers to collaborate with me," she continued.
Michael and Maria will both be recognized at the May 11 ceremony by OCM BOCES School Library System staff, as well as their respective nominators. The recognition ceremony will begin at 12 p.m. in the Seneca conference room and the public and media are invited to attend.