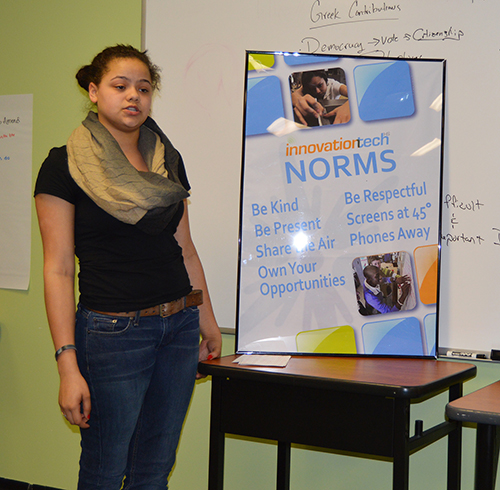 About 65 parents and students from the Cortland area trekked through the cold on Feb. 10th to experience first-hand the unique educational character of Innovation Tech, an OCM BOCES high school in Liverpool that will soon be replicated in their region.
The new school, called Seven Valleys New Tech Academy, is set to open in September at 240 Port Watson St. in Cortland.
Like Innovation Tech, Seven Valleys New Tech Academy will shred most of the traditional concepts of a school day. Instead of working quietly and independently in neat rows of desks, students at Seven Valleys will work collaboratively on real-world projects, guide their own instruction and use technology as a matter of course. Teachers will work in pairs and be referred to as "facilitators" because their goal is to be the "guide on the side, not the sage on the stage," explained Lauren Baldwin, one of the facilitators at Innovation Tech.
Adding to the rigor are requirements that all students earn college credits, participate in internships and give back to their communities through service learning.
For most of the students visiting Innovation Tech, that kind of work was hardly a put-off.
"I don't think it's going to be as boring as sitting in a classroom all day," said Mitchell Elston of Homer, an 8th grader who hopes to attend Seven Valleys.
Another girl from Homer, Brittany Hall, agreed.
"I actually think I'll do better in school," she said.
During the open house, parents and students toured classrooms that mostly featured open spaces, computerized screens called "smartboards" and modern, lime-colored plastic chairs that were mostly scattered around tables, not desks.
In one room, Baldwinsville sophomore Kevin Campbell explained the school's Echo computer program, an online learning platform that allows students to organize and track their projects, store their work and find a plethora of resources. Junior Layloni Vinson talked about volunteer service projects, including one in which students rebuilt and painted a fire-damaged house, even running the electrical lines. In a third room, parents heard about a project that required students to plot an expansion for a popular zoo in Chittenango and research the habitats for possible new animals.
Another room had parents and students working together to solve a variety of brain-teaser puzzles. One parent, Todd Nielson of Cortland, said his work as an electrical engineer required collaboration on a daily basis -- just like solving the puzzle. That's why he's attracted to Seven Valleys for his daughter, Kayla.
"This is how you work," he said. "You don't work by yourself."
SEE THIS ON TV!
FOR A LINK TO A SPECIAL SEGMENT ON local CBS Channel 5, PLEASE CLICK HERE.
For more information about Innovation Tech and similar high schools,
please click here:
IN THE PHOTOS:

Top left:
Junior
Layloni Vinson
of Innovation Tech explains how students create their own culture at the high school, such as being cooperative and respectful and not being distracted by cell phones.
Bottom left:
BOCES administrators write down and answer questions from parents and students. Standing from left to right are
Karen Clark
, director of Alternative Education;
Colleen Viggiano
, assistant superintendent for Student Services; and (far right)
Gretchan Belanger
, principal of Innovation Tech.
Bottom middle:
8th grader
Mitchell Elston
of Homer and his father,
Scott Elston
, are interested in attending Seven Valleys New Tech Academy in Cortland next year.
Bottom right: Dave Sampson
, a facilitator at Innovation Tech, answers questions for a crowd of visitors.