Exceptional STEM lessons presented at OCM BOCES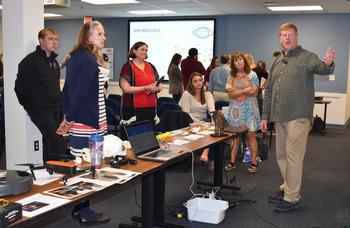 May 24, 2023

From developing "earplugs" to protect baby belugas to bio-inspired wind turbines, bird-beak prosthetics, anti-flooding systems, and underwater vehicles for temperature sensors — these were just a few of the hands-on, real-world STEM lessons that 21 teachers shared Wednesday at a Science Leadership meeting at OCM BOCES.

The presentations capped a yearlong project that started with a professional learning trip to the U.S. Naval Undersea Warfare Center in Newport, Rhode Island. During this three-day excursion, teachers throughout the region learned from Naval scientists and engineers about their research, their work, and how those efforts could be transformed into authentic, STEM-design challenges for students.

Teachers who returned from the trip did just that, developing hands-on lessons tied to Naval research and careers. Along the way, they received input and direction from OCM BOCES science teacher-trainer Angela Francis and Dr. Sharon Bowers, senior STEM education specialist at the National Institute of Aerospace (NIA).

Their innovative lessons were also supported by a grant from the Office of Naval Research, which seeks to "create instructional improvements capable of fostering the innovative character required by the next generation STEM Naval workforce." Two professors from SUNY Cortland, Dr. Dominick Fantacone and Dr. Jeffrey Radloff, presented their grant-related research on Wednesday to about 40 educators who attended the Science Leadership meeting.

During their presentations, teachers said the best part about their brand-new STEM lessons was the response from students: They were engaged, inquisitive, thoughtful, creative, and determined to modify their products to make them better. Teachers also said the hard work that went into this project was more than worth it, giving them a lesson they can tweak and present to students next year.

OCM BOCES STEM Coordinator Chris Leece hopes more teachers will be able to participate with another Naval Research grant in 2023-2024. Educators who have gone through the program could serve as mentors to the new participants.

Dr. Bowers, the NIA consultant, said the future of STEM education is bright because of the dedication of these teachers and their efforts to make their lessons fun, challenging and pertinent to the real-world needs of the U.S. Navy and other employers who are solving some of the world's biggest problems.

"We had amazing, dedicated educators," she said. "They were more than willing to push their personal practice for the benefit of the kids, and that's all we can ask."