Here's another bonus of the OCM BOCES New Vision Engineering Professions program
at Lockheed Martin: summer jobs, college co-ops and 'a foot in the door'
June 15, 2022
As they banter about homework, graduation, senior balls and the niggling apprehension they feel about leaving for college, it's easy to see that seniors in the OCM BOCES New Vision Engineering Professions program at Lockheed Martin have formed a special bond.
They meet up after school, despite living in separate school districts. They laugh about their "inside jokes." They agree that working in groups throughout the school year was never a problem because they felt comfortable with everyone in the room.
"Honestly, this was kind of unexpected," said Narmada Kilaru, a Westhill senior, talking about her initial expectations. "I'm the kind of person who really needs to know what's happening, so not knowing who was going to be here in the fall … I had a lot of stress and anxiety about it. But coming here — I mean, I love my class. It's the best thing about my day."
For Narmada and two other seniors in the program, their Lockheed Martin experience will continue this summer. After graduation, all three will return to the large industrial complex off Electronics Parkway in Salina to do hands-on work with professional engineers. These paid, full-time summer internships are another bonus of the OCM BOCES New Vision Engineering Professions program, which has an on-site classroom. The program is growing in popularity because students get an ideal mix of classroom instruction, one-on-one time with professional engineers, and a chance to earn college credits through Onondaga Community College.
Sixteen students from seven school districts attended the OCM BOCES/Lockheed Martin program during the 2021-2022 year. It was a relief, they said, to finally meet in person after a full year of doing mostly online learning because of the pandemic. Last year, students connected with engineers virtually from a classroom at the OCM BOCES Thompson Road Campus. COVID-19 restrictions prevented them from being onsite at Lockheed Martin.
This past fall, all that changed. The familiar yellow school buses rolled back onto Continuum Drive. Students were happy to be back, but they admitted — the transition was tough. Students had to adjust to in-person learning combined with the rigors of the Lockheed Martin program.
"It was a pretty steep learning curve, going from online learning that was generally way easier than a normal school year, to this program," said Jack Mohat, a senior from Tully.
The Lockheed Martin program, now in its third year, is meant to attract high-achieving students who have already shown an interest in science, technology, engineering and math, or STEM, and plan to go to college.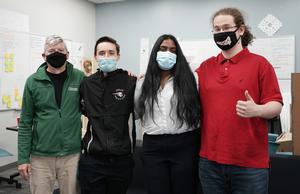 Their teacher is Dr. Mark Povinelli, a former Lockheed engineer and Syracuse University professor who teaches students about the principles of engineering and interpersonal skills but also pushes them toward college-level work, which means the students do a lot of independent reading, studying and note-taking, as well as reflecting in journals, participating in group dialogues and collaborating on team design projects.

In addition, their work with a rotation of Lockheed engineers helps them connect their studies to real-world applications and lets them build the kind of relationships that led Narmada, Jack and a third classmate — Quinn Metzgar of Westhill — to continue their work through summer internships.
Previous students have also benefitted from paid summer jobs because of their experience with the OCM BOCES/Lockheed Martin program. Two students who were part of the program's inaugural year in 2019-2020 have returned to Lockheed Martin this summer as part of their co-op requirements at the Rochester Institute of Technology (RIT), which gives them academic credit for the experience.
Peter Herodes, for example, will work at Lockheed Martin through August and into the fall, then return to college classes for the spring semester. His father works as an engineer at Lockheed Martin, but that wasn't the only motivation for his return. Peter, who came from Fayetteville-Manlius schools, said the company has a positive reputation worldwide (employing about 114,000 people). The opportunity was too good to pass up.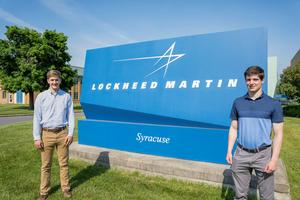 "It's a big, well-developed company," Peter said. "They have a lot of good engineers working here so I thought it would be cool to work alongside them."
Another former BOCES student, Kevin Valentine, also came back to Lockheed Martin this summer — his second summer in a row — after going to RIT to major in mechanical engineering technology. The Fabius-Pompey alum said he appreciated having "a foot in the door" in the event he wants to return after graduation and live close to family, which is a priority for him.
"I haven't worked at any other engineering companies to see how it compares, but so far they have treated me really well," he said.
Lockheed Martin describes itself, in general, as a global security and aerospace company. In Syracuse, it focuses on radar, sensors and surveillance systems, as well as undersea warfare that includes sonar, sensors and combat systems.
Students do not participate in classified work, but they dive into projects that run the gamut. Students have researched vendors and products to address supply-chain shortages, analyzed anti-slip surfaces, corrected "red lines" in drafting projects, contributed to an instruction manual, tested machines, ordered parts, performed tests with computer models, and worked on a towed array cable for a submarine, among other projects.
"It's pretty helpful, actually," said Alex Wauldauer, an engineer associate manager who supervises Kevin and Peter. "We tend to be very busy in the summer, so it helps to get extra people in here. And you might think, 'Oh, they're just interns, they don't know how to do anything.' That's not the case. They can learn quite a bit and be really productive here."
Jack Mohat, for example, recently worked on a computer-aided design (CAD) model to test the radar that goes on an E-2D Advanced Hawkeye, a surveillance plane that launches from an aircraft carrier. This summer, he will continue to focus on that electrical work with his mentor, Lockheed Martin electrical engineer Andrew Cleary, who has worked at the company for 18 years.
"We can essentially exercise that test station from a model perspective without having to go out and touch the hardware," Cleary explained.
Jack has also been working in a lab to test different parts of a radar system. This summer, he will continue his work on the CAD model, do some more hands-on lab work, and probably move on to work on another, different computer model to support a radar system, Cleary said.
"Once again, I think this is something where we can really use the help, and Jack has some good skills that he can bring to the table right out of the gate," Cleary said.
Jack's classmate, Quinn Metzgar, said he plans to work with a systems engineer this summer. Through OCM BOCES, he learned that working as a systems engineer — seeing how different systems interact — was much more appealing than software engineering, for example, which made his eyes go blurry "in a sea of code."
All three students — Quinn, Jack and Narmada — credit the New Vision program for making them feel more prepared for college. They are grateful for the opportunity. They like to share their love of the program with other students, but most of their peers are still surprised to hear about it.
"They said, 'What, you can do that? That's a thing?'" Quinn recalled. "I mean, I had A's in high school so it's not like I couldn't hack it. I just wanted to do more."
Jack said his parents were happy with the program, too.
"I think they were a big fan of the fact that I could put 'internship at Lockheed Martin' on resumes and things like that," he said. "I don't think there are too many high school students who can write that on a resume, which is always a bonus."


Interested in learning more about the OCM BOCES New Vision Engineering Professions program? Go to ocmboces.org/cte or talk to your school counselor.

Photos courtesy of Lockheed Martin
Story written by OCM BOCES Marketing Coordinator Jackie Wiegand