Students showcase proficiency in 10 world languages
Around the world, millions of Muslim women believe that wearing a hijab, a religious headscarf, allows them to publicly show love and pride in their faith while also giving them a sense of courage and self-esteem.
What is the Seal of Biliteracy?
The Seal of Biliteracy was established by the New York State Legislature in 2012 to encourage the study of languages, recognize the value of World Language instruction, affirm the value of diversity in a multilingual society, identify high school graduates with multilingualism and multi-literacy skills for universities and /or employers, and to prepare students with 21st–Century skills. Check out more on this page of the New York State Education Department website.
At OCM BOCES, the Mid-State RBERN team that facilitated the Seal of Biliteracy event included Tanya Rosado-Barringer, Coordinator; Maria Fenton, Resource Specialist; Yanira Stoker, Resource Specialist; Janna Fiermonte Rodriguez, Resource Specialist; Kenneth Vreeland, PRHYLI Trainer; Kimi Sisskind, Resource Specialist; and Cindy Seeley, Office Manager.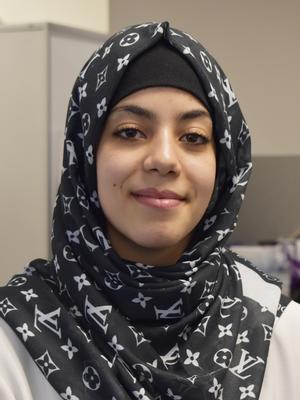 Hala Aldwas, a senior from North Syracuse, explained this feeling of empowerment in two languages — Arabic and English — during the New York State Seal of Biliteracy (NYSSB) presentations held April 29 at the OCM BOCES Main Campus in Liverpool. The event drew 110 students from a consortium of districts brought together by the Midstate Regional Bilingual Education Resource Network, or RBERN, which is housed under OCM BOCES.
"I believe that the hijab is a choice, and women shouldn't be forced to wear it," Hala explained. "Even though Muslim women are facing daily discrimination, to me my hijab is confidence … It is courage and strength."
The Seal of Biliteracy evaluations showcased students' proficiency in 10 languages: English, Onondaga (a Northern Iroquoian language), French, Spanish, German, Vietnamese, Mandarin, Serbian, Macedonian and Arabic. Candidates came from 10 districts: Baldwinsville, Cazenovia, Cortland, Fayetteville-Manlius, LaFayette, Liverpool, Marcellus, North Syracuse, Onondaga and Tully.
Panels of evaluators sat before the students to listen, observe and pose questions. They ultimately decided if students qualified for the Seal, a symbol of high-level proficiency in speaking, reading, writing and listening. The honor is significant because the NYSSB seal is affixed to a student's high school diploma and transcript, giving them an edge with employers and universities, among other advantages. They also receive a blue-and-gold medal from the New York State Education Department to wear with their graduation robes.
"This day is always one of my favorite days of the school year," said one evaluator, Heather Puchta, a house principal at Cicero-North Syracuse High School. "I have the opportunity every year to hear students speaking in the world language that they have been studying for six years. As a former world language teacher, there is nothing better than this!"
Overall, she was impressed with the quality of the presentations.
"The students did a fantastic job," she said. "Every student that presented should be proud of themselves. This is a huge accomplishment."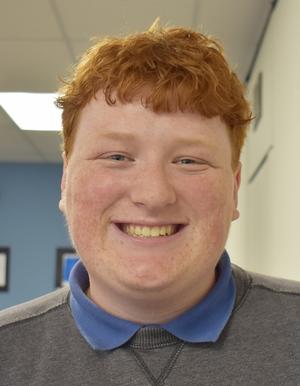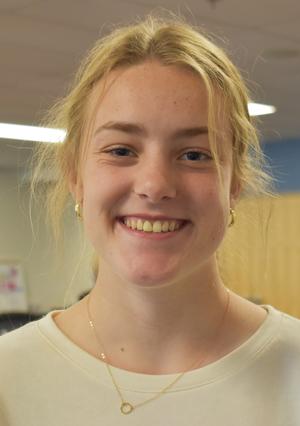 Ryan Flynn, a senior from Marcellus, spoke in French about the French baccalaureate and compared it to the American SAT. His teacher, Jessica Cuello, urged him to try for the Seal, even though it usually means a lot of extra work and practice outside of class.
"I honestly didn't even think I could speak for 10 minutes in French, but she pushed us to do it and she helped us decide on a topic," Ryan said. "I was kind of sweating, but it went well."
Marcellus senior Annaliese Bird discussed the French healthcare system, which offers universal healthcare, and compared it to the combination of public and private healthcare in the United States. When her presentation was over, she was relieved to be done. The morning had started a bit "hectic," she said, because her car wouldn't start, which almost made her late for the event, and the computer was slow to load her slideshow.
"I was able to stay calm, luckily, and the presentation went well," she said. "I felt pretty confident going in. It was just the questions I was worried about, whether I would understand them and be able to respond with an adequate answer. But it went pretty well; I feel confident."
Two students from Baldwinsville pursued the Seal simply because they liked the idea of a challenge.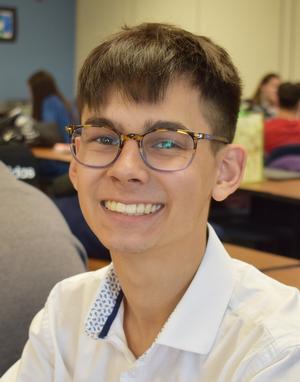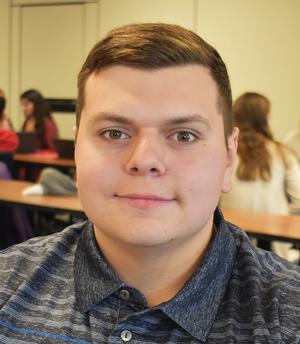 Senior James McKenney, for example, believes that "challenges always motivate people to do something." He gave a presentation about his mother, who is 100% Mexican, and credits her for exposing the family to the eye-opening experiences that come with living in other parts of the world, celebrating diversity, speaking new languages, and exploring cultures.
"She's awesome," he said. "She always really pushes me to speak at home. I never lived in Mexico, but I always grew up with the language."
His classmate, Aidan Kalin, is heading for the U.S. Navy next year as a Navy diver. That challenge, he said, symbolizes a desire he has to challenge himself, even if success seems unlikely at the outset. Pursuing the Seal of Biliteracy also fell into that category. Aidan gave a presentation on the Spanish Civil War because he had done a lot of research on the topic. He said speaking a second language will automatically boost his salary in the Navy.
"Sometimes in life, you've just got to work toward a goal you want," he said.

Story written by OCM BOCES Marketing Coordinator Jackie Wiegand