'Putting the pieces together'
Liverpool senior Braeden Hawkins is fortunate to have two "families" who have embraced him and nurtured his talents — one at Innovation Tech, an OCM BOCES high school, and the other at Five Star Equipment, a John Deere equipment company that has offered to pay for his college tuition in exchange for a 600-hour paid internship and a commitment to work at the company for at least three years after graduation.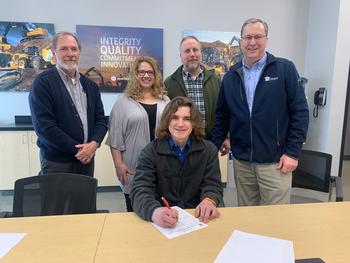 Flanked by his parents, Denise and Matt, and two company executives, Braeden signed the agreement on February 10 at Five Star Equipment in Cicero. The deal offers Braeden a two-year associate's degree in the John Deere Construction & Forestry Technology program at SUNY Cobleskill and a promising career with Five Star in its spacious, nearly brand-new facility off East Taft Road.
Five-Star is excited about the program because they can invest in a rising star as they grapple with a national shortage of diesel mechanics and other essential employees — a shortage, they say, that calls for creative solutions like the SUNY Cobleskill Workforce Development Outreach Project, which is supported by grants from the U.S. Department of Labor.
"This is putting all the pieces together," said Ed Wallace, a SUNY Cobleskill outreach instructor who travels the state to link companies with technical educators and students.
Executives at Five Star Equipment first took note of Braeden last spring. As a student at Innovation Tech, Braeden was able to take part in another OCM BOCES program: the Heavy Equipment Repair, Operations & Diesel Technology program at Tracey Road Equipment in East Syracuse. The two-year program offers an on-site classroom, a heavy diesel tractor-trailer and other equipment for students to explore, as well as internships and job-shadowing opportunities. Braeden spends half his day at Innovation Tech, the other half at Tracey Road Equipment.
'I can say I work for John Deere'
For his heavy-diesel internship last spring, Braeden went to Five Star Equipment. He loved it. He said he was exposed to every department in the facility. At the signing ceremony on Feb. 10, Braeden said he was honored to be part of a company that has treated him so well, taught him a lot, and uses impressive equipment and technology for the reputable John Deere brand.
"The name itself is great," he said. "I can say I work for John Deere."
At the signing ceremony, Five Star executives praised Braeden's dedication and work ethic and welcomed him to their company family. Similar praise came from representatives of Tracey Road Equipment, SUNY Cobleskill and OCM BOCES. The ceremony included lunch, a tour and photos of Braeden standing by a huge, rolling toolbox he will use when he starts his internship with the company during college breaks.
"We are super excited to have you back here again," said David Kreis, general manager for Five Star Equipment's Syracuse and Kirkwood locations. "Braeden has already been part of the family — he always will be — and we will take good care of him."
"If he's even half as good as he is at OCM BOCES, it's a home run," said Pamela J. Overtoom, director of Human Resources at Tracey Road Equipment.
OCM BOCES representatives expressed their gratitude to Five Star Equipment, SUNY Cobleskill, Tracey Road Equipment and the Hawkins family.
"It's truly a team effort, and we can't say thank you enough," said Eric Comtois, director of Career & Technical Education and Innovative Education at OCM BOCES. "It gives me chills to be here and hear all the great things people are saying about Braeden."
Braeden has been thriving in the diesel program and at Innovation Tech, where he refers to meetings in his school's "family group" as his "home away from home." The comfort he feels at school is one of the biggest reasons he has been able to make significant progress since he first stepped in the door as a ninth-grader, said Kayla Beyer, the school's social worker.
"Braeden has grown into an incredible young man," she said.
As for Braeden's parents, they are thrilled and relieved with the opportunity that allows their son to go to college and give him a leg up on a profession he already seems to love.
"It's amazing how everything came together," Matt Hawkins said.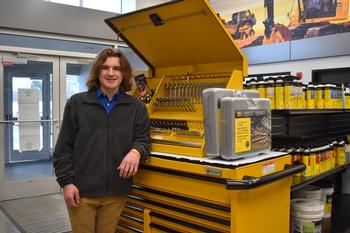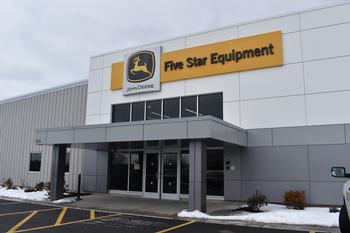 .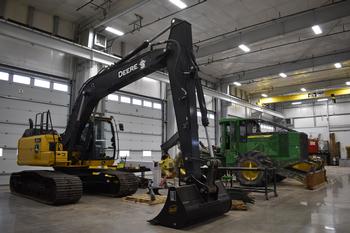 Story written by Marketing Coordinator Jackie Wiegand