Students in the New Vision Criminal Justice program at OCM BOCES recently finished a special project that happened to be a perfect fit for Teacher Appreciation Week.

Inspired by the touching thank-you cards he once received as a police officer, instructor Charlie Wilson tasked his students with identifying a favorite teacher, formulating questions, interviewing them, and writing them a detailed letter of gratitude for making a positive difference in their lives.
Here are just a few excerpts:
---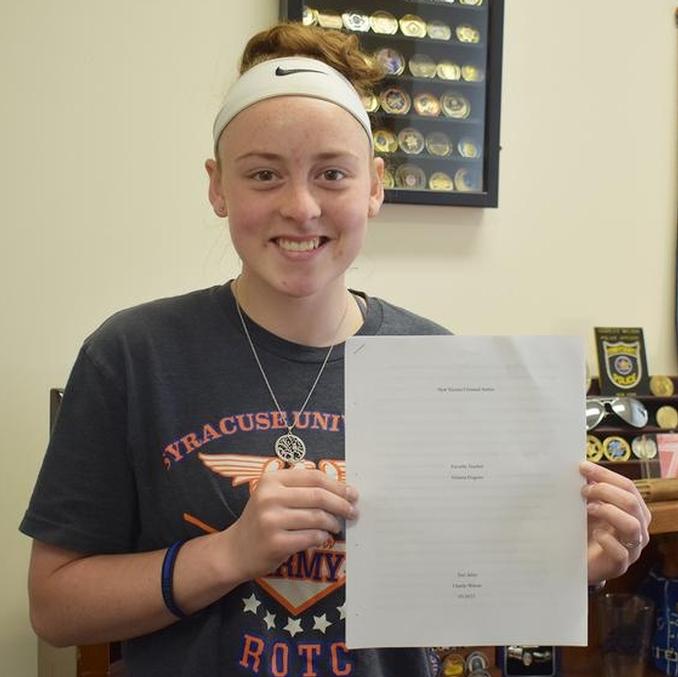 Tori Allen of Chittenango wrote about Spanish teacher Victoria Fragoso:
"I don't even know where to start with this, Senorita Fragosa. You have changed my life in and out of school. I never really cared for school, and I was terrible in Spanish, and I still struggle with it from time to time, but you helped me a lot from freshman year until now. I remember our first class together, Spanish II in your old classroom. … I don't know why, but after having your class in eighth period, I remember coming in every chance I got for study halls and lunch. I think that was my favorite part, just coming into the classroom and doing random jobs for you around the room, like making the sugar skulls for your students to decorate, as well as decorating the classroom door for Christmas and always winning first or second place."
"Senorita has been a teacher for about 15 years and wishes she would have started teaching earlier. If she could have known one thing before becoming a teacher, she would have wanted to know how rewarding it is but also how time-consuming it could be, with the constant work in the evenings, on weekends and breaks. Her favorite part of being a teacher is interacting with the students and getting to know them. … All around, Senorita Fragoso is an amazing teacher, and I wouldn't be where I was now if it wasn't for her."

---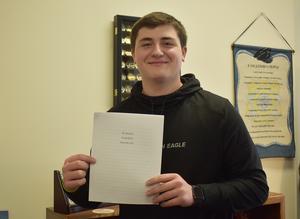 Keegan Barry of East Syracuse Minoa wrote about business/criminal law teacher Joseph Musolino (affectionately called "Moose"):
"I asked Moose, 'After 31 years of teaching, is there anything you would change after doing it for so long?' He said the faces might change every year, but he focuses on his relationships with students and creating mutual respect. Moose thinks getting to know each student is one of the best parts of his teaching job. … He also said that one of his favorite parts about teaching is getting to watch former students succeed in life. Knowing they've accomplished what they wanted to do — and be part of that ride — 'is one of the best memories you can ask for.' "
"When I sat down in Moose's class at the start of last year, I didn't have too much interest in the criminal justice field. After a couple of weeks in the class, I became excited every day to go to class. Moose made every class so enjoyable and interesting. It was an amazing experience. I know many kids that feel the same way I do. I hope to succeed in my career so I can make you proud like many of your other students. I can't thank you enough, Moose!"

---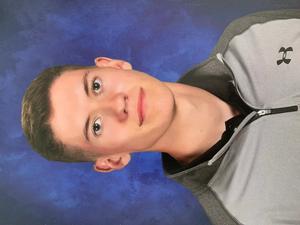 Thomas McKenna Jr. of Tully wrote about social studies teacher Nicholas Zupan:
"It might just be me, but I have a pretty strong opinion that your favorite teachers throughout your life are the ones who teach the things you love the most. In saying that, history classes throughout high school were always the most enjoyable because simply put, I love history. I loved learning about wars, revolutions, industrial revolutions, rulers, dictators, and the list goes on. .. My favorite teacher in high school was definitely my eighth-grade history teacher, Mr. Zupan, not only for how well he taught history but also for always incorporating his life experiences with what he was teaching ... I'm sure I'll have some great teachers in my future — in my college and my future career — but I'll always remember Mr. Zupan."
---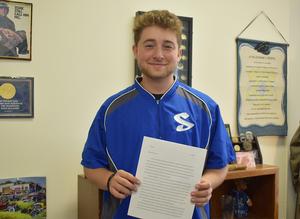 Tye M. King
of North Syracuse wrote about math teacher
Alina Capria:
"I am very glad that you pursued your career to be a teacher. Your hard work at SUNY Oneonta and Syracuse University has most definitely paid off because of the countless students you have helped to graduate from high school. I am proud to say that you have made a huge impact on me and changed the way I work in school. I know that there have been many rough years in teaching, but please keep pushing through, as I know you will. You are an excellent teacher and every student that has you should be very happy and lucky.
Ever since 10th grade, you have made the biggest impact and impression on me and my education. I would not be where I am today without your guidance and support. During Algebra I, I was not focused in class, not studying for tests, and barely doing homework. Even after the lack of effort, I put into your class, you still always welcomed me. You cared more about making sure that I knew the material and curriculum than having good grades — because you knew that once I knew the curriculum, the good grades would follow. I cannot thank you enough for letting me stay after school with you almost every day. Without you taking time outside of school to help me with homework, quizzes, and tests, I would have a much lower grade than I did at the end of the year.

You are part of the reason for my changed work ethic at school. I woke up and realized that I need to apply myself more. I wanted to get into college, and I knew I had to push myself even harder to achieve my goal. My junior year was nothing short of unpredictable, but before that year was cut short, I was excelling in all my classes thanks to the motivation instilled by you. Without a doubt, you made me feel glory in completing homework and gave me purpose in passing tests. Now in my senior year, I am taking precalculus with you, and I am sure you have seen a change in hard work, drive, and passion from me. I am doing all of my homework on time, passing tests with very good grades and finally having fun in school. I want to finish with a warm heartfelt thank you for pushing me in school, letting me use you as a reference for college and scholarships, and making school fun."