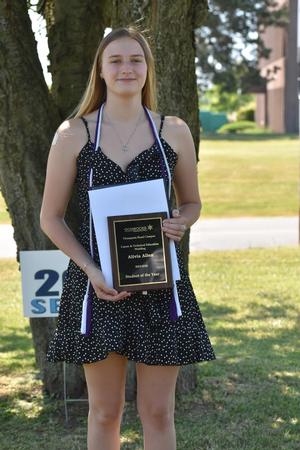 If you happen to drive by a new construction site at 2775 Erie Boulevard East, not far from Thompson Road, you might spot a welder bundled in several layers of clothes, sitting on a beam about 15 feet above the ground. The welder is 18-year-old Alivia Allen, a 2020 graduate of OCM BOCES who made her mark this fall as the first female employee in the erector division of JPW Companies in Syracuse.
Alivia is working on a two-story office building for Crouse Medical Practice. She started the job Nov. 9 and spent the first few weeks training and earning a pair of certifications in vertical and overhead welding. Now she's up on the beams, measuring, bolting, welding, and pinning down decks of galvanized steel. Sometimes, she works in frigid temperatures on beams that are 15 to 30 feet above the ground.
"The guys always joke around with me because I look like a marshmallow," Alivia said, referring to her layered clothing.
Alivia fell in love with welding when she took the OCM BOCES program with instructor Duane Debejian, who she calls "Mr. D." Her skills, attitude and worth ethic resulted in her getting "Student of the Year" honors last spring for Career & Technical Education at the Thompson Road Campus. She credits the program and Debejian for inspiring her success. Debejian, in turn, said Alivia has a great combination of talent and determination.
"Alivia, keep moving forard!" Debejian said.
In her graduation speech, Alivia talked to her peers about perseverance, persistence and motivation. She needed all of those, she said, when she fell into "a funk" over the summer, anxious to find a job after finishing a short-term internship in construction. When she got the job at JPW, she said, "I was jumping up and down in my room!"
"Honestly, I have a lot to learn," she said. "But I walk in every day knowing I'm going to learn more. I like that."