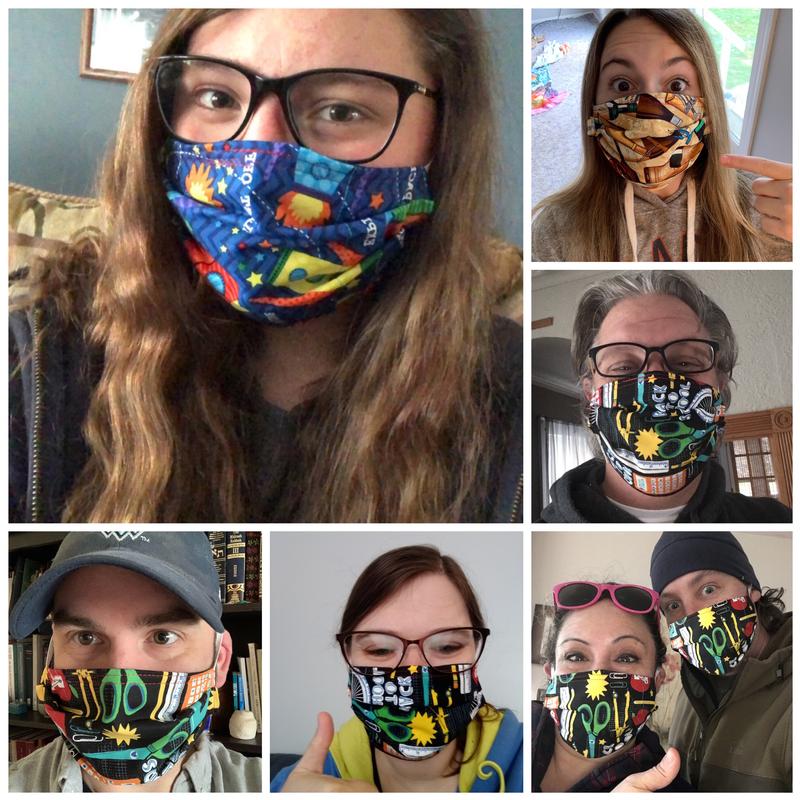 Walking into Innovation Tech on the first day of school, students were not only greeted with waves and virtual hugs, but also a hallway filled with tables of masks in a variety of colors, sizes and patterns. Working together, the staff at Innovation Tech had sewn 537 masks for students to keep, allowing each student to take five masks to use throughout the week.
The idea for making masks came from Facilitator Martha FitzPartrick. Like many people at the start of the COVID-19 pandemic, Martha did not know how to make face masks, but after a friend asked her to make them for essential employees at a local Walgreens, Martha, a fifth-generation quilter, was up for the challenge. She quickly began researching patterns, fabrics and elastic.
After completing her initial round of masks, along with some additional ones for her family members, Martha started thinking about her school and "how to keep my Innovation Tech family safe." With her kids tagging along in the car, Martha delivered her homemade masks to fellow facilitators, making the two-hour trip across two counties. Later that summer, she came up with the idea to make masks for the students.
"We have about 100 students, so I thought about making 100 masks," said Martha. "Then I thought about having five masks for each student, one for each day."
With 500 masks to make, Martha sent a message to the staff at Innovation Tech, asking if anyone would be willing to help her take on this task. The team, consisting of Margaret Barry, Gretchen Belanger, Kayla Beyer, Molly Clock and Lindsey Knight, formed a socially distanced assembly line that included cutting, ironing, sewing in elastic, turning masks right side out, and stitching around the outside. Over the course of a few weeks, the group made 537 masks for students and more masks for staff. They also gave the students washable bags to store the masks in.
Martha is proud of the team and the success of their efforts. While their mask goal has been met, a sewing machine still sits in the hallway at Innovation Tech should the need arise for more masks. Martha hopes that the way everyone came together at Innovation Tech to provide for their students on opening day will set the tone for the rest of the school year.
"This really was a labor of love for our Innovation Tech family," said Martha. "If anyone is interested in learning how to make the masks or if people need any, I'm always happy to share. All masks are free to students and staff, I just ask them to pay it forward."