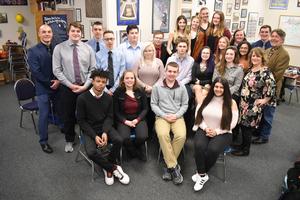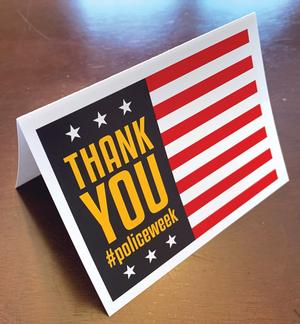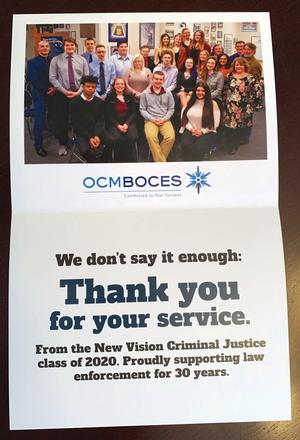 .
Even before the pandemic hit, Charlie Wilson and the students in his New Vision Criminal Justice class at OCM BOCES thought it would be nice to simply say "thank you" to nearly 2,000 law enforcement officers in Central New York.
Charlie, his students, and teaching assistant Denise Mecca posed for a special thank-you card that would fall in the hands of local law enforcement officers this week — National Police Week — when police across the country are honored for their service and sacrifice.
"We don't say it enough:
Thank you
for your service," the card reads. It is signed, "From the New Vision Criminal Justice Class of 2020. Proudly supporting law enforcement for 30 years."
The cards were meant to coincide with an annual field trip the students take to Washington, D.C., where tens of thousands of law enforcement officers from across the world converge for National Police Week. President John F. Kennedy spearheaded the movement in 1962 when he proclaimed May 15 as National Peace Officers Memorial Day.
Like so many other events, the festivities this week in Washington, D.C., were canceled. So was the best field trip of the year — the culminating event — for the students in Charlie's class. Dozens of students from his New Vision classes over the past 30 years have attended his class, been electrified by the field trip, and have gone on to pursue careers in criminal justice. Many of those students have decided to work and live in Central New York.
"If we can make a cop's day a little brighter, then it is a win-win for everyone."
- Charlie Wilson, New Vision Criminal Justice teacher at OCM BOCES
Charlie had a personal reason for pursuing the thank-you card project this year, even with schools closed and the challenges of working from home.
That's because a card he received many years ago, as a police officer, touched his heart. It came from a girl about 7 or 8 years old. It quoted a verse in the Bible and said, "Dear Officer, I appreciate you more than you will ever know. You are the light in the darkness. Keep doing what you're doing because I don't know what this world would do without you! You are truly a gift from God!"
Charlie has kept that card for decades. When the pandemic hit, he worked with his OCM BOCES colleagues in the marketing, print and mailing departments to print, package and send this year's thank-you cards to about 40 agencies and departments in the region. He also delivered some in person, and he plans to include one card in each of the "care packages" he is assembling for his students.
Charlie says his philosophy is simple.
"I teach the kids that the best way to make a difference is to be a role model, a mentor, and a catalyst," he said. "That way, they learn how to give back. And if we can make a cop's day a little brighter, then it is a win-win for everyone."