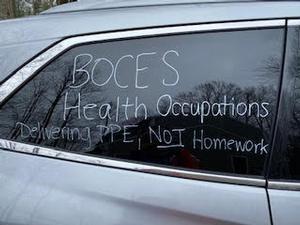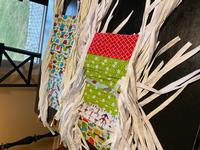 .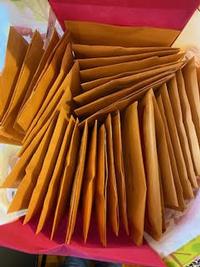 .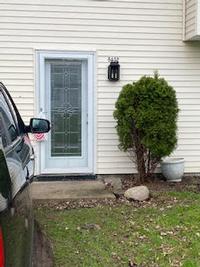 Create solutions? Or worry and do nothing? This OCM BOCES instructor decided to help
Meridith Kindred went on a mission recently when she packed her car with hand-sewn masks and set out to deliver them to her students.
She scrawled a message in white paint on her car: "BOCES Health Occupations: Delivering PPE,
NOT
Homework!" She drove door-to-door for an entire day, putting the masks in plastic bags and hanging them on doorknobs to comply with social distancing rules.
"I just wanted them to be safe," said Kindred, a registered nurse and Health Occupations instructor at the OCM BOCES Thompson Road Campus. "If I couldn't protect them in person, then putting my energy into doing this would certainly help, at least a little bit."
Kindred did not sew the masks herself, but she tapped into the sewing expertise of "an amazing friend" and "sewing whiz" who gave her a good deal on them.
Kindred delivered 22 masks in her car, but she also ended up mailing 27 more because of new social-distancing guidelines (at the time) that only allowed errands on alternating days. With each manila envelope, Kindred included a handwritten card to each student to "to remind them I was thinking of them," she said.
Before schools were closed, Kindred recalls students feeling anxious about the encroaching spread of COVID-19. To alleviate that worry, she had the students "channel their energy and efforts" by creating handwashing campaign posters and videos about proper handwashing techniques.
"On that last day together, I told them we could either purposefully use our time and energy to create solutions to help or we could use that same time and just worry and do nothing," she said.
For Kindred, delivering those masks accomplished the same thing.
In the photos, students sport the masks in selfies they shared with their teacher.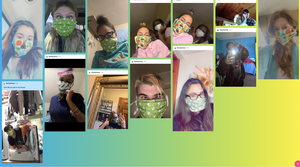 .