Best wishes to two of our outstanding Career & Technical Education students who are heading to the National SkillsUSA competition in Louisville, Ky., next week. Our two participants are Jenna Knout of Marathon, a junior who took first place at the state SkillsUSA competition in Early Childhood Education, and Wolfgang Groetz of North Syracuse, a senior who took first place in Information Technology Services.
Jenna Knout - Marathon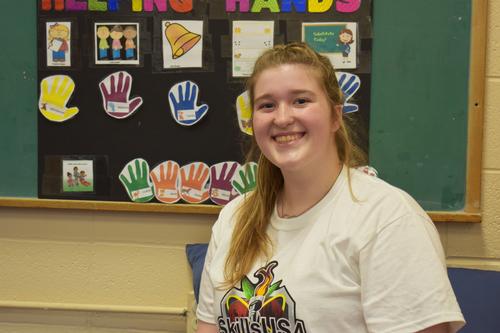 Jenna, a junior from Marathon, had a goal to place in the state SkillsUSA competition. But when she heard she won first place, she was delightfully surprised.

"It wasn't until I was behind the stage with my teacher that I was really able to process the win," she said. "I thought I did well, but didn't think I would place first because I was competing with so many seniors."

Jenna has always had a love for children, and even describes herself as a little kid at heart. When starting to explore her future career opportunities, Jenna immediately turned to teaching. She credits her experience at OCM BOCES, as well as her teachers, for helping to prepare her for SkillsUSA and the real world. Her Early Childhood Education class in Cortland is embedded in the Cortland County Community Action Program, or CAPCO, which has an on-site childcare program to give students like Jenna hands-on experience. Jenna plans to attend SUNY Cortland for teaching after she graduates next year.

"Before, I was so shy. My teachers at BOCES helped me come out of my shell," said Jenna. "They helped prepare me for college and the workforce, as well as SkillsUSA. That's what BOCES is really about. They've been able to provide that experience for me."
Wolfgang Groetz - North Syracuse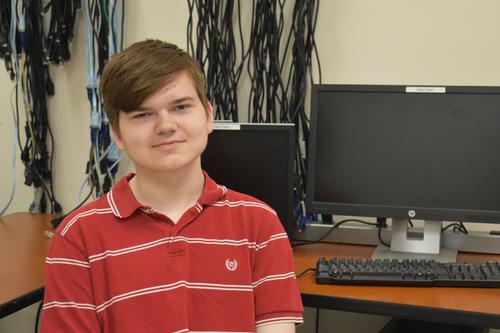 The simple text from his father said it all: "#1."

Wolfgang, a senior from North Syracuse, said his first-place finish at the state SkillsUSA competition was shocking because he did not place at all the previous year. Plus, he knew the competition was stiff. He later found out less than three points separated the top three finishers. "It was definitely a surprise, so that was fun," he said.

Wolfgang wasn't always into computers as a young child, but a basic class at Cicero North Syracuse High school piqued his interest. He wanted more of a challenge, so he signed up for the Computer Technology class at OCM BOCES after perusing a pamphlet in his school counselor's office.

He loved it. The class at the Thompson Road Campus gave him the freedom to explore. He worked with students from other districts with similar interests. He challenged himself to learn more. He especially liked being able to help other students — "a good way to learn," he said.

His teacher, Ed Frontuto, said computers are "second nature" for Wolfgang. "He can figure anything out, which is a good thing," Frontuto said. "He can also trouble-shoot really well."

After high school, Wolfgang hopes to perform well during an internship at the Central New York Regional Information Center, a division of OCM BOCES that focuses on technology services. From there, he hopes to get a job in the IT field.