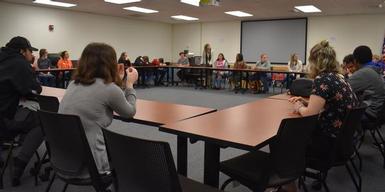 Students from OCM BOCES Crossroads and Innovation Tech recently celebrated their success in sharing Rachel's Challenge throughout their school year. Rachel's Challenge aims to encourage a single act of kindness during the day, and showcases how these acts of kindness can make a difference in the lives of those around us. Students from Crossroads and Innovation Tech started Friends of Rachel (FOR) Clubs, where they work together to start and maintain a chain reaction of kindness.
"She left this legacy of kindness…" said Renae Montroy at the ceremony. "We want to continue to do that, and we want to emulate what Rachel did. She started that chain reaction that we continue to create in our schools."
On May 29, students gathered at the Thompson Road Campus to take part in the Rachel's Challenge Awards. The awards acknowledged the effort students have put forth in carrying on Rachel's legacy, through their work with the FOR Clubs. Students were given awards from four different categories, which reflected the beliefs and actions Rachel believed everyone should look for. The categories students were awarded for included:
Looking for the Best in Others
Choosing Positive Influences
Spreading Kindness
Treating Others the Way You Want to be Treated
"She talked about looking for the best in others," said Montroy. "She also talked about choosing positive influences. When you choose positive influences, you're going to breed that in your heart."
The awards ceremony was followed by a luncheon. Great job to our Crossroads and Innovation Tech students for helping to maintain the chain reaction of kindness!