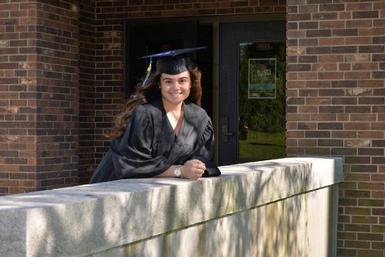 The first class of high school graduates from the first "New Tech" school in Central New York walked across the stage recently to accept their diplomas and celebrate their successes.
Twenty-three graduates from Innovation Tech in Liverpool graduated June 21 at Onondaga Community College's Storer Auditorium. The school opened its doors in September of 2014 through the Onondaga-Cortland-Madison Board of Cooperative Educational Services (OCM BOCES). Students in the Class of 2017 came from six Central New York school districts: Baldwinsville, Fayetteville-Manlius, Liverpool, Marcellus, North Syracuse and West Genesee.
One student, Avery Pearl Frank, attended through the Fayetteville-Manlius School District. During her graduation speech, she said Innovation Tech helped her excel both personally and academically.
"Innovation Tech, thank you for existing," Frank said. "Looking at myself now as compared to two years ago, the changes are unreal. I've become a happier, more genuine person. Innovation Tech, you gave me a safe space to learn and grow and I am eternally grateful."
Innovation Tech is part of the New Tech Network, a non-profit organization that offers services and support nationwide for districts to develop public schools in which project-based learning is the primary instructional approach.
Founded in Napa, Calif., in 1966, the network encompasses 190 schools in 29 states and Australia. New Tech schools are unique because buildings feature modern classrooms, collaborative learning spaces, computers for all faculty and students, and a conference facility for teaching training. (For more information, go to newtechnetwork.org.) In the project-based learning approach, students work collaboratively and for an extended period of time on a real-world question, problem or challenge. Projects are self-directed and often include partnerships with outside businesses and organizations.
In addition, all students at Innovation Tech earn college credits, participate in internships and give back to the community through service learning.
OCM BOCES opened its second New Tech school this past fall in Cortland. It's called Seven Valleys New Tech Academy.
Congratulations to all the Innovation Tech 2017 graduates:
Mersadies Bargabos - North Syracuse
Cameron Burns - Baldwinsville
Joseph Carey - West Genesee
John Gurchik - Fayetteville-Manlius
Edward Homer - North Syracuse
Caitllin Jesgarzewski - North Syracuse
Ashley Karl - Baldwinsville
Jacob Kelly - Liverpool
Megan Leahey - North Syracuse
Jeremy Losurdo - North Syracuse
Mikael Michlovitch - Liverpool
Ashley Mincolla - Marcellus
Damien Monteleone - North Syracuse
Ethan O'Hara - North Syracuse
Avery Pearl-Frank - Fayetteville-Manlius
Hope Redfield - Marcellus
Craig Rhodes - North Syracuse
Quinn Rivera - North Syracuse
Brendan Schram - Marcellus
Layloni Vinson – Liverpool
Truthe Watson - North Syracuse
Diane Wayman - Liverpool
Aliya Whitaker - North Syracuse
Congratulations to the following graduates:
Mya Biel
Lacosia Bullock
Jamee Commane
Steven Corr
Jacquelyn Cox
Samantha Donhauser
Rebecca Evangelista
Caitlin Hess
Lauren Kesler
Tara Khanal
Sarah Kline
Max Lysius
Emily McAfoose
Carrie Mensch
Lindsay Miller
Ivy Mills
Beanca Moss
Medina Stockley
Sabrina Stocum
Farrah Terranova
- See more at: https://www.ocmboces.org/teacherpage.cfm?teacher=3212#sthash.WlH2pWCA.dpuf