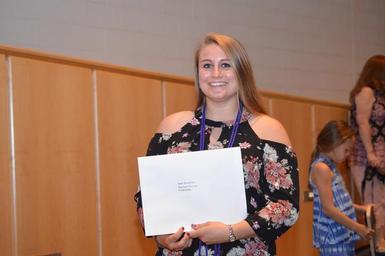 Nearly 400 students from the 23 component school districts of Onondaga-Cortland-Madison BOCES have earned the distinction of receiving a New York State Career and Technical Education (CTE) Endorsement on their 2017 high school diploma. Earning a CTE Endorsement is considered a distinction of honor. Having achieved the designation demonstrates a student's academic strength and signifies their readiness to enter the workforce or enroll in college.
"Earning a CTE endorsement is a complex process, requiring a student's excellence in their field of study, as the tests are developed according to industry standards and the endorsement signifies that students have attained the necessary entry-level technical skills," says OCM BOCES District Superintendent Jody Manning. "In New York State, students who wish to earn a CTE Endorsement must meet rigorous requirements, including passing nationally recognized tests in their field of study."
Students must take and pass both written and performance exams, which can be norm-based, requiring students to achieve higher scores than are typically accepted for passage. Performance exams are observed and scored by field experts not affiliated with the educational institution.
Students who pass the test demonstrate competence in their specific trade area and their readiness to meet the high standards of employment, or entrance into a secondary education program, in their field of study. To achieve the endorsement, students must also meet a number of additional standards including: passing their CTE course, completing approved work-based learning experiences, passing national assessments, completing 22 graduation credits, achieving passing grades on five Regents exams (or approved alternatives) and meeting all high school graduation requirements.
The following is a complete listing, by school district, of the 381 students who earned CTE endorsements this year. Their OCM BOCES program of study is listed in parentheses along with other honors received.
Baldwinsville Central School District
: Jacob Abbey (Construction Technology), Kiana Bisnett (Welding Technology), Kaitlin Bivens (Early Childhood Education), Bradley Brundige (Computer Technology), Anthony Cashaw (Computer Technology), Austin Castle (Automotive Technology), Skilier Congdon (Cosmetology), Matthew Cosme (Culinary Arts), Evan Cox (Automotive Technology), Morgan Cox (Cosmetology), Amber Coy (Early Childhood Education), Nathaniel Cutie (Physical Therapy Professions), Kieshawn Dingle (Automotive Technology), Matthew Feustel (Welding Technology), Skylar Fuller-Collar (Early Childhood Education), Wyatt Haines (Automotive Technology), Mackenzie Hanna (Physical Therapy Professions), Robert Hyde (Automotive Technology), Calum June (Construction Technology), Michael Lagana (Culinary Arts), Mekayla MacConaghy (Cosmetology), Cody Maier (Automotive Technology), Anthony Majerus (Automotive Technology), Ashlea Maxwell (Cosmetology), Larry McAuslan (Automotive Technology), Ryan Meyers (Automotive Technology), Michele Miller (Early Childhood Education), Megan Morehouse (Cosmetology), Gregory Munger (Automotive Technology), Daniel Nedell (Culinary Arts), Joshua Peck (Automotive Technology), Alexander Rotunno (Automotive Technology), Jared Springstead (Health Occupations Technology), Justin Thompson (Computer Technology), Taylor Trowbridge (Cosmetology), Mya Wallace (Cosmetology), Samuel Wallace (Welding Technology), Jamie White (Automotive Technology), Brittany Wilson (Cosmetology) and Christopher Yeschick (Automotive Technology)
Cazenovia Central School District
: Christopher Beare (Automotive Technology), Erisawe Briere (Culinary Arts), Kacie Burdin ( Cosmetology), Brennah Caffrey (Culinary Arts), Maleigha Ellithorpe (Cosmetology), Timothy Harken (Welding Technology), Jacob Kopylczak ( Construction Technology), Hope McGee (Automotive Technology), Alfred Moskvich (Automotive Technology), Alexa Nekritz (Culinary Arts) and Devon Young (Automotive Technology)
Chittenango Central School District
: Robert Allen (Automotive Collision Technology), Kali Bishal (Health Occupations Technology), Kaitlyn Brown (Media Marketing Communications), Jessica Burns (Construction Technology), Colt Calkins (Automotive Collision Technology), Daija Cush (Cosmetology), Cory Fredericks (Automotive Collision Technology), Jessie Gilbert (Health Occupations Technology), Noah Hildreth (Automotive Technology), Kaitlyn Howard (Cosmetology), Serena Jackson (Health Occupations Technology), Keara Lawson (Health Occupations Technology), Jeffrey Morton (Computer Technology), Devon Switzer (Automotive Collision Technology), Alex Teeter (Media Marketing Communications), Zachary Wilsey (Automotive Technology), Brooke Zaccanelli (Cosmetology) and Alex Zielinski (Media Marketing Communications)
Cincinnatus Central School District
: Elizabeth Brenchley (Health Occupations Technology), Kolton Brown (Welding Technology), Rachel Cass (Culinary and Pastry Arts), Emily Cortright (Cosmetology), Ashlie Ervin (Cosmetology), Samantha Marshall (Health Occupations Technology), Cody Metcalf (New Vision Medical Professions), Dylan Nechwedowich (Welding Technology), Meranda Palmer (Graphic Communications), Vick Rice (Graphic Communications), Garet Sudbrink (Welding Technology), Kiersten Thompson (Early Childhood Education) and Antonio Totten (Cosmetology)
Cortland Enlarged City School District
: Gretta Allen (Cosmetology), Mikeala Allen (New Vision Medical Professions), Noah Armstrong (Construction Technology), Charles Batsford (Culinary and Pastry Arts), James Boland (Graphic Communications), Savannah Brewer (Culinary and Pastry Arts), Jared Bronson (New Vision Environmental Science), Taylor Burdick (Cosmetology), Benjamin Bushnell (Automotive Collision Technology), John Cavanagh (New Vision Environmental Science), Sheridan Crane (Graphic Communications), Zachary Crum (Computer Technology), Matthew Davis-Howard (Culinary and Pastry Arts), Dante Fezza (Construction Technology), James Geiger (New Vision Environmental Science), Garrett George (Culinary and Pastry Arts), Samuel Gleason (Welding Technology), Kyle Green (Automotive Technology), Destiny Hartwick (Culinary and Pastry Arts), Brittany Ingrahm (Cosmetology), Destiny Johnson (Culinary and Pastry Arts), Colton Keating (Welding Technology), Gabrielle Keeney (Physical Therapy Professions), Nokomis Kemp (Culinary and Pastry Arts), Rebeca Kramer (Cosmetology), Melany LaFlair (Early Childhood Education), Thomas Leonard (Computer Technology), Marcus Lyman (Computer Technology), Cassandra Marks (Cosmetology), Natalie Moore (Cosmetology), McKenzie Morey (New Visions Medical Professions), Johnathon Nelson (Automotive Collision Technology), Willis Newman (Computer Technology), Zachary O'Dell (Computer Technology), Kenneth Price (Automotive Technology), Corrine Quail (New Visions Medical Professions), Claira Race (New Vision Environmental Science), Garrett Reagan (New Vision Environmental Science), Ryan Root (Computer Technology), Johnathan Rzepka (New Vision Medical Professions), Collin Sabin (Automotive Technology), Marcus Sherman (Construction Technology), Elizabeth Shultz (New Vision Environmental Science), Dominic Spaziani (Computer Technology), Autumn Stevens (Graphic Communications), Brandon Thomas (Computer Technology), Cameron Tinker (Construction Technology), Kayla Truesdell (New Vision Environmental Science), Troy Vallese (Welding Technology), Mollie Walts (New Vision Medical Professions), Tyler Zacek (Construction Technology) and Madisyn Zimmer (New Vision Environmental Science)
DeRuyter Central School District
: Jacob Aller (Construction Technology), Andrea Chapman (New Vision Medical Professions), Henry Corbin (Welding Technology), David Cox (Automotive Collision Technology), Trey Donahue (Automotive Technology), Justin Marsh (Automotive Collision Technology), Rachel Marsh (Early Childhood Education), Ethan Marshall (Automotive Technology), Patrick Moade (Automotive Technology), David Pilcher (Graphic Communications), Addison Randall (New Vision Environmental Science), Danielle Tebo (Culinary and Pastry Arts), Austin Wood (Construction Technology) and Johnathan Wood (Culinary and Pastry Arts)
East Syracuse Minoa Central School District
: Isabella Calcaginio (Physical Therapy Professions) and Callisto Raymond (Health Occupations Technology)
Fayetteville-Manlius
: Deryck Arnold (Welding Technology)
Fabius-Pompey Central School District
: Jeffrey Ashley (Welding Technology), Austin Chapman (Computer Technology), Darienn Clark (Cosmetology), Anna Denhoff (New Vision Environmental Science), Jamie Fredenburg (New Vision Medical Professions), Bradley Griffin (Automotive Technology), Morgan Hill (Health Occupations), Kory Mawson (Automotive Technology), Hannah McMichael (Construction Technology), Jerad Montague (Automotive Technology), Bradley Morgan (Automotive Technology), Kevin Niles (Automotive Technology), Owen Riehlman (Automotive Technology), Zachary Rybak (Automotive Technology), Brittany Shatraw (New Vision Environmental Science) and Connor Wisowaty (New Vision Environmental Science)
Homer Central School District
: Barden Bryce (Culinary and Pastry Arts), Rachel Barhite (New Vision Medical Professions), Alexander Bell (Welding Technology), Gavin Beyea (Computer Technology), Tristin Brown (Construction Technology), Jacob Brown (Culinary and Pastry Arts), Fox Burda (Culinary and Pastry Arts), Brianna Bushnoe (Cosmetology), Keiana Carter-Adkins (New Vision Environmental Science), Kelly Case (New Vision Medical Professions), Dylan Casterline (Computer Technology), Sarah Creeden (Health Occupations Technology), Charles Davies (Automotive Collision Technology), Wyatt Dexter (Welding Technology), Ryan Dwyer (Computer Technology), Nicholas Eckhardt (Computer Technology), Jordan Fisher (Health Occupations Technology), Dawson Funkhouser (Culinary and Pastry Arts), Reno Gaffney (Welding Technology), Dylan Hatfield (Automotive Technology), Samantha Juras (Physical Therapy Professions), Kaylee Mead (Automotive Collision Technology), Taylor Metzler (Health Occupations Technology), Sarah Mundorf (New Vision Medical Professions), Brittney Nichols (Early Childhood Education), Taylor Page (Health Occupations Technology), Kristen Rahner (New Vision Environmental Science), Christopher Rowley (Construction Technology), Justin Ryan (Automotive Technology), Owen Ryan (Welding Technology), Connor Schumacher (Computer Technology), Delaney Smith (Early Childhood Education), Austin Soule (Computer Technology), Daniel Strauf (Automotive Collision Technology), Xavier Thornton (New Vision Environmental Science), Isabel Torres (Computer Technology), Dillon Towers (Cosmetology), Paul Tracy (Construction Technology), Marissa Urban (New Vision Medical Professions) and Brooke White (Graphic Communications)
Jamesville-DeWitt Central School District
: Kiara Brown (Cosmetology), Colby Curtis (Culinary Arts), Janayjah Derby (Cosmetology), Jazne Kearse (Health Occupations Technology) and Alanna Spector (Cosmetology)
LaFayette Central School District
: Nicholas Mahalick (Culinary Arts)
Liverpool Central School District
: Andrew Alpuerto (Automotive Technology), Dylan DeForest (Welding Technology), Ramal Kearse (Automotive Technology), Jesse Lashua (Welding Technology), Steven Ososkalo (Construction Technology), Ricky Oundo (Laboratory Technology), John Polakiewicz (Automotive Technology), Taylor Race (Health Occupations Technology), Kierra Richardson (Physical Therapy Professions), Hunter Smith (Construction Technology), Marissa Tyre (Health Occupations Technology), Michael Valerino (Computer Technology) and Nubian Wade (Cosmetology)
Marathon Central School District
: Tori Bleck (Cosmetology), Sara Brigham (Health Occupations Technology), Cole Burlew (Automotive Technology), Vincent Corbo (Construction Technology), Dylan Gardner (New Vision Environmental Science), Makayla Gibbs (Health Occupations Technology), Katlyn Hatch (Cosmetology), Wyatt Hatfield (Construction Technology), Skyler Hayes (Construction Technology), Dalton Livingston (Construction Technology), Mariah McFadden (Cosmetology), Eugene Morehouse (Graphic Communications), Joshua Price (Welding Technology), Jaime Reynolds (Cosmetology), Noah Ryan (Automotive Collision Technology), Emily Smith (Graphic Communications), Calob Stewart (Construction Technology), Casey Wood (Early Childhood Education) and Tucker Wood (New Vision Environmental Science)
Marcellus Central School District
: Trinity Benyon (Early Childhood Education), Alex Czerniak (Culinary Arts), Casey Ezzo (Construction Technology), Alyssa Faciszewski (Culinary Arts), Cierra Kelley (Early Childhood Education), Nathan Lilly (Automotive Technology), Jacob McWhorter (Automotive Collision Technology) and Kyle Myers (Welding Technology)
McGraw Central School District
: Anthony Alberts (Construction Technology), Bridgette Bice (Health Occupations Technology), Lucas Cortez (Construction Technology), Dakota Davidson (Construction Technology), Dustin Hewlett (Construction Technology), Devon Livermore (Welding Technology), Kayli Marshall (Culinary and Pastry Arts), Alexis Roy (Health Occupations Technology), Eric Smith (Welding Technology), Erik Smith (New Vision Environmental Science), Carter Towsley (Health Occupations Technology), Travis Walker (Culinary and Pastry Arts), Spencer Welsh (New Vision Environmental Science) and Jordan Young (New Vision Medical Professions)
North Syracuse Central School District
: Austin Antzak (Welding Technology), Brett Braley (Construction Technology), Ryan Bristow (Physical Therapy Professions), Ashley Buholtz (Physical Therapy Professions), Angelina Butler (Laboratory Technology), Jordan Cardinale (Health Occupations), Jordan Carrino (Cosmetology), Jacob Chapman (Construction Technology), Ciara Colburn (Physical Therapy Professions), Troy Cooley (Automotive Technology), Katrina Cordero (Early Childhood Education), Matthew Dailey (Automotive Technology), Amanda DeRienzo (Cosmetology), Braden Doyle (Automotive Technology), Samantha Dwyer (Cosmetology), Bailey Gallo (Cosmetology), Aaron Gittino (Automotive Collision Technology), Karter Grow (Automotive Collision Technology), Jordan Hart (Welding Technology), Matthew Healey (Automotive Technology), David Hollis (Construction Technology), Bryce Humphrey (Culinary Arts), Justin Januszka (Welding Technology), Gerald Johnson Jr. (Culinary Arts), Brian Kenyon (Automotive Technology), Tridell Kimbrough (Automotive Collision Technology), Sabrina Kramer (Early Childhood Education), Miranda Landry (Early Childhood Education), Darryl Lane (Automotive Technology), Abigail Leechalad (Cosmetology), Enya Lord-Goessl (Cosmetology), Joseph Mallaro (Construction Technology), Alicia Nguyen (Cosmetology), Matthew Ostrowski (Automotive Technology), Kayla Padden (Computer Technology), Jeff Peterson (Construction Technology), Christopher Quigley (Welding Technology), Kayla Ridgeway (Cosmetology), Emily Ryan (Cosmetology), Jordan Seoane (Welding Technology), Matthew Sharp (Automotive Technology), Mason Skinner (Computer Technology), Devin Sullivan (Automotive Technology), Rosaria Talavera (Culinary Arts), Kia Watford (Cosmetology), Makenzie White (Culinary Arts) and Michael Wilkinson (Culinary Arts)
Onondaga Central School District
: Morgan Bauer (Early Childhood Education), Joshua Cunningham (Automotive Technology), Ella Epperson (Culinary Arts), Garrett Kearney (Culinary Arts) and Dylan Law (Culinary Arts)
Solvay Union Free School District
: Celena Bowen (Health Occupations Technology), Iveyshionna Ivey (Early Childhood Education) and Chelsi Sarno (Cosmetology)
Tully Central School District
: Elizabeth Adams (Health Occupations Technology), Tyler Aylesworth (Construction Technology), Travis Biggs (Construction Technology), Joseph Burns (Automotive Technology), Cole Currie (Welding Technology), Amber Delles (New Vision Environmental Science), Danah Earley (New Vision Medical Professions), Jacob Ganley (New Vision Environmental Science), Jade Hendricks (Physical Therapy Professions), Aaron Hughes (New Vision Environmental Science), Jacob Kehrer (Automotive Technology), Luke Krewson (Construction Technology), Allyson Porter (Health Occupations Technology), Mark Rosekrans (Construction Technology), Peter Thomas Jr. (Graphic Communications), Samantha Tomushunas (Health Occupations Technology) and Ashley Truax (Health Occupations Technology)
West Genesee Central School District
: Anthony Andrews (Welding Technology), Natalie Arnold (Health Occupations Technology), Marcello Barbuto (Automotive Technology), John Bingham (Automotive Technology), Abin Boris (Media Marketing Communications), Dylan Bruce (Welding Technology), Tyler Burl (Welding Technology), Sarah Campagnoni (Cosmetology), Nathaniel Clark (Automotive Collision Technology), Brandon Connelly (Welding Technology), Cameron Crane (Physical Therapy Professions), Julia Ende (Early Childhood Education), Jacob Fisher (Welding Technology), Brianna Grigorchuk (Laboratory Technology), Thomas Grobsmith (Welding Technology), Timothy Grooms (Media Marketing Communications), Alexis King (Cosmetology), Katlyn LaManna (Laboratory Technology), Chad Leotta (Welding Technology), Olivia Losurdo (Cosmetology), Conor Mahoney (Automotive Technology), Austin McCallops (Welding Technology), Nicholas McIntyre (Computer Technology), Jeimy Mejia Cruz (Cosmetology), Alexis Moore (Cosmetology), Trenton Mould (Culinary Arts), Taylor Smith (Early Childhood Education), Nathan Tremblay (Welding Technology), Brianna Vespi (Cosmetology), Christopher Vignogna (Computer Technology) and Cameron Ward (Welding Technology)
Westhill Central School District
: Sean Corbett (Construction Technology), Morgan Coyne (Construction Technology), Noah Durant (Culinary Arts), Mary Sakran (Health Occupations Technology) and Kelsey Smith (Cosmetology)
Ricky Oundo from the Liverpool CSD received a CTE
Endorsement in Laboratory Technology

Antonio Giachetti from the Liverpool CSD received a CTE
Endorsement in New Vision Criminal Justice

Patrick Moade from the DeRuyter CSD received a CTE
Endorsement in Automotive Technology

Johnathan Wood from the DeRuyter CSD received a CTE
Endorsement in Culinary and Pastry Arts

Jordan Cardinale from the North Syracuse CSD received a CTE
Endorsement in Health Occupations Technology

Casey Wood from the Marathon CSD received a CTE
Endorsement in Early Childhood Education