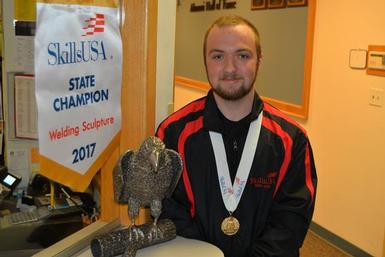 This year, OCM BOCES' Career and Technical Education (CTE) and Career Development Occupational Studies (CDOS) counseling staff implemented a quarterly 21st Century Classroom 4 C's award program for their Syracuse and Cortland students. Each marking period, students were selected for demonstrating excellence in one of the four key areas of 21st Century readiness: collaboration, communication, critical thinking and creativity. Jackie Popkess, a school counselor with the career development program in Syracuse said, "These students have gone above and beyond. They have moved past the basics and are embracing the four Cs – super skills for the 21st Century."
CTE welding student Kyle Myers from the Marcellus Central School District is pictured above. Kyle was one of the students to receive a "creativity" award. The complete list of student award recipients can be viewed online.
Following is a list of award categories and the student that were recognized in each area.
Creativity (Trying new approaches to get things done equals innovation and invention): Kolby Aitchison (Cincinnatus), Anthony Alberts (McGraw), Mikeala Allen (Cortland), Kaitlin Bivens (Baldwinsville), James Boland (Cortland), Celena Bowen (Solvay), Brandon Bush (Cincinnatus), Caley Cornwell (Homer), Shelby Cox (Tully), David Cuson (Liverpool), Elizabeth Davis (Liverpool), Janayjah Derby (Jamesville-DeWitt), Kathy Duncan (Marcellus), Dylan Hatfield (Homer), Anna Denhoff (Fabius-Pompey), Brianna Grigorchuk (West Genesee), Anne Gorham (Baldwinsville), Kayla Helfed (Westhill), Aaron Joslyn (Fabius-Pompey), Tridell Kimbrough (North Syracuse), Rachel Marsh (DeRuyter), Brandon Maruszczak (Fayetteville-Manlius), Kyle Myers (Marcellus), Johnathan Nelson (Cortland), Tyler Patrick (Onondaga), Jordan Shirley (Homer), Jerred Stedwell (McGraw) and Zachary Wiley (Chittenango).
Critical Thinking (Looking at problems in a new way, linking learning across subjects and disciplines): Jacob Abbey (Baldwinsville), Faruk Alam (Westhill), Alejandro Amaya (Westhill), Kevin Brown (Marcellus), Taylor Burdick (Cortland), Nathan Burke (Liverpool), Mackenzie Caron (LaFayette), Keiana Carter-Adkins (Homer), Christopher Costello (Westhill), Sarah Creeden (Homer), Morgan Cusick (Marcellus), Conner Lake (Homer), Katlyn LaManna (West Genesee), Erikesha Martin (Cortland), Timothy Mayberry (Marathon), Joseph Moore (Liverpool), Louis Nardis (Homer), Alida Naretel (Jamesville-DeWitt), Michael Potter (Tully), Courtney Ramish (West Genesee), Bryanne Reynolds (Baldwinsville), Noah Ryan (Marathon), Johnathan Rzepka (Cortland), Alexandria Sims (Liverpool), Michael Stanton (Cazenovia), Bruce Storey (Marathon), Sydney Strong (Liverpool), Ivan Suma (West Genesee), Devon Switzer (Chittenango), Kiersten Thompson (Cincinnatus), Cameron Ward (West Genesee), Brooke Williams (Homer) and Zachary Wilsey (Chittenango).
Communication (Sharing thoughts, questions, ideas and solutions): Kristie Adams (Homer), Robert Allen (Chittenango), Sydney Bedford (North Syracuse), Kiera Bertella (Chittenango), Lacee Bigtree-Dezilee (Homer), Kolton Brown (Cincinnatus), Joseph Carey (Innovation Tech/West Genesee), David Cox (DeRuyter), Christian Cronk (Liverpool), Zachary Curtis (Liverpool), Nathaniel Cutie (Baldwinsville), Braden Doyle (North Syracuse), Eric Ferguson (Chittenango), Kory Flora (Liverpool), Antonio Giachetti (Liverpool), Madison Guy (Homer), Duane Hector (West Genesee), Isabellah Hightower (Baldwinsville), Jayden Hollis-Long (Solvay), Alex Ladstatter (Westhill), Mikayla Langevin (West Genesee), Alyssa Miller (West Genesee), Michele Miller (Baldwinsville), Reanna Moran (Cortland), Lyndsie Neville (McGraw), Kevin Niles (Fabius-Pompey), Erica Pilcher (Fabius-Pompey), Cory Raichlin (West Genesee), Garret Reagan (Cortland), Connor Riedl (Cazenovia), Kyle Ryan (Homer), Payton Snyder (North Syracuse), Brianna Vespi (West Genesee), Jordan Young (McGraw) and Tyler Zacek (Cortland).
Collaboration (Working together to reach a goal – putting talent, expertise and smarts to work): Gretta Allen (Cosmetology), Jeffrey Ashley (Fabius-Pompey), Angelina Butler (North Syracuse), Jordan Carrino (North Syracuse), Nathaniel Clark (West Genesee), Katrina Cordero (North Syracuse), Colby Curtis (Jamesville-Dewitt), Hannah Devany (North Syracuse), Jordan Fisher (Homer), Mackenzie Hanna (Baldwinsville), Hunter Harrington (West Genesee), Franchesca Hulbert (Homer), Brenna Johnson (Homer), Jacob Kopylczak (Cazenovia), Cynthia Lucia (North Syracuse), Brenden Luis (Fabius-Pompey), Kassandra Mack (Cortland), Nicholas McIntyre (West Genesee), Cody Metcalf (Cincinnatus), Ryan Meyers (Baldwinsville), Tyler Patrick (Onondaga), Jared Raichlin (West Genesee), Kierra Richardson (Liverpool), Wyatt Shute (Baldwinsville), Daniel Strauf (Homer), Emily Smith (Marathon), Jared Springstead (Baldwinsville), Mya Streiff (Chittenango), Ivan Surma (West Genesee), Gavin Wandersee (Chittenango), Hayli White (North Syracuse), Johnathan Wood (DeRuyter), Devon Young (Cazenovia), Edwin Young (Tully) and Madisyn Zimmer (Cortland).

Congratulations to all of these outstanding students!