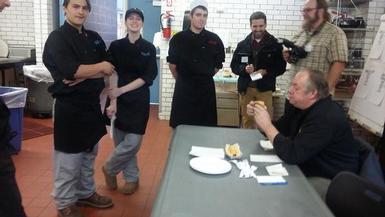 What can a high school senior do to leave their mark on their school and community? For some OCM BOCES Culinary Arts students, the concept of leaving a mark meant creating a signature recipe for a local eatery.
Dean Catlin, owner of Skyline Raceway in Blodgett Mills, recently made a "Pit stop" to the OCM BOCES McEvoy campus for the purpose of enlisting culinary arts students' help in creating a signature culinary creation for the track's restaurant.
Mr. Catlin, who often volunteers with students, recently approached OCM BOCES culinary arts instructor, Chef Lori Rossi, with his idea.
"I want something no one else has," Mr. Caitlin said. "I want something special people can look forward to getting at the track."
Rossi was happy to be a part of Mr. Catlin's inspiration. Her senior culinary arts students spent two and a half weeks researching concession menus, testing out recipes and developing a "pitch" to sell their items to the owners. The project charged the students with evaluating costs associated with their recipes and determining the financial feasibility.
The day of judgment came in early March when Mr. Caitlin visited the OCM BOCES culinary arts classroom to sample and select his signature recipe. Broken down into four teams of four students each, the groups presented Mr. Caitlin with their creations: an egg roll pizza, an egg roll Philly cheesesteak, a deep-fried bacon-wrapped hot dog and a chocolate covered cheesecake on a stick.
Mr. Caitlin eagerly sampled each creation while the students looked on in anxious anticipation. With each taste met by approval, the entrepreneur knew he had a difficult decision to make. "I'm amazed. You are all really talented kids," he said.
In the end, a winner was selected – pizza eggrolls – but Mr. Catlin found all of the recipes exceptional. "I may just end up using them all at one point," he said. "Maybe I'll have a special every month."
Congratulations to all the teams for their tremendous efforts and talents!
Team #1, Pizza eggroll – Johnathan Wood (DeReuyter), Dawson Funkhouser (Homer), Savannah Brewer (Cortland) and Nokomis Kemp (Cortland) – received Mr. Caitlin's top honor.
Team #2, Cheesesteak eggroll – Kayli Marshall (McGraw), Bryce Barden (Homer), Rachel Cass (Cincinnatus) and Matt Davis-Howard (Cortland).
Team #3, Bacon-wrapped hot dog with nacho cheese sauce – Charles Batsford (Cortland), Garrett George (Cortland), Fox Burda (Homer) and Danielle Tebo (DeReuyter).
Team #4, Chocolate dipped cheesecake on a stick – Destiny Hartwick (Cortland), Destiny Johnson (Cortland), Matt Wheeler (Homer) and Jacob Brown (Homer).