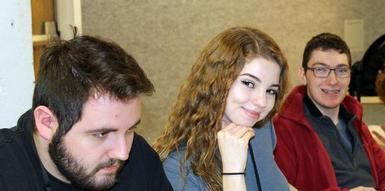 On Friday, Jan. 13, the first (and only at this point) graduating class of OCM BOCES' Media Marketing Communications (MMC) program came back together to share experiences with current MMC students. "Take advantage of every experience offered here, don't be afraid to take risks and cherish the time you have left in high school," were some of their words of wisdom. They also shared how they are doing now and how the MMC program and WCNY helped transition them into college life.
Joe Green – Electronic Media Communications
at Onondaga Community College (OCC)
: Going to WCNY was one of the greatest experiences of my life. The opportunity that OCM BOCES presented has really affected my life in such a positive way. The communication skills have helped me, not only in school, but also with my job at Best Buy Mobile. I'm attending Onondaga Community College for Electronic Media Communications and Television Production and I am ecstatic to be working toward my first degree.
Miranda Hart – Advertising Photography at Rochester Institute of Technology (RIT):
I always knew that WCNY gave me a good foundation for college, but I had no idea how lucky I was until I got to RIT. All of the college credits and shadowing Mark Martino on photo shoots were things that I could truly bring with me to college. Advertising Photography is the perfect major for me and I am so excited to continue studying and improving in it.
Ty Kaminski – Electronic Media Communications
at Onondaga Community College (OCC)
: So where am I now? I currently, and proudly, attend Onondaga Community College where I take EMC classes that involve directing a live show, performing as the technical director and checking audio levels as a sound engineer. I love it, I love the fast paced atmosphere. I eventually want to expand my career path and maybe open a business that involves the media side of things. Maybe a record label someday. I never know what the future holds for me.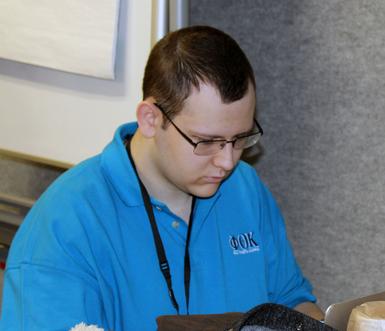 Matthew R. Vivelo – Electronic Media Communications
at Onondaga Community College (OCC)
:
After I left WCNY I didn't want to stop learning. Until my first semester at OCC, I dedicated my time to completing an internship at WCNY. WCNY has influenced my life even now in college. I take great pride with whatever I do when making media. My first semester I earned a 3.5 GPA, joined the esteemed society of Phi Pheta Kappa, and became the treasurer of the politics club at OCC. Because of the credits I earned while in the Media Marketing Communications I started my year with second semester students. I am eternally grateful for the experiences WCNY offered me.
Jarod Ryan – Electronic Media Communications
at Onondaga Community College (OCC)
:
My experience here at WCNY helped shape me into the person and college student I am today. I learned how to manage my time and I improved my organizational skills, which have really made an impact on my life as a student. My grades have gone up since I began the Media Marketing Communications program, along with my interest level in all courses – even those that don't necessarily have an impact on my major.
Jewel Slade – Purchase College, School of Film and Media Studies:
Due to the experiences I had at WCNY I went into college feeling more confident and experienced. I was excused from several courses I would have had to take if I hadn't been in the program. I am now in an advanced setting where I can focus on my passions and have seen improvement in my work. I will soon be featured in an on campus art exhibition and hope to continue to create art on my own time as well. I am so very thankful for all of the experiences I have gotten over the past two years.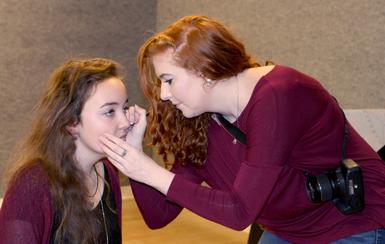 Tori Savacool – Film, Photography and Visual Arts at Roy H. Park School of Ithaca College:
When Tori was working on a class project earlier in the year, she sought assistance from her past OCM BOCES' Media Marketing Communications teacher, Kathy Labulis. For a final project in her photo class, Tori opted to create an empowerment series entitled "I Will," through which she would use eyeliner to write phrase "I Will" on various people and photograph the words. Tori was hoping to involve people of all ages and asked if Ms. Labulis and her students would be interested in being subjects. The OCM BOCES MMC class was happy to help the former student create her successful final project.