Congratulations to Carol Ann Davies, OCM BOCES' special education principal at McEvoy, for recently receiving the "Community Partner" award from Cortland's Franziska Racker Centers. The award is presented annually to a group or business that works to improve the lives of people with disabilities. In presenting the award to Carol Ann, Susan Thomas of Racker Centers, stated, "I can't think of a more deserving partner than Carol Ann Davies and OCM BOCES." Thomas went on to provide a glowing account of Carol Ann and the tremendous work she has done through OCM BOCES and beyond to enhance the lives of students with disabilities and break down barriers. "Carole Ann is an administrator who does everything possible to ensure kids, families and staff feel a sense of belonging to and acceptance in our school. On a daily basis, she tells people they are appreciated and valued. She sees the strengths in every person," Susan said.
"Sometimes our students act out in the most unlovable ways. Many come to us with histories of unsuccessful school placements, devastating losses and disrupted attachments. Carol Ann's loving and respectful manner of talking to children has worked time and time again in breaking down the barriers. We have been more successful providing a safe, caring environment where healing can happen because of Carol Ann's patience, character and stellar administrative style," she continued.
Carol Ann and OCM BOCES have been partnering with Racker Centers for more than 22 years to provide students with cognitive and emotional disabilities a wide range of educational and mental heatlh services. Carol Ann is a graduate of Cortland Enlarged City School District and has earned degrees in Special Education, Health Education and Physical Education. In the past, she has worked for Boston Public Schools, served in the PEACE Corp as a teacher in Honduras and then worked as a special education teacher in Cortland for 13 years.
Carol Ann began her administrative career in the Marathon School District where she was the Special Education Director for five years before coming to BOCES. In addition to her work in schools, Carol Ann is on the executive committee for CAPCO. Over the last 2 years she has been instrumental in raising over $25,000 for the transplant patients at Upstate. She also volunteers her time for local organizations such as the YMCA.
Carol Ann is a true advocate for students with disabilites and should be congratulated for her tremendous work!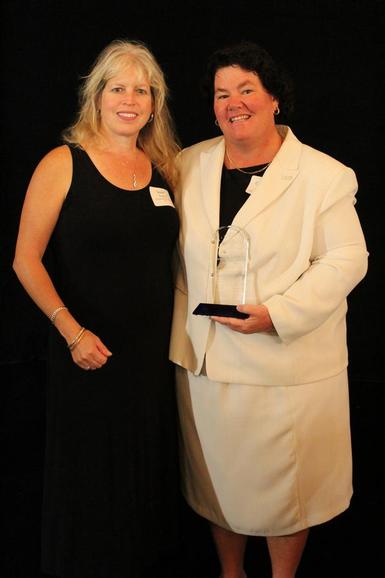 Carol Ann is pictured with Susan Thomas of Cortland's
Racker Centers
.