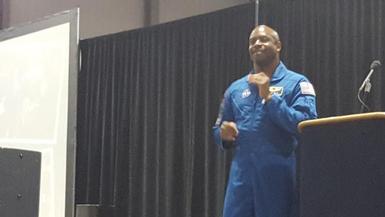 When Leland Melvin was a young boy growing up in Lynchburg, Va., he had no desire to become an NFL football player or astronaut – both of which he eventually achieved.
Instead, Melvin wanted to become a professional tennis player like Arthur Ashe, an African American athlete who trained nearby. The reason was simple, Melvin explained: "He looked like me."
Melvin discussed the importance of role models during his keynote speech this week at the OnCenter in Syracuse, where more than 250 educators from across the country are gathering for four-day conference sponsored by the Onondaga-Cortland-Madison Board of Cooperative Educational Services (OCM BOCES) in conjunction with the nationally acclaimed Buck Institute for Education (BIE).
Called "Making Learning Happen@PBLNY," the conference focuses on the research-driven success of Project Based Learning (PBL) and the Maker Movement, which both focus on arming students with 21
st
skills and helping them become more engaged in their learning. The conference runs through Friday.
Melvin shared a life's journey that took him from being an NFL player with the Detroit Lions and Dallas Cowboys to a 24-year career as a NASA astronaut that included the construction of the International Space Station. From there, he co-chaired a White House task force in STEM education, which resulted in the nation's five-year STEM education plan.
Most of his talk touched on the people and influences that made him a success as an athlete, engineer, astronaut and advocate for education.
As the son of two middle-school teachers in Lynchburg, Melvin grew up at a time when the country was in awe of NASA's achievement in putting man on the moon in 1969. Even so, Melvin looked to Ashe, the great tennis player and black activist, as a bigger hero.
In a similar vein, Melvin shared a photo of the actress Nichelle Nichols, also known as Lieutenant Nyota Uhura on "Star Trek." Nichols played the space crew's communications officer, the first time an African American woman played a leadership role on television.
Melvin said it was a job she wanted to leave until Martin Luther King Jr. convinced her to stay, confident her role as an actress would better serve the cause of civil rights. Later, NASA hired Nichols to help recruit minorities.
Another influence in Melvin's life? In a nod to Project Based Learning, a major focus of the conference, Melvin talked about an empty bread truck his father purchased one day with a plan to convert it into a recreational vehicle. Over the course of a single summer, Melvin said he learned electrical, chemical and mechanical engineering – "all disguised as converting a truck into an RV."
In the end, the truck included beds, a kitchen, plumbing and more. In Project Based Learning, students collaborate on real-world problems and make real-world connections, just as Melvin and his father did with the truck project.
Melvin shared other stories that fueled his desire for learning, including:
The time his mother gave him "a non-OSHA certified, age-inappropriate chemistry set" which resulted in an explosion and a burn hole in the rug.
The homecoming football game in which Melvin missed a critical pass in the end zone. He remembered the coach who pulled him aside on the bench and told him, "I believe in you – go back out and catch the ball." So he did – and never forgot the coach's words.
The time a friend convinced him to study college engineering courses from the University of Virginia at night after exhausting practices in the NFL. After a severe hamstring injury took him out of the game for good, Melvin was grateful for the daily sacrifice. "Having these backup plans in education have always been important to me," he said.
Later, in his graduating class at NASA, Melvin appeared in a photo with his classmates – the only African American in the group. Once again, however, he would have to overcome a major hardship before traveling into space.
Melvin described a training accident at NASA that left him temporarily deaf, a condition that precluded him from traveling into space and put him in NASA's Education Department until a doctor's waiver allowed him to fly. He later took part in special international mission: delivering the European Space Agency's Columbus Laboratory to the International Space Station. Melvin worked on the flight deck and operated the robotic arm that helped get the lab installed.
It was this experience that exposed Melvin to the breadth of the world and our common characteristics as humans, no matter what our country of origin. Melvin worked with Russians, Germans, Italians and others on the International Space Station. He experienced their common bonds and hoped world leaders would realize the same.
In his speech, Melvin shared fun stories about living in space – like carting around objects with his feet and "drinking" floating water bubbles filled with M&Ms. He then directed his talk about education and startling statistics about the majority of students who are "unengaged" or dropping out of school altogether. He discussed numerous resources and projects for educators, through NASA and his own projects, that could engage students and instill a love for science, especially through the wonders and challenges of space.
He encouraged educators to bring these experiences to students of all ages, races, backgrounds and abilities. Teaching he said, "is one of the most important and critical jobs in our country so I salute you, for what you do."