Reach students learn about forensic science hands-on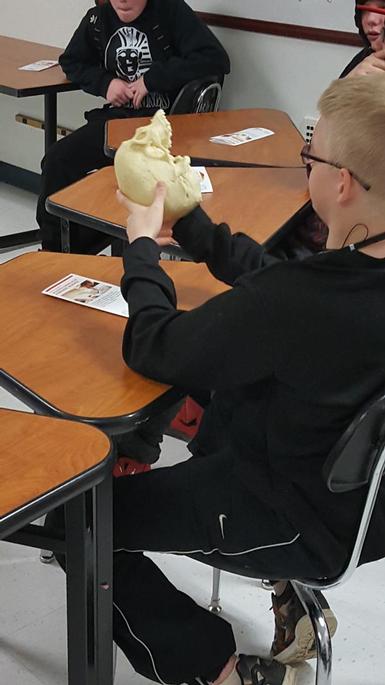 Eighth grade students in the OCM BOCES Reach program recently had the opportunity to learn about real world forensics thanks to the Syracuse University (SU) Forensics Department. The department included retired New York State Trooper Adrian Grenier; Christine Woods Heslin, Forensic and National Security Sciences Institute Administrative Assistant and a Syracuse University senior graduate anthropology student.

The April 11 visit was arranged at part of a Project Based Learning (PBL) assignment through which the students experienced Harper Lee's classic novel, To Kill a Mockingbird, by learning about and recreating the trial of character Tom Robinson. Students also attended Syracuse Stage's production of To Kill a Mockingbird on March 24.

Prior to the SU presentation, students spent class-time learning about forensics and discovering how the science is used in a courtroom to prove guilt or innocence. In order for the students to experience a more realistic courtroom encounter though, Reach staff thought it would be helpful for the students to hear firsthand from experts in field.

The presentation truly provided that firsthand account of how forensics are used in the courtroom, allowing students to observe various types of evidence collected from crime scenes and to directly see and touch some of the different bones found within the human body.

After the visit, the students created legal briefs explaining why they believed in Tom Robinson's innocence. The students used their newly acquired knowledge of forensic science to pull applicable evidence from the novel in support of their argument.