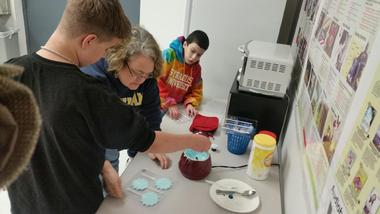 Students in the OCM BOCES Transitional Education Program (TEP) Jr. class at the Irvin E. Henry Campus recently spent time in class working on a Project Based Learning (PBL) assignment designed to answer the question "How can we help protect children?"
While researching the topic, students discovered the
McMahon - Ryan Child Advocacy Center
and decided as a class that they would like to support the center. Students considered ways to monetarily give to the center and decided that they would hold several fundraisers during the month of April, which is Child Abuse Prevention Month.
Prior to their sale, students researched products and pricing, created advertisements and worked with school administrators to bring their project to fruition at the Henry Campus.
During the month of April, the students sold pinwheels, "Go Blue 4 Kids" bracelets and chocolate pinwheel lollipops, which they made in class, to raise funds for the McMahon – Ryan Center. Students were responsible for collecting the money and keeping account records. At the completion of their fundraising events, more than $100 was raised through their classroom project. On Thursday, April 21, 2016 the students were able to present the $121 they had raised to the child advocacy center.