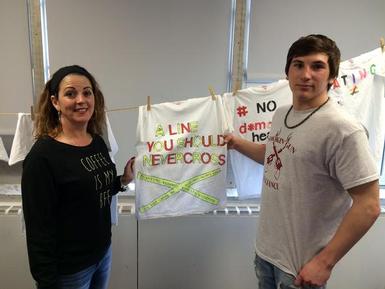 When representatives from Vera House visited
STARS Alternative High School
in Solvay last fall, their lessons about domestic violence inspired an enormous sense of resolve among the school's 100 students.
"The students were truly affected by the presentation," Principal Pat Mahunik said. "They knew that
not
acting was not an option. They wanted to do
something
to help."
Throughout the school year, that resolve to do
something
evolved into months of hard work that culminated with an entire gallery of hand-crafted, heartfelt and educational materials about domestic violence. Even more significant, the students' work resulted from a partnership with two local businesses whose widely different products – water technologies and custom log cabins – seemed a strange and unlikely "fit" in the fight against domestic violence.
"The whole school rallied," said STARS teacher Pam Hogan Charron, who along with Denis Morris, co- led the Vera House effort . "We ended up being so proud of our students' work and very grateful to the entrepreneurs who put their heart and soul into guiding them."
The teachers at STARS, which stands for Students Taking Alternate Routes to Success, regularly use a research-driven, interdisciplinary approach to instruction called Project-Based Learning. As part of the school curriculum, business leaders and local community organizations routinely work with students, stressing the importance of 21
st
century skills, such as innovation and collaboration, that make any project successful.
Because of the students' tremendous desire to support Vera House, Charron put her connections to work. Her first contact was Trish Angrick, the Northeast Administrative Manager for Evoqua Water Technologies, which is based in East Syracuse. She also connected with Dave Beckwith, owner of All Custom Log Cabins in Brewerton.
Both came to STARS to share their expertise with students and advise them on creating a professional and valuable product to benefit Vera House.
Angrick, for example, met with STARS students in January to set the tone for their efforts. She shared the values that have made Evoqua a world leader in water management: innovation, collaboration, and responsiveness. She challenged the students to start with good, solid research about Vera House.
"Learn about Vera House and analyze their needs," she said. "Then, together, find a way to add value to their organization."
That's when Dave Beckwith, the owner of All Custom Log Cabins, came in. As someone who likes to translate a customer's needs into innovative designs, Beckwith helped students think critically about how craft a product that appealed to a specific audience. After much discussion and "a-ha moments," as Lodor-Morris said, the students decided to create a gallery aimed at pre-teens. They also decided that pre-teens would want to look at something unique, rather than generic. That meant making all their designs for the exhibit in free hand, without the use of generic graphics.
Once that mission was clear, everyone chipped in.
STARS juniors turned their anti-violence messages and drawings into T-shirts that were strung on a clothesline. The Senior ELA class contributed a film that they produced and edited based on their research of data regarding relationship abuse centered on teens and young adults. Math students in Brenda Lofthouse's class created polls and represented their findings in large, colorful graphs. English students in Rocco Rachetta's classes hand-wrote powerful acrostic poem displays. History classes focused on changing social views by creating a music video and T-shirts. One student offered a live performance of a song he composed himself. In art classes, Michelle Ekross' students used a variety of mediums to create impressive visuals such as a life-sized wall of facts. Finally, forensics students studied the effects of violence, and culture and gym classes discussed character education.
In another twist, the staff at STARS requested feedback via Skype from two award-winning video-game designers, Brenda and John Romero, who have also served as past advisors for the Smithsonian Museum. Students wondered if these two designers -- worldwide legends in the industry – would appreciate the mixed colors and fonts apparent in their displays. Once students unveiled their work, however, their worries disappeared.
"Using your own voice, in your own hand, is beautiful," Brenda Romero told the students. "The choice to
not
use print or pictures that anyone can easily pull off the internet is powerful. …Your message is that you
care!
"
When all their work was complete, students presented their extensive gallery March 18 at their school. They decorated the room in purple and white to coincide with the kickoff of Vera House's "White Ribbon Campaign." As guests filed in, students discussed their projects and answered questions. One guest was Evoqua's Angrick, who stood in awe of the powerful messages.
"Your greatest message," she said to the students, "is not on a shirt, or in a poem. The best message you give is in the power of your example and effort."
Wendy Lloyd, who is the school's social worker, and STARS students, will transport their entire gallery exhibit to students in other programs. By power of example, they hope other students will begin their own campaign against domestic violence.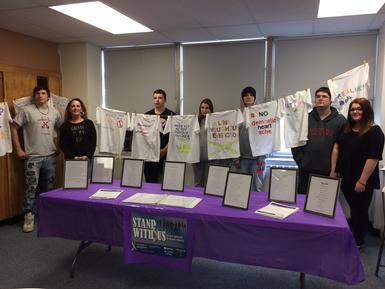 Pictured above: STARS senior Shaun Gebo, freshman Matt Graham, senior Ashley Neupert, sophomore Mark Timson, senior Devon Hale, and junior Courtney Radley stand with Evoqua's Trish Angrick behind one of the informational tables the students created, decked out in purple and white, to help Vera House kick-off their annual White Ribbon Campaign.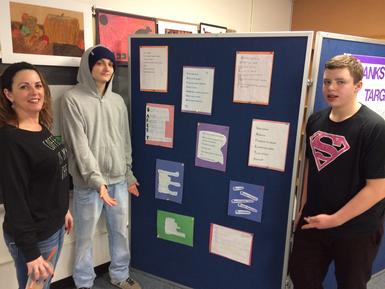 Pictured above: STARS sophomore Mark Timson and freshman Matt Graham stand with Trish Angrick of Evoqua to discuss the process their class used to create this powerful poetry display.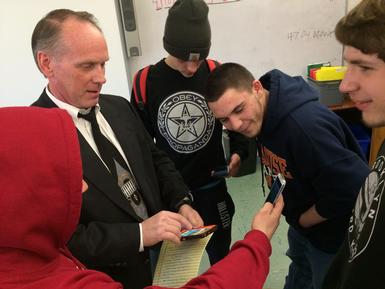 Pictured above: STARS seniors Devon Delia, Jake Cortini, Zack Bambrick, and Randy LaTray consult with Dave Beckwith, owner of All Custom Log Cabins, to brainstorm strategies to create concepts geared towards their target audience.