A program aimed at empowering Hispanic/Latino high school students from across the state recently announced this year's delegates from six Central New York school districts.
The program, called the Puerto Rican/Hispanic Youth Leadership Institute, is hosted by the Mid-State Regional Bilingual Education Resource Network (RBERN) at OCM BOCES. Students who qualify for the program engage in five leadership training sessions before attending a culminating event March 19-21 in Albany. At the three-day Albany conference, called the Angelo Del Toro Puerto Rican/Hispanic Youth Leadership Institute, students participate in a mock Assembly session and debate legislation that affects their state and communities.
The following 22 juniors and seniors were recently selected as delegates:
Binghamton High School - Edward José Marte Rosario
Hannibal High School - Kenisha Delgado
Ithaca High School - Anthony Henriquez, Ashley Kelsey, Gabrielle Duffett, Heridania Abreu, Ilan Mizrachi, María Gil and Yashaly Acosta-Vazquez
Solvay High School - Aruasy Barrios, Karissa Benz and Ruth Rodriguez
Syracuse City - Paula Michelle Alcantara Lopez (Nottingham High School); Ariadna Lopez, Caroline Guzman and Gladis Ester Clavel (Corcoran High School)
Utica City - David Sisalima Torres, Genesis Almanzar, Itamar Almanzar Perez, Karla Garcia, Daileny Guerrero and Naysha Rios (Proctor High School)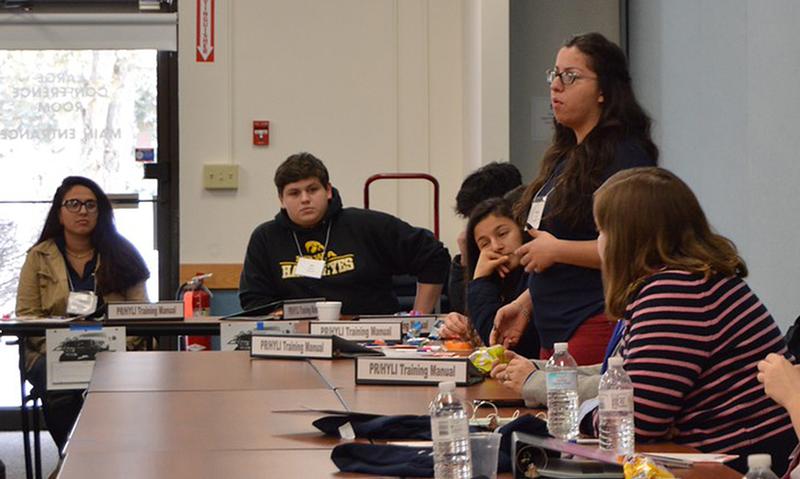 In the photo:
María Gil (standing) of Ithaca High School speaks at OCM BOCES in East Syracuse on January 15 during the first training session for the Puerto Rican/Hispanic Youth Leadership Institute. Gil and 21 other student delegates from Central New York will participate in four more sessions at BOCES before visiting the Onondaga County Legislature in March. The program culminates with a three-day visit to the New York State Assembly from March 19-21 in Albany. The purpose is to empower Hispanic/Latino students in the areas of citizenship, leadership, team building, debate, parliamentary procedures and the New York State legislative process. Surrounding Gil, from left to right, are Ariadna Lopez of Corcoran High School in Syracuse; Ilan Mizrachi, Anthony Henriquez (partially visible), Yashaly Acosta-Vazquez, and Gabrielle Dufett, all of Ithaca High School.