The Go Green Challenge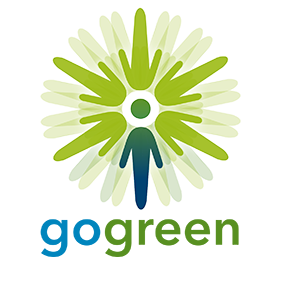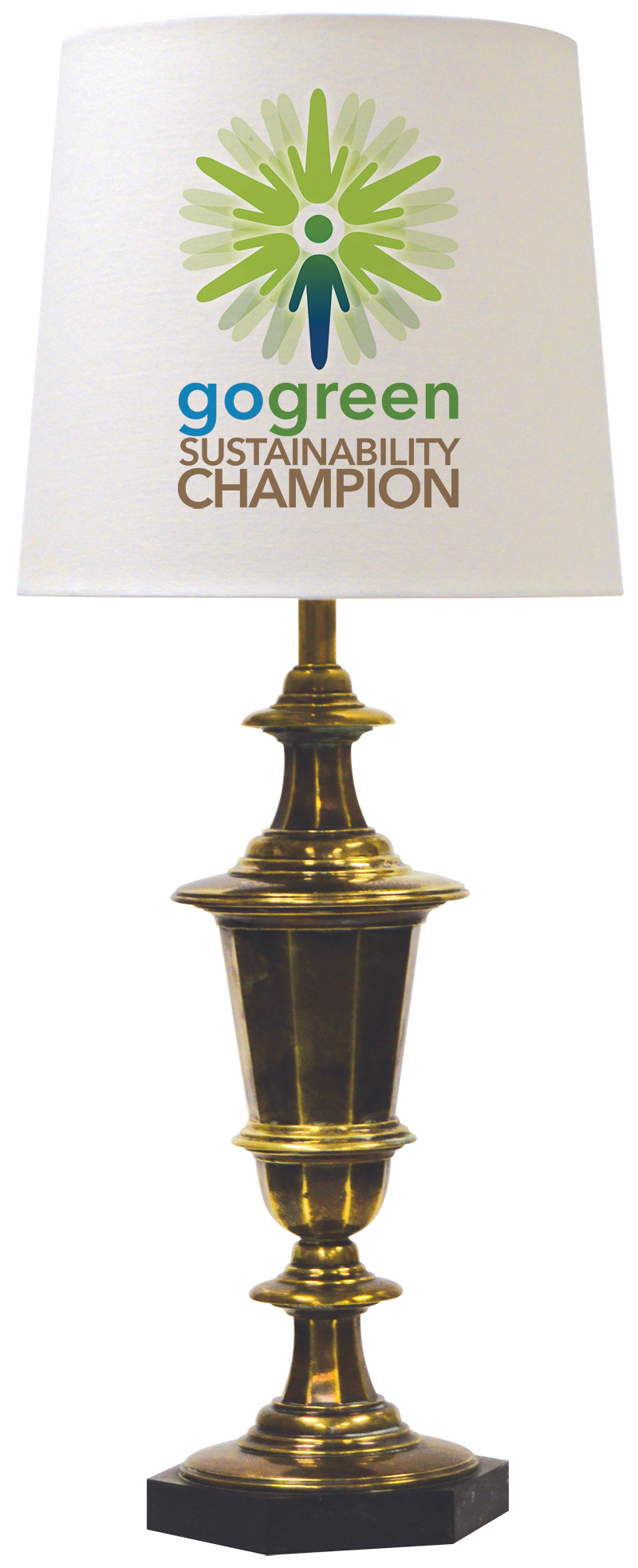 The McEvoy building remains in the lead because of several exceptional efforts that have resulted in purple bonus points. Those efforts have included schoolwide "Go Green Ambassadors," helpful signs above waste bins, bottle-and-can collection boxes, researching children's books, a project that turned recyclable materials into musical instruments, and two significant composting projects, including a large, building-wide composting effort that will eventually include waste from culinary classes and the main cafeteria. That material, in turn, will be used in a children's garden outside.
Still, as with previous months, other OCM BOCES buildings are neck-and-neck and could easily surpass McEvoy. Are you willing to help? Are you willing to do what it takes to earn the coveted Go Green Championship Lamp and an all-building pizza party? The winning building will be announced in June.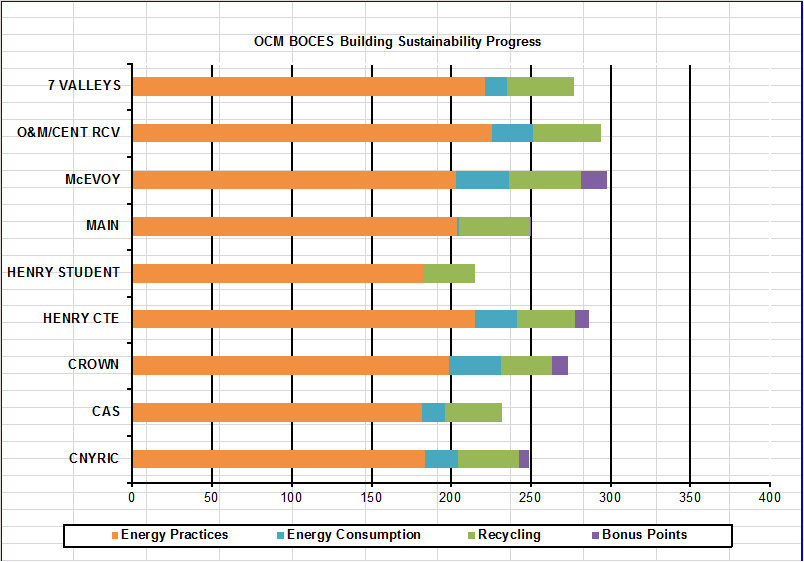 INSIDER TIPS
Some ideas for tips based on what we're seeing in the buildings:
Milk cartons, juice cartons, and juice boxes ARE recyclable. They MUST be emptied before putting in the recycling bin.
Paper towels, napkins, and paper plates go in the landfill bin.
Many classrooms and offices have more than one trash can. All of the research shows that trash is reduced and recycling is increased when there is only one trash can in each space. Consider eliminating extra trash cans from your room. Your custodian will be happy to remove it!
Be mindful of turning off computers and monitors each and every day. Devices left on reduce points for your building!
DID YOU KNOW?
46% of a school building's energy consumption relates to heating.
Every 1000 kwh you save just by turning things off = $100 in savings!
Source: OCM BOCES Business Office
CONTEST RULES
WINNER
The building that demonstrates the greatest improvement in energy conservation and recycling from February 2017 through May 2017.
PRIZE
Sustainability Champion Trophy to be displayed in the winning building and a pizza party for all occupants of the building in June 2017.
BUILDINGS
CNYRIC (Rodax 1, 2, 3, 7, 8)
Crown Road Campus (CTC)
Cortland Alternative School
Henry CTE Building
Henry Student Services Building
Henry O&M /Central Receiving Buildings (combined)
Main Campus
McEvoy Center
Seven Valleys New Tech Academy
ENERGY CONSERVATION
Improvement assessed based on:
Observations from OCM BOCES Energy Analyst

Lights turned off?
Computers, monitors, etc. turned off?
Auxiliary equipment (projectors, interactive white boards, etc.) turned off?
Evidence of HVAC setback during non-work hours?
No interference with programmed room temperature controls

Electric meter data
Natural Gas meter data
RECYCLING
Improvement assessed based on:
Use of Single Stream recycling

Plastics #1-7
Paper (newspapers, magazines, all office paper, cardboard, etc)
Glass (clear, brown, or green food and beverage containers)
Metal (cans, aluminum foil, empty aerosol cans)

No contamination of recycling by non-recyclable materials (tissues, paper towels, etc.)
Recycling guidelines:

No liquids
No styrofoam
Rinse all food/liquid from containers before recycling
No wax- or foil-coated material (e.g. frozen dinner boxes)
Flatten cardboard
BONUS POINTS
Buildings can earn Bonus Points for initiatives beyond the base scoring (e.g. class projects on sustainability topics, organized department- or building-wide project focused on energy conservation or recycling, reduced number of personal energy-consuming devices and appliances). Consideration for bonus points must be requested through the building's OCM BOCES Sustainability Committee member.
OCM BOCES Sustainability Committee Members
SCORING
Points will be awarded for improvement in all of the above-identified areas. Bonus points will be awarded separately as projects are approved for consideration and completed.
TRACKING THE PROGRESS
Go Green will have a dedicated link on the OCM BOCES website (from the home page go to Menu and then QuickLinks) where buildings can track progress during the contest.
RESOURCES