Whether you are looking to try your hand at a new hobby or leisure activity, we have assembled a variety of part-time Continuing Education classes and hope you will find something that interests you. Four sessions are offered each year - fall, winter, spring and summer - and new classes are offered each session.

WHAT YOU'LL LEARN
OCM BOCES is proud to offer a large variety of Continuing Education classes – and now you can enroll right online! Whether you're looking to upgrade job skills or perfect your hobby, we have affordable classes that are right for you. Browse our catalogs to learn more about classes in art, business, computer training, culinary arts, languages, recreation and more.

Browse through our catalogs for program and class dates.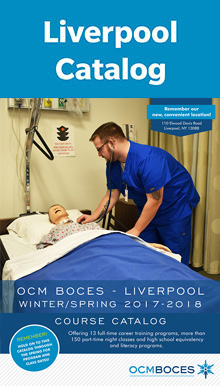 TAKE CLASSES ONLINE!
Interested in taking classes from home? OCM BOCES is teaming up with another esteemed partner, UGotClass, to offer online certificates and courses in a large variety of areas: business, health, new media marketing, professional development, social media for business, education and more. UGotClass is affiliated with the Learning Resources Network, or LERN.

These online courses are taught by leading practitioners and teachers, with audio presentations from the instructor and interactions with the instructor and other participants.

For more information, as well as registration information, CLICK HERE.

LEGAL STUDIES COURSES
Ever consider an exciting career in law? OCM BOCES is excited to announce its partnership with the highly acclaimed Center for Legal Studies, which is now offering a wide range of online courses for students at OCM BOCES.

Most courses involve seven-week sessions that are available six times per year. Topics include paralegal studies, personal injury for paralegals, legal nurse consultant, law school prep, employment law, victim advocacy and dispute, and much more.

For more information, including registration information, please CLICK HERE