March 21, 2023
Dave Sampson's hair has power — and a small army behind it.
Sampson is a teacher at Innovation Tech, a high school in Syracuse administered through OCM BOCES. The army is his entire school, with about 120 students and staff who want to raise money for the popular teacher and his annual "Shave Dave" effort to fight childhood cancer through the St. Baldrick's Foundation.
In Syracuse, the fundraiser culminates at Kitty Hoyne's Irish Pub & Restaurant in Armory Square. In exchange for donations, participants agree to get their heads shaved in front of a large and boisterous crowd. This year, the hair-shaving hoopla is set for Sunday, April 2. Sampson has been drawing attention to the effort by growing out his salt-and-pepper hair and beard to match. He has his own fundraising page on the St. Baldrick's website.

At Innovation Tech, students want to raise as much money as possible for Sampson, a man they describe as "an Innovation Tech icon."

Through an in-house challenge, students are competing as family groups, or teams, to bring in money and win points. The winning family group gets to "pie" the lowest-ranking family group with whipped cream pies.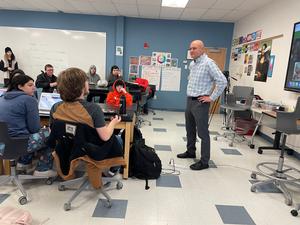 To bolster that effort, students are expanding their fundraising efforts into the larger community. In a recent Multimedia Marketing class, students learned about journalism and the process of writing a formal press release in hopes of getting more people outside their school to donate to the cause.

Innovation Tech teachers Emily Iven and Alex Starr-Baier, who co-facilitate the Multimedia Marketing class, brought in an experienced journalist to conduct a formal interview of Sampson. Juniors in the class observed Chris Iven (Emily Iven's husband) as he questioned Sampson and drew out his motivations for the fundraiser. The students also asked questions and created a video to share the story.
"Sampson is known for his goofy sense of humor and different teaching styles," one draft news release said. "He always comes into work with a smile on his face and tries his best to spread positivity."
Through the interview, students discovered that Sampson's participation in St. Baldrick's stems in part from a desire to sponsor a local child, Archie, who is in remission. He has been doing it for six years.

This year, he is even more passionate about the cause because his wife is going through her own struggle with cancer.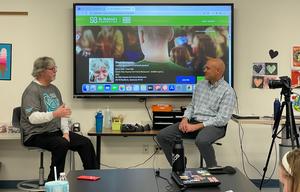 In their practice news releases, students described Sampson as an "Innovation Tech icon" because he has taught at the school since its inception in 2014 and at OCM BOCES for about 20 years.
At Innovation Tech, a school that is part of the national
"New Tech" Network
, students collaborate on projects, drive their own learning, connect with their communities, and work on authentic, real-world projects. "Shave Dave" has now become one of those projects. Sampson is grateful for their compassion.
"St. Baldrick's is a great celebration of giving," Sampson said. "It's my favorite organization to support."
In another draft press release, students wrote: "While the schoolwide goal is $1,000, we want to aim higher than that. We believe in the power, kindness and compassion of our community to spread the word about St. Baldrick's and childhood cancer."
Please consider donating through the following link:
https://www.stbaldricks.org/participants/mypage/1115346/2023
"