Meet our six top-three finishers at the New York State SkillsUSA competition
OCM BOCES had an outstanding showing at the New York State SkillsUSA competition held April 28 at the New York State Fairgrounds. We had two state champions and four additional students among the top-three finishers.
The two state champions, Riley Collier and Matthew Sheffield, will now compete at the national competition set for June 20-24 in Atlanta. We wish them the best of luck! Congratulations to all of our competitors.
Riley Collier, West Genesee, State Champion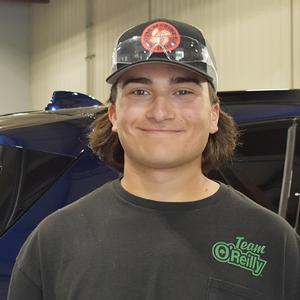 It was a bit by chance that West Genesee senior Riley Collier landed in the OCM BOCES Auto Collision Technology program at the start of his junior year. He initially considered welding, but that class was full. Matt McGivney, the auto collision instructor, convinced Riley to take his class because welding is part of his class, too.
"I've loved it ever since," Riley said. "It's been an amazing experience."
Riley's passion for his trade was evident on April 28 when he was named a New York State champion in the Collision Repair category during the annual SkillsUSA competition held at the New York State Fairgrounds. The competition included taking a written test, creating an estimate, welding, fixing a dent in a metal fender, and doing a repair on a plastic bumper cover.
After a full day of competition — nearly nine hours after his 6:30 a.m. arrival — Riley still had no idea if his work was good enough to place, much less win. The next day, however, his name was announced in the No. 1 spot during the SkillsUSA awards ceremony. His BOCES classmates and advisors erupted in cheers.
"I was ecstatic," he said. "I was very, very happy. I felt like a lot of hard work had paid off."
Riley is now practicing for the national SkillsUSA competition set for June 20-24 in Atlanta. He also had a three-week internship at Nino's Collision on State Fair Boulevard.
Riley credits Mr. McGivney for securing the internship, encouraging him to compete in SkillsUSA, and teaching him a wide range of skills to be competitive. Riley noted one class project in particular — fixing up a 1979 Jeep Wrangler in hot-rod red body color – "that really came out nice."
Riley said his love for cars has existed since childhood, but he also has another passion — boats. This summer, Riley will be moving to Florida to attend the Marine Mechanics Institute in Orlando. He hopes to one day start his own business, one that allows him to work on boats … inside and out.

---
Matthew Sheffield, Fabius-Pompey, State Champion
Matthew Sheffield says his knowledge of automotive technology soared this past year, his second year in the business-embedded Career & Technical Education program at Driver's Village in Cicero.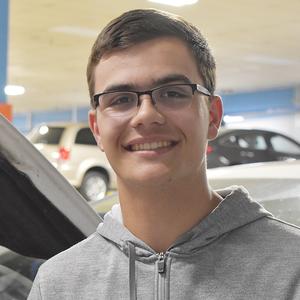 The Fabius-Pompey senior used his knowledge (as well as a quick review of his junior year curriculum) to compete for nearly four hours in the Automotive Service Technology category at the state SkillsUSA championships at the New York State Fairgrounds. He took a 100-question written exam and performed hands-on work at seven stations: parts identification, tool identification, steering and suspension, brakes, engine performance, electrical work, and an interview with the judges.
The next day, during a lengthy SkillsUSA awards ceremony that made his heart pound in his chest, he found out the news: He had won. Matthew was a first-place finisher and SkillsUSA state champion for OCM BOCES.
"I was kind of shocked," he said, "but it was pretty exciting."
Matthew is already working with his Automotive Technology instructor, Erick Dodge, to prepare for the SkillsUSA national competition set for June 20-24 in Atlanta.
At nationals, the competition will be more high-tech. Dodge is helping him prepare by carefully going through a thick packet of competition expectations and contacting one of the Driver's Village dealerships so Matthew practice with the specific diagnostic equipment he will be expected to know.
Looking back, Matthew said he first considered the BOCES program at Driver's Village when a friend, also in the program, urged him to join. Students have access to a classroom inside the showroom at the Used Car Warehouse and work on vehicles in a shop out back. The central location gives them access to dozens of dealerships for internships and jobs. When he is not at the shop, Matthew takes classes at Innovation Tech high school, another OCM BOCES program.
Matthew loves the program. He's the go-to for the family car, which transports his parents and their six children. Matthew also has his own car, which he describes as a "junker," for tinkering with ideas at home. His favorite aspect of automotive technology is engine performance, which means figuring out how to make the engine operate the most efficiently.
After graduation, Matthew will be heading to Rexburg, Idaho, to attend Bringham Young University's Advanced Vehicle Systems program. He hopes it will lead him to a career in automotive engineering.

---
Nadia Joe, Liverpool, Second Place
Nadia Joe of Liverpool studies cosmetology at the OCM BOCES Thompson Road Campus but competed at SkillsUSA in the "Job Interview" category. All of the questions, however, were related to her field: How did she become interested in cosmetology? Where does she see herself in five years? Does she have photos of her work?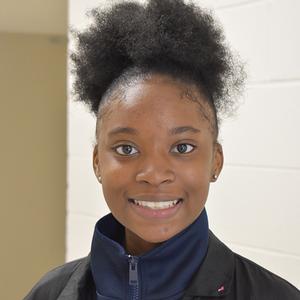 Nadia admits: She was nervous going in.
"The first day, walking in and seeing the other kids dressed up like me, I was really scared," she said. "Did I come prepared? Did I bring enough? Did I practice? Did I study for the Skills test? Do I know everything?"
In the end, Nadia took second place in her category.
"I was kind of crying, I was so excited," she said.
The competition was intense. In addition to attending a mock job interview, students had a time limit for taking a test, completing an application, and filling out a resume. No phones were allowed, so they had to memorize names, dates, and phone numbers, including details for references. Nadia was among the top six finalists, which meant she had to undergo a second interview to determine if she would land in the top three.
Nadia thinks she gave good answers. She said she loves cosmetology because she likes helping people feel more confident about themselves — a skill that, in turn, builds her own self-esteem. In five years, she hopes to own a "salon studio lounge," which she describes as a one-stop-shop for facials, manicures, pedicures, waxing, and haircuts. She also shared an impressive portfolio during the interview, with photos that showed her skills in hair coloring, highlighting, foiling, braiding and more.
Next year, Nadia is heading to Howard University in Washington, D.C., to major in accounting and minor in business management. Once she gets there, she hopes to set up a hair salon for students so she can earn a little money on the side.

---
Serena Khalifeh, Fayetteville-Manlius, Third Place
Similar to Nadia Joe, Fayetteville-Manlius senior Serena Khalifeh chose a category for the state SkillsUSA competition that seemed to have little to do with her OCM BOCES New Vision Medical Professions program.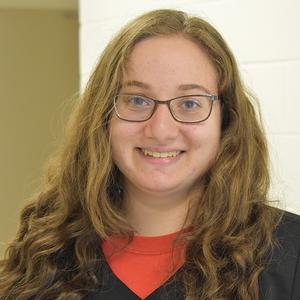 Serena competed in Extemporaneous Speaking and took third place. Students in her category had to prepare a speech on an unknown topic with only five minutes of preparation. Her topic was, "How can students become champions in the workforce?" Serena recalls touching on a number of points, such as building an effective resume and valuing teamwork, that she learned through SkillsUSA. Her speech wrapped up in four minutes, a perfect length for the 3-5 minute limit.
"I never thought of myself as a public speaker," Serena said. "I never thought I was good at it — until this year."
Serena said her New Vision experience came into play because instructor Robin Willey was impressed with her speaking abilities during classroom presentations. She was so impressed, in fact, that she encouraged Serena to give it a try. Serena also thinks her love of singing gave her an edge. She's in the high school chorus, a jazz group, musical theater, and a church choir. She also performs solos.
In the fall, she plans to study on a pre-medicine track at the University of Rochester. Her long-term goal is to go to medical school to study pediatrics.
At SkillsUSA, she loved walking around the Fairgrounds, smelling the freshly baked cakes created by the culinary students, and watching the other students compete in a variety of categories that tested their knowledge and leadership skills.
"It was fun to see all the amazingly talented people there," she said. "I got to meet people from other programs, talk to them, and learn about what they were doing."

---
Grace Gorczyca, Fayetteville-Manlius, Third Place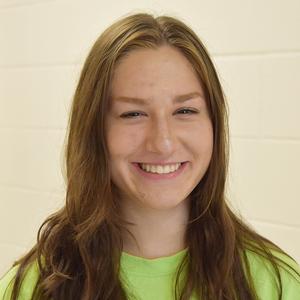 Grace Gorczyca's third-place finish at the state SkillsUSA competition had a direct connection with the New Vision Medical Professions program she attends at the OCM BOCES Thompson Road Campus.
The Fayetteville-Manlius senior took third place in Medical Terminology, an achievement she credits to the routine medical terminology quizzes she takes in class. Grace aced the quizzes throughout the school year, so the competition seemed a good fit for her.
Still, she worried. At the SkillsUSA regional competition, which qualified her for states, only one other person competed in the Medical Terminology category. That person took first.
"So I was second place by default, almost, and not expecting much," she said, noting about 15-20 students signed up for her category at the state competition. "As I was taking the test, I was thinking, 'There's no way I'm going to do better than all these people.' "
Like the other OCM BOCES competitors, Grace was thrilled with her third-place finish, which gets a medal, and thankful for her experience at New Vision. She likes knowing medical terminology on a personal level because it helps her understand nurses and doctors when she and her loved ones have appointments.
She also knows it will come in handy for the next step in her life — college — where she expects to take several health-related science classes and do a lot of lab work. Grace is attending Bennington College in Vermont and hopes to become a doctor in the field of epidemiology, the study of disease.

---
Ethan Morrison, Marathon, Third Place
Ethan Morrison of Marathon took third place in Collision Repair at the New York State SkillsUSA competition, a feat that was not surprising given his lifelong passion for cars and many years spent in a local body shop.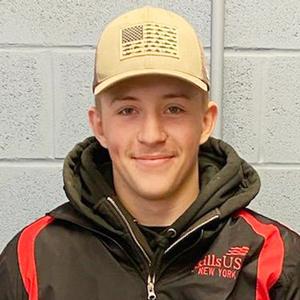 Since he was six years old, Ethan has been helping out his father, Eric, at Ron's Body & Paint in Marathon. Just recently, he wrapped up a two-week internship there as part of his second year in the Career & Technical Education Automotive Collision Technology program at OCM BOCES. Eric's dream is to someday own his own body shop, where he hopes to focus on exotic cars and import cars.
"I'm in love with a lot of cars," he said.

His favorite right now is the Nissan GT-R R34, a high-performance sports car.
As for SkillsUSA, Ethan said it was an experience he will never forget. He loved making friends, walking around the Fairgrounds, and taking on the challenge of the competition, which included a 50-question test, a fender repair, a welding test, a plastic repair for a bumper cover, and another 10-question skills test. Most of it, he said, was easy, especially given his ample experience with smoothing out dents. The welding test, however, involved new machines and setups he was not familiar with. Still, he took third place in the state.
"I didn't expect that," he said.
After the summer, Ethan will continue his career by going to a two-year auto collision program at Alfred State College of Technology, a SUNY school southwest of the Finger Lakes.