Meet our 198 National Technical Honor Society Scholars!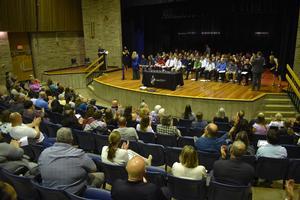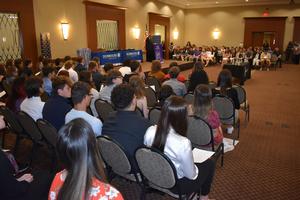 Congratulations to 198 scholars from 23 component districts who were recently inducted into the National Technical Honor Society!
Students who qualify must have an 85 average or higher, 12 or fewer absences from their program for the year, and a teacher endorsement. They must also demonstrate the eight core attributes of NTHS: knowledge, skill, honesty, service, responsibility, scholarship, citizenship and leadership. Students who were inducted came from numerous OCM BOCES Career & Technical Education and New Vision programs, which focus on college- and career readiness.
Induction ceremonies were held recently at the OCM BOCES Cortlandville Campus and at the Ramada Inn in Liverpool. In front of family members, guests, staff and other loved ones, students performed a traditional candle-lighting ceremony, with each candle representing one of the core attributes. They also received NTHS cords that can be worn at graduation. Finally, they recited the NTHS pledge to uphold the core attributes and took lots of photos.
Here are the students who were inducted from each district:
CORTLAND

Cortland Christian Academy:

Junker, Ashlyn - New Vision Medical
Weed, Madelynn - New Vision Medical

Cincinnatus:

Johnson, James - Auto Collision
Gates, Connor - Computer Tech
Gates, Jack - Construction Tech
Jack, Layne - Construction Tech
Slack, Oliver - Construction Tech
Wood, Dominick - Construction Tech
Finn, Katie - Culinary

Cortland City:

Januszka, David - Computer Tech
Roulstin, Dakota - Computer Tech
Guernsey, Hannah - Cosmetology
Bauman, Margaret - New Vision Environment
Starr, Margaret - New Vision Environment
Terwilliger, Asa - New Vision Environment
Beyer, Vincent - New Vision Medical
Canzano, Luca - New Vision Medical
Ott, Frederick - New Vision Medical
State, Gabriella - New Vision Medical
Couture, Jacob - Welding

DeRuyter:

Husner, Nicholas - Computer Tech
Baker, Austin - New Vision Environment

Fabius:

Ratliff, Jamie - Cosmetology
Golden, Kaitlynn - Physical Therapy
Litz, Jonathan - Automotive Tech

Homer:

Butts, Brodrick - Auto Collision
Villnave, Aidan - Auto Collision
Eldridge, Dalton - Automotive Tech
Van Etten, Zachary - Computer Tech
Silvernail, Horatio - Construction Tech
Platt, Taylynn - Cosmetology
Cruz II, Jorge - Culinary
Edwards, Zachary - Culinary
Pagan, Alayna - Early Childhood
Wagner, Samuel - Graphic Communications
Camp, Jacob - New Vision Environment
Ector, Gabriel - New Vision Environment
Payne, Logan - New Vision Environment
Wakula, Blair - New Vision Environment
Gallow, Carly - New Vision Medical
Luety, Lillian - New Vision Medical
Narrow, Emma - New Vision Medical
Stockwin, Stella - New Vision Medical
Cotterill, Madelyn - Physical Therapy
Miller, Kayla - Physical Therapy
Ponce, Roberto - Physical Therapy
Wallis, Charlotte - Physical Therapy
Moss, Kayleigh - Physical Therapy 1

Marathon:

Martin, Cailin - Auto Collision
Morrison, Ethan - Auto Collision
Baez, Gerardo - Construction Tech
Brown, Connor - Construction Tech
Hafer, Aidan - Construction Tech
Stiles, Darrion - Construction Tech
Jamison, Alanna - Cosmetology
Ellerson, Kayla - Graphic Communications
Hurlburt, Paige - Health Occupations
Peck, Lacie - Health Occupations
Forrest, Dominic - New Vision Environment
Eaton, Ryan - Welding
Teal, ElijahLee - Welding
Morehouse, Timothy - Welding

McGraw:

Randall, Kaden - Computer Tech
Freelove, Mackenzie - Cosmetology
Kosturik, Marta - Cosmetology
Curtis, Jennifer - Culinary
Nichols, Shauntell - Culinary
Rude, Jason - Culinary

Tully:

Valdez, Malakai - Computer Tech
Smith, Jessica - Graphic Commununications

SYRACUSE

Baldwinsville:

Jones, Marshall - Automotive Technology
Piron, Dylan - Computer Technology
Butler, Logan - Construction Technology
Catanzarite, Connor - Construction Technology
Cosme, Daniel - Construction Technology
Taylor, Nyesiah - Cosmetology
Wheeler, Gracie - Cosmetology
Aubin, Gwena - Cosmetology
Chimento, Ella - Cosmetology
Gerrick, Andrea - Culinary Arts
Zacchia, Leigh - Early Childhood
Archer, Taite - Media Marketing
Ponto, Amelia - New Vision Criminal Justice
Rockwood, Paige - New Vision Criminal Justice
Hettler, Ethan - New Vision Engineering
Meeker, Stephen - New Vision Engineering
Rausa, Liam - New Vision Engineering
Stoyer, Trevor - New Vision Engineering
Naples, Maxwell - New Vision Medical
Ferris, Mary - Physical Therapy

Cazenovia:

Fassett, Garrett - Automotive Technology
Hegedus, Dominick - Automotive Technology
Vogelsang, Keith - Automotive Technology
Rightmyre, Emily - Early Childhood
Wood, Jesse - Heavy Equipment
Hunt, Victoria - Media Marketing

Chittenango:

Nurk, Ryan - Automotive Technology
Williams, Joseph - Computer Technology
Barnes, Kayla - Cosmetology
Entwistle, Cadence - Cosmetology
Bloss, DavidCulinary - Arts
Penny, KyraCulinary - Arts
Murdie, Colton - Heavy Equipment
VanDee, Connor - Physical Therapy

East Syracuse:

Korman, Amina - Health Occupations
Shufelt, Zachary - New Vision Engineering
Griffith, Jessica - New Vision Medical
Memisevic, Adna - New Vision Medical

Fabius Pompey:

Appleby, Seth - Media Marketing
Sheffield, Matthew - Automotive Technology
Wheeler, James - Heavy Equipment

Fayetteville-Manlius:

Nanno, Michael - Construction Technology
Kim, Angela - New Vision Engineering
Schmidt, Terese - New Vision Engineering
Ali, Maya - New Vision Medical
Bolton, Alexa - New Vision Medical
Geiger, Hanabi - New Vision Medical
Gorczyca, Grace - New Vision Medical
Iskander, Angela - New Vision Medical
Khalifeh, Serena - New Vision Medical
Sanders, Hailey - Physical Therapy
Hale, Spencer - Automotive Technology

Jamesville-DeWitt:

Horn, Carson - Automotive Technology
Flint, Andrew - Heavy Equipment
O'Connor, Alice - Physical Therapy

LaFayette:

Liverpool:

Primavera, Eric - Automotive Collision
Kuss, Anthony - Automotive Technology
Lemery, Nathan - Automotive Technology
Neupert, Tyler - Automotive Technology
Joe, Nadia - Cosmetology
Merriweather, Parys - Cosmetology
Meier, Bailey - Cosmetology
Selimovic, Meliha - Health Occupations
Batovsky, Lana - New Vision Criminal Justice
Price, Alexis - New Vision Medical
Zona, Ella - New Vision Medical
Butcavage, A lexxis - Physical Therapy
Damon, Grace - Physical Therapy
Hawkins, Braeden - Heavy Equipment

Marcellus:

Dimmler-Crysler, Jennifer - Cosmetology
Szalach, Tyler - Culinary Arts
Campbell, Ashley - Laboratory Technology
Ciota, Gavin - New Vision Engineering

North Syracuse:

Malcomb, David - Automotive Collision
Stearns, Michael - Automotive Collision
Stolusky, Samantha - Construction Technology
Serrant, Sebastian - Construction Technology
Cervino, Alyssa - Cosmetology
Thompson, Amani - Cosmetology
Behrer, Josalynn - Cosmetology
Iauco, Malea - Cosmetology
Overtoom, Jamey - Cosmetology
Chavez, Julian - Culinary Arts
Cotto, Aiden - Culinary Arts
Gordon, Kimberly - Culinary Arts
Jackson, Aidan - Culinary Arts
Williams, Jennika - Early Childhood
Dewey, Ryley - Health Occupations
Indick, McKenzie - Health Occupations
Izzo, Courtney - Health Occupations
Kimber, Alyssa - Health Occupations
Virginia, Kayleigh - Health Occupations
Cifaratta, Anthony - Heavy Equipment
King, Alexander - Heavy Equipment
Chappell, Riley - New Vision Criminal Justice
Perperian, Jayden - New Vision Criminal Justice
Brown, Autumn - New Vision Engineering
Marullo, Juliana - New Vision Engineering
Metrick, Matthew - New Vision Engineering
Roche, Madison - New Vision Medical
Bristow, Kaley - Physical Therapy
Johnson, Christopher - Physical Therapy

Onondaga Central:

Bell, Shaelyn - Computer Technology

Solvay:

Garritillo, Emily - Health Occupations

Tully:

Johnson, Tyler - Media Marketing
Mohat, Jack - New Vision Engineering
Nelson, Vincent - Automotive Collision

West Genesee:

Amodio, Christian - Automotive Collision
Collier, Riley - Automotive Collision
Abbott, Joseph - Automotive Technology
Moon, Austin - Automotive Technology
Forshee, Liam - Computer Technology
Clark, Karli - Cosmetology
Thompson, Arianna - Culinary Arts
Winters, Angelina - Culinary Arts
Strout, Michaela - Early Childhood
Wolfe, Chloe - New Vision Criminal Justice
Griffin, Adam - Welding
Bealer, Hunter - Welding

Westhill:

Argentieri, Francesca - Media Marketing
Knoll, Charles - Media Marketing
Kilaru, Narmada - New Vision Engineering
Metzgar, Quinton - New Vision Engineering