Eight more students at Seven Valleys New Tech Academy commit to "service above self"
Posted May 3, 2022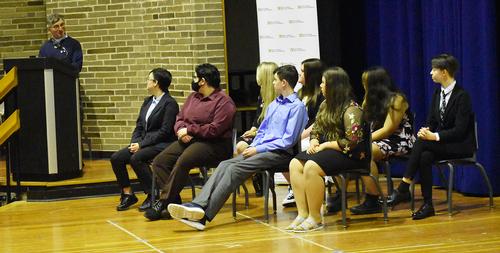 The Rotary Interact Club at Seven Valleys New Tech Academy grew to 31 participants last week after eight new students were inducted into the Cortland-area community service organization.
Students in the club pledge to follow the Rotary motto, "service above self," and regularly volunteer for community service projects through a partnership with the Cortland Rotary Breakfast Club.

On April 29, the eight newest members received certificates, encouragement, and words of gratitude from current student officers, OCM BOCES administrators, and the president of the Cortland Breakfast Rotary Club, Peter Williams.
The induction ceremony at the OCM BOCES Cortlandville Campus was kicked off by Eric Comtois, another Cortland Breakfast Rotary Club member who serves as director of OCM BOCES Career & Technical Education and Innovation Education programs. Seven Valleys Principal Amy Drumluk emceed the event.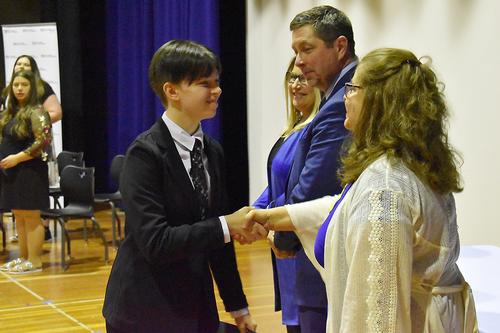 Earlier this year, students in the Rotary Interact Club jumped into community service projects such as scouring for trash along the muddy shores of the Tioughnioga River, clanging bells for the Salvation Army, and volunteering at local festivals.

Students are currently helping with a project to ship bilingual children's books to Truxton Charter School, an orphanage in Puerto Rico, and Cornell University's Latin American Studies Program. Each book will feature a basic recipe and short story about the geographical and cultural features of the country it came from.

Seven Valleys Facilitator Maria Claudia Gimma, the Rotary Interact advisor, launched the club in the fall of 2018 because Rotary holds a special place in her heart. The organization helped her in a life-changing way after she came to the United States as a 12-year-old girl from Colombia. Rotary bought her equipment to help her with her dyslexia, sponsored her as an exchange student to France, and provided her with a grant for college. That generosity, she explained to the inductees, led to her success as a teacher and sparked her interest in helping others through Rotary.
"It made me who I am today," she said.
Students received their pins and certificates from OCM BOCES District Superintendent Matt Cook, Ed.D., and Deputy Superintendent Colleen Viggiano.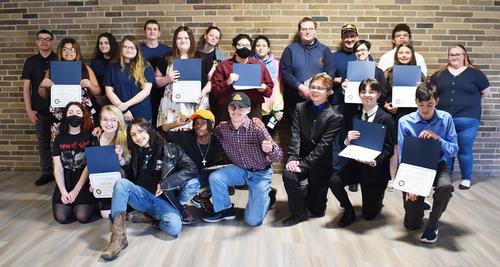 Congratulations to all of the new Rotary Interact Club inductees:
Alan Borst, Cortland
Rachel Fish, Homer
Nathan Hardesty, Cortland
Alexis Jackson, Cortland
Alainna Lotz, Cincinnatus
Jessica O'Mara, Cortland
Claudia Saddlemire, Cortland
Brynn Theriot, Cortland
Current Rotary Interact members include:
Maddox Albro, Tully
Rheona Allen, Cortland
Jessy Ashley, DeRuyter
Cebastian Bell, Homer
Charles Bibik, Tully
Gabriella Cherry, Cortland
Bailey Cole, Cortland
Brigid Comerford, Cortland
Kennith Craft, Cincinnatus
Justin Dermott, Homer
Madelynn Dermott, Homer
Kaitlyn Egolf, Cortland
Seth Faircloth, Cortland
Alexandria Janeski, Cincinnatus
Carrick Knarr, Homer
Allison O'Mara, Cortland
Jules Porter, Homer
Paris Rosario-Dube, Cortland
Cassandra Snyder, Cortland
Taylor Tinker, Cortland
Ethan Westbrook, Homer
Dylan Wood, Homer