April 15, 2021
Ten students from Seven Valleys New Tech Academy in Cortland were inducted recently into the Rotary Interact Club, which now has 30 students committed to serving their community and promoting international understanding.
Students have embraced the club's motto, "service above self," and are participating in activities such as the annual river cleanup day, serving pancakes on Election Day, ringing the bell for the Salvation Army's Red Kettle campaign, helping Rotary members at their chicken barbecue, boxing items for Toys for Tots, and volunteering for the Cortland County spring cleanup day.
This year, when the pandemic limited some of these activities, students connected remotely with another Rotary Interact Club in Argentina. They discussed the similarities and differences between their cultures, helped each other with the pronunciation of their respective languages, and are currently working on a shared project that will be announced later this month.
At the April 7 induction ceremony, several special guests spoke at the ceremony, handed out certificates, applauded the students' achievement and posed with them for photos.
One speech came from Cortland Rotary Breakfast Club President
Chris DiFulvio
(bottom right), who also serves as the assistant superintendent for Instructional Support Services at OCM BOCES. Other guests included OCM BOCES District Superintendent
Matthew L. Cook
, Ed.D.; Deputy Superintendent
Colleen Viggiano
; and
Eric Comtois
, director of Career & Technical Education and Innovative Education at OCM BOCES. Principal
Amy Drumluk
and the club's advisor — Seven Valleys Facilitator
Maria Gimm
a – also spoke to the new inductees.
To accommodate those who could not attend in-person, the induction ceremony was live-streamed on the OCM BOCES YouTube page, drawing about 20 viewers and several congratulatory comments.
The video is still available online.
One veteran of the club,
Taylor Tinker
of Cortland (far left photo), said her involvement with Rotary has created some of her favorite memories at Seven Valleys. Her favorite project came last fall when students combed through the banks of the Tioughnioga River for litter and found a 20-foot piece of siding stuck in the mud. Students were unable to get it unstuck — they ran out of time — but their goal this spring is to finally pull it free, clean it up, and decorate it with painted handprints and the words, "Seven Valleys New Tech Academy Interact Club."
The sign will show "that dedication and hard work has good outcomes," Tinker said. "I can't wait to do this."
The 10 new students inducted into the Rotary Interact Club were Max Albro, Tully; Rheona Allen, Cortland; Tyler Ashley, DeRuyter; Gabriella Cherry, Cortland; Bailey Cole, Cortland; Nathan Edsall, Marathon; Maddy Dermott, Homer; Alexandria Janeski, Cincinnatus, Alyssa Porter, Homer; and Chelsie Trafton, Tully.
The partnership between Seven Valleys and the Rotary Interact Club goes back to the fall of 2018. It was initiated by Ms. Gimma, who received financial help from Rotary as a 12-year-old girl who had moved to the United States from Columbia. The money helped pay for her education.
Returning members include Cebastian Bell, Homer; Charles Bibik, Tully; Brigid Comerford, Cortland; Kennith Craft, Cincinnatus; Justin Dermott, Homer; Seth Faircloth, Cortland; Jasmyn Harmin, Cortland;
Carrick Knarr, Homer; Peyton Lucas, Cortland; Brennan McMahon, Onondaga Central; Allison O'Mara, Cortland; Paris Rosario-Dube, Cortland; Gatlin Stark, Cortland; Cassandra Snyder, Cortland; Taylor Tinker, Cortland; Maddison Tobin, Cortland; Zachary VanEtten, Homer; Greta Williams, Cincinnatus; Ethan Westbrook, Homer; and Dylan Wood, Homer.
.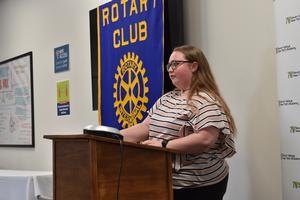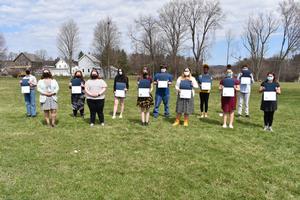 .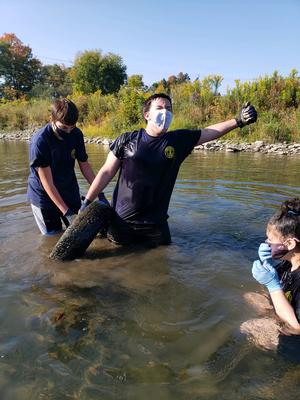 .