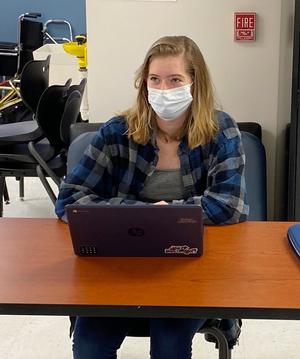 Another silver lining has emerged amid all the challenges surrounding the pandemic: At our Cortlandville Campus, students in Career & Technical Education (CTE) programs are participating in virtual college visits that give them better access to college faculty.
In one of the biggest presentations, students in seven CTE programs were able to talk to faculty members at Alfred State College through a pair of online college visits on Nov. 13. Normally, students would not have access to a large number of college faculty members if they were visiting the college in-person or simply asking questions of Alfred State Admissions Director Kandi Geibel, who visits the OCM BOCES campus each year.
This year, however, a pair of special Zoom meetings allowed juniors and seniors to log in, listen to a 30-minute overview of the campus, then participate in "breakout" sessions with faculty members in their respective fields. Students from neighboring Tompkins-Seneca-Tioga BOCES also joined in.
"It was a really unique opportunity for students to talk to faculty members," said Becky Robertson, the CTE counselor at Cortlandville. "They appreciated the overview, but they really enjoyed talking to the faculty."
Students in graphic design, computer technology, auto technology, auto collision, welding, health occupations and physical therapy took part. Alfred State provided a separate virtual visit for culinary students. Robertson said the Nov. 13 meetings were especially impressive because Geibel, the admissions director, set up all the faculty members on Zoom when they were accustomed to working through Microsoft Teams.
CTE Principal Deb Wood said several other colleges have provided virtual events as well: Keuka College held a virtual session for physical therapy and New Vision medical students; SUNY Broome Community College had a presentation for physical therapy and early childhood students; and the University of Northwestern Ohio held a session for automotive students.
Looking ahead, Robertson is working with Tompkins-Cortland Community College to do a virtual college visit similar to Alfred State's, which means students in cosmetology, physical therapy, environmental science and culinary could also join in. Local unions are also being invited in to hold virtual events for welding and construction students.
"The pandemic means we all have to adapt and work creatively with our higher-education partners to present some great opportunities for our students," Wood said. "The collaboration has been fantastic."