Students in two programs team up to create fresh maple syrup with professional labels
Before schools were closed as a result of the pandemic, students from the Cortlandville New Vision Environmental Science and Graphic Communications programs teamed up to make fresh, eye-catching bottles of maple syrup that were later put on sale in the Lime Hollow Nature Center gift shop.
The project began when the New Vision students tapped, cooked, and bottled the maple syrup at Lime Hollow Nature Center, where their classroom is based. Later, Graphic Communications students designed creative labels for the maple syrup jugs, resulting in one label for a large jug, another for a small jug. Students partnered with a local business, Quadraflex Quality Labels in Cortland, to visit the facility and see their labels printed and cut.
In the photos:
As part of the project, graphics students took a trip to Lime Hollow Nature Center, where New Vision students showed them how the maple syrup is produced. Afterward, the students shared a maple syrup pancake brunch.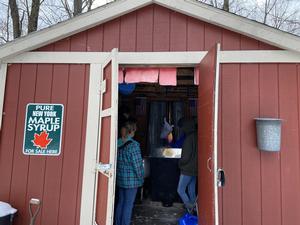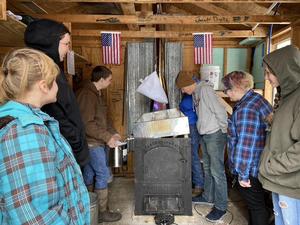 Homer students Hailey Knight and Alice Parmiter show off their small and large designs for fresh maple syrup jugs.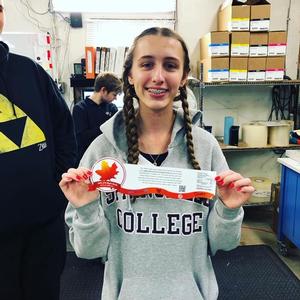 .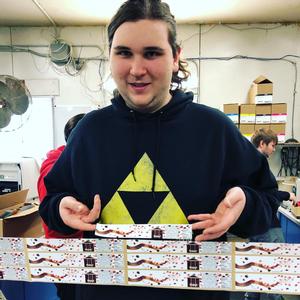 .


Left: At Quadraflex Quality Labels in Cortland, students from both programs gathered for a group shot. Back row: Aiden Albright, Hailey Knight, Alice Parmiter, Hannah Weisbrodt, Jonah Shay, Zack Rogers, Cameron Downey, Kenyon Gerst, and Eugene Burrows. Front row: Graphics Communications Teacher Tanya Komar, New Vision Teacher Chad DeVoe, and Maggie Liddell.

Right: Students are selling the maple syrup in the nature center's gift shop, with proceeds going to the nature center and the New Vision program.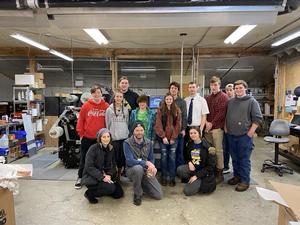 .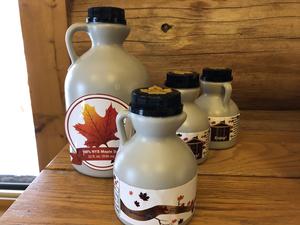 .