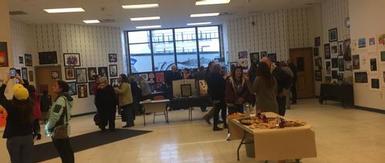 A total of ten students from Seven Valleys recently took part in the Imagination Celebration Art Show, held at Homer High School. The annual art show invites art teachers from throughout Cortland County to submit artwork by their students. Teachers are encouraged to choose work that features a variety of mediums, from drawing and painting to photography, sculpture, and mixed media.

The artwork was placed on display for the show, with a public reception held on April 10. Among the entries, Seven Valleys student Maddison Tobin was awarded third place for her painting (pictured).

Additional students participating in the show included: Heather Decker, Elizah Horn, Evelyn Hull, Brennan McMahon, Phoenix Rice, Jayden Staats, Rachel Stone, Abigail Warner, and Ethan Westbrook.

Congratulations to these students on having their artwork recognized and displayed! Thank you to Seven Valleys Art Teacher Alissa Main for submitting this story.
Maddison Tobin artwork - third place winner

Maddison Tobin with her third place winning artwork

Jayden Staats with his still life drawing

Rachel Stone with her flower drawing