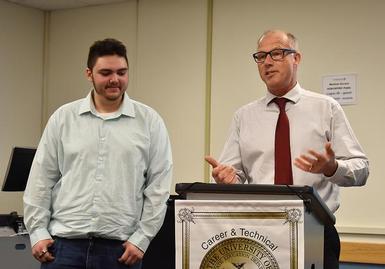 Here are some of the words OCM BOCES auto instructors used May 2 to describe eight graduating seniors who were honored for their outstanding achievement during the Snap-On Tools for Success awards program at the Thompson Road Campus: hard-working, positive, self-motived, proficient, patient, knowledgeable, collaborative.
One instructor, Erick Dodge, even alluded to "Jeopardy" sensation James Holzhauer in describing one of his students, Anthony Zhuravlev of Liverpool, who holds a vast and impressive knowledge of cars.
"If I have a question, his hand is up," Dodge said.
Teachers selected students from each of four automotive program classrooms for their excellent skills in automotive technology, math and science skills, as well as their outstanding classroom participation, attendance and attitude. For their achievement, students received a certificate of excellence and a Snap-On Tools screwdriver worth more than $100.
Automotive Technology - Instructor Brandon Chase
Ryan Hinman
(North Syracuse Central School District)
Jonathon Burns
(Chittenango Central School District)
Automotive Collision Technology
- Instructor Matthew McGivney
Jacob Winters
(West Genesee Central School District)
Daniel Burko
(Baldwinsville Central School District)
Automotive Technology - Instructor Samuel Azria
Joseph Rodford
(North Syracuse Central School District)
Vincent Cosme
(Baldwinsville Central School District)
Automotive Technology
- Instructor Erick Dodge
Austin O'Hara
(North Syracuse Central School District)
Anthony Zhuravlev
(Liverpool Central School District)
For more information about the OCM BOCES Automotive Technology, Automotive Collision Technology or other Career & Technical Education programs, please contact CTE Director Phil Grome at
pgrome@ocmboces.org
Instructor Brandon Chase with
Jonathon Burns of Chittenango (left)
Ryan Hinman of North Syracuse
Instructor Matt McGivney with
Jacob Winters of West Genesee (left)
Daniel Burko of Baldwinsville
Instructor Samuel Azria with
Joseph Rodford of North Syracuse (left)
Vincent Cosme of Baldwinsville
Instructor Erick Dodge with
Austin O'Hara of North Syracuse (left)
Anthony Zhuravlev of Liverpool