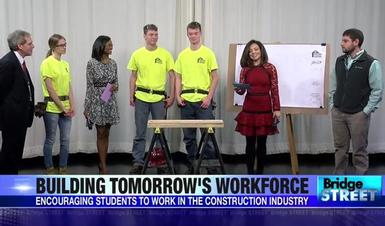 Students from OCM BOCES Career and Technical Education (CTE) and Adult Education programs were among hundreds of exhibitors recently showcasing products and services at this year's Central New York Home and Garden Show. The show is among New York's largest home and garden exhibits. OCM BOCES was pleased and proud to have been asked to participate as part of the show's inaugural "Building Tomorrow's Workforce" exhibit.
The intent of the exhibit was not only to showcase the behind-the-scenes work done in the construction industry, but to promote the jobs available in the field. Several CTE Construction Trades students helped promote the event in advance of the show
with an appearance on "Bridge Street."
OCM BOCES staff worked with show organizers over the past year to arrange a display that would truly showcase the students' talents and passion for construction. OCM BOCES' Director of Career and Technical Education Programs Phillip Grome helped open the show on Thursday, March 15 at a ceremonial ribbon cutting. Throughout the course of the show, OCM BOCES staffed booths for CTE and Adult Education and provided information to hundreds of event attendees.
On Saturday, March 17, construction technology students in CTE and adult education programs spent the day constructing sheds to be raffled off to benefit Sarah's Guest House and Habitat for Humanities. During the four-day show the students' work helped sell hundreds of raffle tickets, raising nearly $3,000 for the two charities.
Erik Hehl, Owner of Hehl Construction and President of the HBRCNY expressed his gratitude for OCM BOCES students' participation saying, "I am completely blown away by our successful collaboration and accomplishment. The quality of the many projects was high but the standard of care shown was even higher."
"I hope we can make this an ongoing event and keep improving on this 'community' we have started to build," he continued.
Thank you to all our instructors and students who took their time to represent OCM BOCES on such a grand stage!