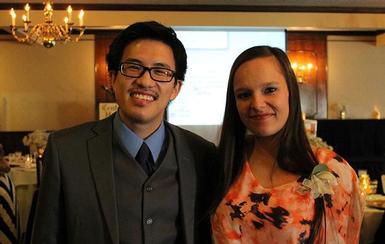 A single mother who received her high school equivalency diploma at OCM BOCES was recently honored as a 2017 Student of the Year by the New York Association for Continuing/Community Education.
Rebecca Jones was one of 20 recipients recognized for her intelligence, hard work, determination and commitment to success, said her OCM BOCES literacy teacher, Timothy Y. Jachim. She and the other recipients were also honored because each had to overcome hardships and obstacles to achieve their goals.
For Rebecca, of Memphis, the decision to drop out of school as a sophomore had made her life difficult. Later, while pregnant with a son, she decided to pursue a high school diploma to build a better life for both of them. She did not pass the TASC test the first time around, but "never gave up and returned to class, taking and passing the TASC test the second time around," Jachim said. Now she hopes to continue her education and go to college to become a registered nurse.
The Student of the Year award ceremony was held Oct. 17 in Albany at the Century House Hotel. Rebecca and other award winners received a certificate and recogniation from several politicians and educators, including Kevin Smith, Deputy Commissioner of the New York State Department of Education Adult Career and Education Services. Family and friends also attended. The next day, award winners and their guests went on a tour of the New York State Capitol.
Jachim said Rebecca "was one of the hardest working individuals I ever had the pleasure of working with."
"She is a perfect example of someone who never gave up, despite the odds being stacked against her," he said, "and she still wants to achieve so much more. I was proud of her as her instructor, and I'm proud to see the person she is today."
Jachim and Pam Charron, Coordinator of Adult and Continuing Education for OCM BOCES, attended the awards ceremony with Rebecca.