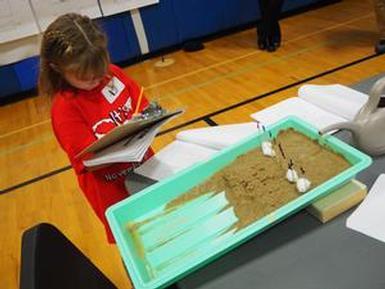 Educators prepare for new state science standards
With new state science standards in effect since July 1, another sold-out crowd of teachers and administrators from across the state will converge on Roxboro Road Middle School on Nov. 7 for a conference that brings together national leaders in science education; "live" science lessons featuring Central New York teachers and students; and a special focus on providing equitable and rigorous content for students of all backgrounds.
The event marks the second year of a unique collaboration between the Onondaga-Cortland-Madison Board of Cooperative Educational Services (OCM BOCES) and the Syracuse University School of Education. Support is also being provided by the Smithsonian Science Education Center and several local teacher centers: Central New York/Oswego County; Jamesville DeWitt/Syracuse University; West Genesee/Syracuse University; Syracuse; and Cayuga-Onondaga.
Access and equity emphasized
Keynote speaker Dr. Okhee Lee is a Professor of Childhood Education at New York University's Steinhardt School of Culture, Education, and Human Development. She led the equity and diversity writing team for the Next Generation Science Standards (NGSS), an initiative developed by 26 states and several private foundations that formed the basis for the New York State Science Learning Standards (NYSSLS). The standards include pre-school through 12
th
grade.
"As the NGSS begin to take hold in schools and classrooms across the nation and the state, it is critically important that educators are prepared for classroom implementation," Lee said. "This conference occurs at this critical juncture."
Conference includes Lesson Study to evaluate and elevate instruction
Called "It's Go Time! Science for All," the Nov. 7 conference in Mattydale will focus on the new standards but also incorporate a research-driven professional development practice called lesson study, which is generally defined as a collaborative process for planning, analyzing, and continuously improving instructional practices.
Lesson study is widely credited for the steady improvement of Japanese instruction in elementary math and science, according to lesson study researchers across the country. (For more information, please go to
lessonresearch.net
.)
At the conference, teachers and students from four Central New York districts will be participating in lessons aligned with the new state learning standards. As the lessons unfold, conference participants will stand close by, observing individual students and taking notes on how each student's learning progresses.
The lessons include:
How can you send a message with sound? (featuring first-graders from Bolivar Road in Chittenango)
Understanding earth's topography and how it can change (featuring fourth graders from Dr. Weeks Elementary School in Syracuse)
How can we provide fresh water to those in need? (featuring fifth-graders from Roxboro Road Middle School in North Syracuse)
Analysis of honey bee colonies to understand colony collapse (featuring students from Marcellus High School)
Developing models to explain energy transfer when magnets interact (featuring eighth-graders from Jamesville-Dewitt Middle School)
"Lesson study gives teachers the chance to carefully observe learning as it occurs," said Dr. Catherine E. Lewis, a conference speaker and internationally known lesson study researcher at Mills College in Oakland, Calif. "As teachers share their notes from observing individual students, they notice what worked — and what didn't — for various learners."
The process of observing barriers and breakthroughs for students of all backgrounds "allows teachers to design future instruction that supports those breakthroughs," she added.
OCM BOCES partners with Syracuse University
Jessica Whisher-Hehl, Coordinator of the OCM BOCES Center for Innovative Teaching and Learning, is organizing the conference for a second time in partnership with Dr. Sharon Dotger, Associate Professor of Science Education and lesson study researcher at Syracuse University.
A huge amount of background work and preparation has gone into this conference since long before last year.
Dotger has worked on lesson study teams in the region since 2007 and has led the coaching for teaching teams at both "Go Time" conferences.
At OCM BOCES, Whisher-Hehl's division is providing one new science unit per grade level this year for grades K-6 in 31 districts. That includes assembling the kits and providing training for teachers.
In addition, a $200,000 grant from 100kin10 to the Smithsonian Science Education Center (SSEC) in cooperation with OCM BOCES and Syracuse University, is allowing about 70 kindergarten, first-grade, and second-grade teachers in the region to support early elementary students to engage in engineering practices with new SSEC curriculum units. The grant includes professional development on lesson study and participation in one full lesson-study research cycle.
Jamesville-DeWitt teachers attending the conference said they appreciate lesson study because it centers on student learning, rather than focusing solely on the teacher. That, in turn, allows teachers to "refine curriculum and delivery of instruction," said seventh-grade science teacher Kelly Colone of Jamesville-DeWitt Middle School, who spoke for the group.
In addition to focusing on lesson study, science education experts at the conference will offer context and inspiration for the implementation work that lies ahead, especially in the area of using the curriculum to enhance equity and access for students of all backgrounds.
"We really hope to shine a light on the fact that this kind of science helps all learners in all content areas, not just science," Whisher-Hehl said. "It really focuses on getting students to think critically, work collaboratively and communicate ideas."
Local and national experts to present
Speakers at the conference include:
Dr. Okhee Lee, Professor of Childhood Education at New York University's Steinhardt School of Culture, Education, and Human Development. Her publications focus on the use of language in science learning, especially for English learners, as well as teacher professional development and curriculum design.
Dr. Krystal Barber, Assistant Professor of Elementary Mathematics Education at SUNY Cortland, who recently completed dissertation research that investigated teachers' learning from a mathematics lesson study cycle.
Mrs. Mariel Laureano, Principal of the Dr. Jorge Prieto Math and Science Academy in Chicago. Laureano has led her entire staff in conducting lesson study for the last eight years and hosts the annual Chicago Lesson Study Conference in her building.
Dr. Catherine Lewis, Distinguished Research Scholar at Mills College in Oakland, Calif. Lewis is an internationally known lesson study researcher and the only founding member of the World Association of Lesson Study from the United States.
Dr. Brian Mandell, Division Director of Curriculum and Communications at the Smithsonian Science Education Center (SSEC). Mandell leads the development of SSEC's curriculum materials focused on the NGSS.
Terrance Burgess, a third-year doctoral student in Teaching and Curriculum (Science Education) at Syracuse University. His research focuses on how access to high-quality STEM (Science, instruction may increase STEM engagement for students of color in K-12 settings and in sustaining interest in STEM careers. He was a named a National Science Foundation Graduate Research Fellow in 2017 in recognition of his scholarship.
Please note that Syracuse University will be providing colorful "Go Time" T-shirts for students taking part in lessons. SU students and faculty will also be on hand to facilitate the lesson study introductions and debriefings. Outside community groups will provide food and healthy activities for the students before and after their lessons.
For more information, please go to the
event web page
at ocmboces.org.