Students new to OCM BOCES' Media Marketing Communications (MMC) program, which is embedded at WCNY in Syracuse, received a unique orientation for the 2017-2018 school year. WCNY staff invited the students to participate in a game of
Human Bingo
for the purpose of becoming acquainted.
The object of the game was to find and communicate with someone that met specific criteria and to then place their name in the appropriate square. Participants were required to ask additional questions to learn more about the person. Staff needed to have all student names in a row and students needed to have all staff names in a row.
Staff learned students' names and what they aspired to and students learned who staff members were and the role they played at WCNY.
Chris Geiger, WCNY's Director of Media Sales was surprised to learn that Onondaga Central student Michaela Germain had been born in the Ukraine and adopted at a very young age. Joyl Clance, WCNY's Events Coordinator was intrigued to learn that Baldwinsville student Morgan Liscum is an avid violin player. Zoe Hainey, a student from the Marcellus Central School District, spoke with Television Director Doug Moreau about his career, which is a path she would like to pursue.
While several attempts to accomplish "bingo" were unsuccessful, the winner was ultimately determined to be Garrett Belanger from the North Syracuse Central School District. Garrett was presented with a WCNY water bottle by Rebecca Resig, WCNY's Director of Membership.
OCM BOCES MMC instructor Kathy Labulis said, "It was a great way to have staff and students meet and begin a dialogue with each other!"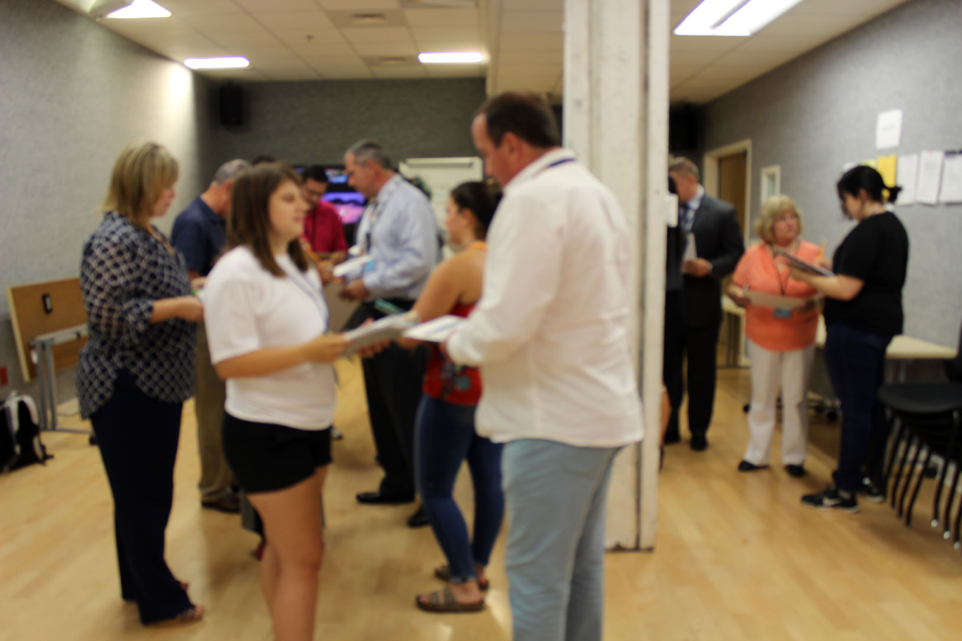 Front
: Michaela Germain (OCS) becomes better acquainted with Chris Geiger, WCNY Director of Media Sales
Right
: Deb Stack, Senior Director, Education & Community Engagement with Jena Shoff, (Marcellus)
Also pictured on left
: Joyl Clance, WCNY Events Coordinator with Morgan Liscum (Baldwinsville), Jim Aroune and Doug Moreau