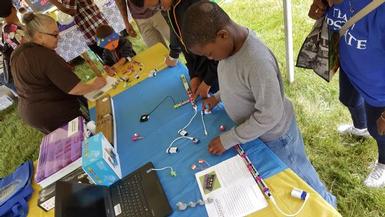 Onondaga-Cortland-Madison BOCES and Onondaga County Public Libraries (OCPL) will receive $31,000 to pursue a Collaborative Maker Labs project thanks to the efforts of New York State Assemblyman Al Stirpe (D-Cicero). The project is designed to bring experiences with science, technology, engineering, art and mathematics (STEAM) to young learners.
"I selected this project because it will bring hands-on STEAM learning to many more children in the region," Assemblyman Stirpe said. "Sharing these kits at libraries and schools across the county multiplies the access to this important educational programming and encourages interests in these fields, which are so crucial to our future.''
The funds will be used to purchase a variety of Mobile Maker Lab kits that children can use to learn about robotics, engineering and fabrication. This educational programming will be done in coordination with Onondaga-Cortland-Madison BOCES and OCPL librarians. The mobile maker kits, which will be added to a collection of 25 already in circulation at area libraries, will come with lesson plans that clearly identify learning objectives, allowing librarians and teachers to deliver high-quality educational content to children throughout Onondaga County.
"Our 32 libraries are a place for people to come together to learn, explore and create. With this grant, we can enhance our STEAM programming, providing a vital educational service that will empower young learners, enabling them to succeed in our technologically advanced world,'' said OCPL Executive Director Susan Mitchell.
The new mobile maker labs will be made available for use in classrooms and libraries. Existing mobile maker labs at OCPL and OCM BOCES include "Cubelets" robotics, computer building and coding, "littleBits" electronics, 3D doodlers and printers, button makers and "MaKey MaKey' invention kits that turn ordinary objects into computer touchpads.
"The demand for mobile maker labs has been explosive over the past two years because students of all ages love to create, investigate, collaborate and innovate," said Doreen Bergman, coordinator of the OCM BOCES School Library System. "This grant is greatly appreciated because librarians and teachers will not only get new and wonderfully creative mobile maker kits, they will also get the hands-on training they need to make them effective."
The OCPL system serves 32 libraries, including 21 independent member libraries and 11 City of Syracuse branch libraries. OCM BOCES serves 23 school districts with program offerings that include the School Library System, career and technical education, special education, alternative education, workforce preparation for adults and comprehensive instructional support for educators.