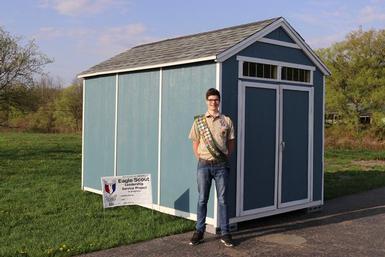 William Harvey Doane Rogers, a tenth grader at OCM BOCES' 7 Valley's New Tech Academy, and a member of Boy Scout Troop 90 of Marathon, NY, achieved the highest honor in scouting, the Eagle rank, on April 27, 2017. William will be participating in an Eagle Scout Court of Honor on July 15, 2017 at the American Legion in Cortland.
William was required to earn 21 merit badges, 13 of which are required for the Eagle rank. He also had to successfully lead and organize an Eagle project for a non-profit organization. For his project, William chose to build an 8 x 12 athletic storage shed for 7 Valley's New Tech Academy. The project included fundraising and leading a team of volunteers to help construct the shed. He received funding and/or materials from Builder's Best Do It Center; Disabled Vets of Cortland; Fastenal; Groton City Animal Hospital; Hollywood Restaurant; Home Depot, Ithaca; Homer Elks; JTS Lumber; McPherson (Dominos) Pizza; Stupke's Towing; Walmart Supercenter; Yaman Real Estate; private donors, friends and family members.
William started Scouting as a Tiger Scout in the first grade with Cub Scout Pack 86/188 and continued thru the ranks earning the highest Cub Scout Honor, the Arrow of Light in February 2012.
Congratulations to William on this tremendous accomplishment and THANK YOU for helping OCM BOCES!