All aboard for community servic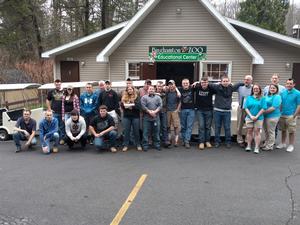 e:
Auto collision students at our McEvoy Campus played a key role last year in refurbishing a kiddie train for the Binghamton Zoo at Ross Park that was finally revealed in mid-September.
Students in
Dale Gendron's
class took a rusty, dented industrial train that was purchased by the zoo online and worked on it for months so the zoo could use it as a new attraction. Toby Rice, the zoo's marketing and special events coordinator, said the zoo pursued the project because patrons fondly remembered a train ride from decades past and thought it might be nice to bring it back.
Students sanded cars, filled in scratches, and primed, painted and clear-coated the panels. Many reflected on their experience and said it was a huge and sometimes-overwhelming job – but worth it. They presented the train to zoo officials last spring. Today the train sports three passenger cars and bright, animal-themed graphics. Zoo officials had a news announcement Sept. 14, formally unveiling the ride and declaring it "open."
"We are super happy with the way it came out," Rice said. "The students did a wonderful job."
Gendron said he was proud of his students. "They really rose to the occasion," he said.
Gendron was later honored by the Cortland Rotary Club as a "Teacher of the Year" at its awards luncheon in May.