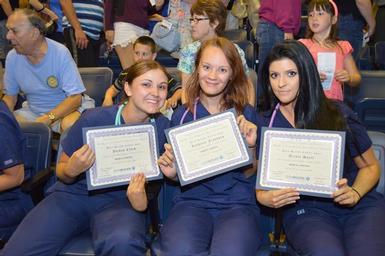 More than 200 adult graduates of OCM BOCES' adult education programs will be recognized for their accomplishments in the organization's annual Adult Education and Literacy Program graduation ceremony to be held Wednesday, August 10, 2016, at Onondaga Community College's SRC Arena (4585 W Seneca Turnpike, Syracuse). The event will begin at 6:30 p.m. The public and media are invited to attend.
Bradley Carpenter, a graduate of OCM BOCES' medical assisting program, will address his fellow graduates and ceremony attendees about his life changing experience with BOCES. Mr. Carpenter, a 2009 high school graduate from Watervliet, NY, came to BOCES approximately six months ago, after experiencing several disappointments with his work situation at the time. After learning about BOCES, Carpenter decided to explore a new career in the medical field. Through BOCES, Mr. Carpenter said, "Success is what I have found. Something I thought I'd never find for myself in this lifetime. It is a wonderful feeling. My attitude has changed because of my education and training at OCM BOCES."
Also speaking at the evening's ceremony will be OCM BOCES student Jeff Hochstuhl. Saying the Pledge of Allegiance will be student Marjon Ardehali. OCM BOCES Adult Education Director Mari Ukleya will sing the National Anthem.
The public and media are invited to attend this inspirational celebration. For more information on the Adult Education and Training at OCM BOCES or about the annual literacy celebration, contact the OCM BOCES Adult and Continuing Education Program at 315-453-4466.
Pictured above (left to right) are Jordan Clark, Kathleen Frandsen and Nicole Snell, three 2016 medical assisting program graduates from the OCM BOCES McEvoy Campus. The McEvoy ceremony was held the night before, on August 9. Just over 40 students graduated from OCM BOCES Cortland programs.