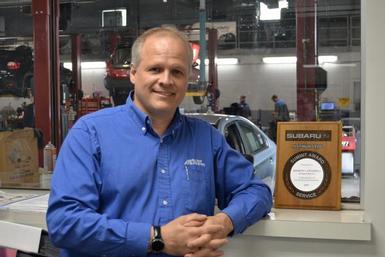 This June, OCM BOCES proudly recognized its two 2016 Career and Technical Education (CTE) Alumni Hall of Fame inductees at individual ceremonies for its Syracuse and Cortland-area CTE students.
The 2016 inductees, Kenneth Ciccarelli of North Syracuse and Suzanne Osterhoudt (
click here to read about Suzanne
) of Preble were selected for their demonstrated leadership and success in their chosen fields. To be considered for the OCM BOCES CTE Alumni Hall of Fame, individuals must be a graduate of an OCM BOCES CTE program, must be currently engaged in a career related to their BOCES program of completion and must demonstrate leadership in their field and civic responsibility.
Kenneth Ciccarelli: Following his 1988 graduation from OCM BOCES, Ken furthered his education in the automotive field by attending Morrisville State College, where he earned an associate's degree in automotive technology.
Soon after graduating, he went on to work for Lewis Goodman Chrysler as a service technician, then service advisor and eventually becoming the information technology manager responsible for day-to-day operations, including customer service, maintenance repair sales, service orders, and installing and maintaining computer networks systems.
Since 2007, Ken has filled the role as Subaru service manager for the locally owned Bill Rapp Subaru of Syracuse. As a model employee, Ken's strong work ethic and commitment to providing outstanding customer service helped earn the Bill Rapp Subaru franchise the coveted Subaru Stellar Performers Award for six consecutive years. Ken also serves as a member of the Bill Rapp Dealership Advisory Board bringing years of experience and knowledge as a master technician, a commitment to customer service, and proven leadership in the industry.
As a longtime member of the Syracuse Auto Dealers' Association, Ken recently represented the Bill Rapp Dealerships in recognizing six outstanding OCM BOCES students who are members of our graduation class with a set of tools valued at more than $300 each. Ken was very excited to participate in this recognition ceremony being grateful for the foundational skills that the Career and Technical Education program gave to him as a contributing factor toward a very fulfilling and successful career in the automotive industry.
Congratulations on all your accomplishments Kenneth!