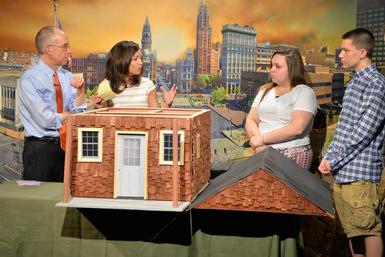 On Friday, May 6 students from OCM BOCES Innovation Tech High School made an appearance on "Bridge Street," a local television news program, to help promote the following day's Crawfish Festival in support of Operation Northern Comfort and A Tiny Home for Good, Inc.
A Tiny Home for Good is a company in Syracuse that builds Tiny Homes (300 square feet) on vacant city lots, equips them with all the amenities of a regular home and manages their continuation. Each home is rented to an individual homeless community member.
Approximately 40 students in GeoDesign (Geometry and Art) and American Lit (U.S. History and English 11) classes at Innovation Tech High School became involved with the housing company after its founder and CEO, Andrew Lunetta, came to the school to speak with them about Tiny Homes and the agency's mission.
In order to help people to better understand the agency, the students thought it would be helpful for them to be able to actually see one of the homes. They decided that they would use the skills they had learned in their classes to plan and build a scale model for Mr. Lunetta to show.
Students calculated the dimensions for a 1/16 scale model, created blueprints and then used them to physically construct a Tiny Home model. Their project was the centerpiece of the "Bridge Street" appearance, allowing the students and Mr. Lunetta to show the hosts and the show's audience all aspects of Tiny Homes.
After the show, the model was transported to downtown Syracuse put on display at the Crawfish Festival so that event attendees could experience Tiny Homes inside and out.
Click here to watch the news segment
.