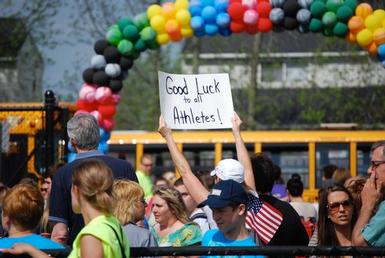 More than 800 student athletes from OCM BOCES and various local school districts will be competing in the 2016 Special Olympic Games on May 19, 2016 at Cicero-North Syracuse High School. A Parade of Athletes will kick off the day at approximately 10:30 a.m. with athletic competitions lasting until approximately 1:30 p.m. The rain date for the event is Thursday, May 26, 2016.
Athletes will compete in track and field events including the 50m, 100m, 200m and 400m dashes, running long jump, standing broad jump, softball throw and shot put. There will also be adapted events, including walking with and without assistance, as well as wheelchair races.
Special Olympics games promote fitness, coordination and cardiovascular improvement. Additional benefits include self-confidence, discipline and self-esteem. Please come and cheer on the athletes!