District News
Next >> Viewing 1 - 20 of 112 stories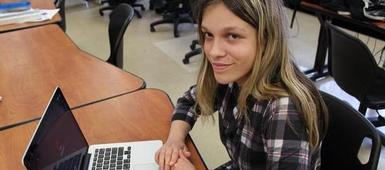 OCM BOCES student wins GOLD KEY award:

Gold Key Winner Congratulations to Cincinnatus senior Mary Rose, an OCM BOCES Career & Technical Education student who won a first-place Gold Key award in photography this year in the annual Scholastic Arts & Writing Contest. Rose and other winners were expected to be honored Thursday (1/11) at Onondaga Community College, where all of their work is on display. Rose, a student in Tanya Komar's Graphic Communications class at the Cortlandville Campus, took a photograph from the haunting and vaulted ruins of Eastern State Penitentiary in Philadelphia, one of the most famous prisons in the world because of its grand architecture and notorious criminals, including drug lord El Capo and mobster Al Capone. Rose ...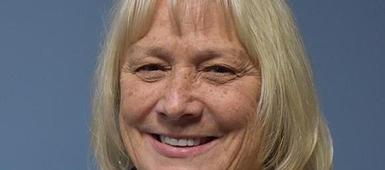 Karen Clark retires after 30 years:

Karen Clark has been passionately devoted to her job as director of Alternative Education at OCM BOCES, a division now called Innovative Education. Her 30-year career will wrap up at this end of this month, when Clark will retire and hand the reigns to Chris DiFulvio, who previously worked as principal of the Career & Technical Education program at the Cortlandville Campus. Clark says she has been "extremely lucky" to have a career she loved. First and foremost, she loved the students who walked through the doors of Cortland Alternative School (CAS), a program that will always hold a special place in her heart. At the outset of her career, Clark helped design and implement the ...

Hot off the presses: OCM BOCES Annual Report:

Check out the latest OCM BOCES Annual Report, which highlights just a few of our many achievements during the past year. You may even learn something new. For example: OCM BOCES saved our districts $62 million through cooperative purchases in 2016-2017. Students, staff and guests celebrated the first graduating class last June at Innovation Tech, the first New Tech school in Central New York. Twenty-three graduates from six districts walked across the stage. The OCM BOCES STAC Service has grown by an average of 41% annually since it began in 2012. The service helps districts with the state aid requirements involved with high-cost students. Read the full report here.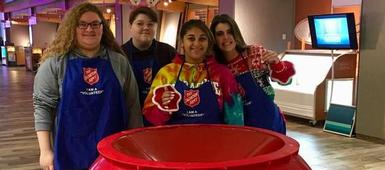 Students embrace Rachel's Challenge:

With an emphasis on creating a "chain reaction" of kindness and compassion, Rachel's Challenge fits in nicely with the spirit of the holidays. The long list of activities taking place in OCM BOCES programs is impressive, especially since students and staff involved in the "Friends of Rachel" (FOR) clubs are exceptionally committed to promoting a culture of kindness in our schools. Here are some updates submitted by OCM BOCES staff: Cortland Alternative School The school has launched a "Caught Red Handed" campaign in which ...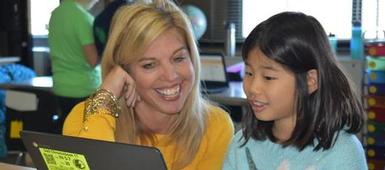 Learn more about the Homer Central School District:

OCM BOCES District Superintendent Jody Manning is working with the Homer Central School Distrct's Board of Education in their search for the next leader of their great District. The Board has laid out a well-considered tentative timeline and carefully outlined steps to ensure a hiring process that brings the most highly qualified pool of candidates to interview. The Board invites prospective candidates to learn more about their district and community by watching the above video. Click here to view the video in YouTube.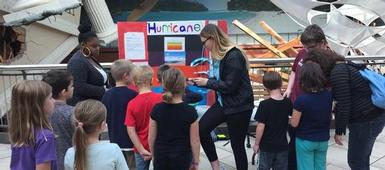 "Disaster" at WonderWorks:

Sixteen students from Innovation Tech displayed their research on natural disasters this month outside the WonderWorks attraction at Destiny USA. Mall guests and about 150 students from Syracuse and Fabius-Pompey visited the displays and asked questions. Innovation Tech facilitators Kyle L. O'Sullivan and Segan Johnson said students initially took a tour of a natural disaster display at WonderWorks. Later, they jumped into their own research on tornadoes, hurricanes, tsunamis, earthquakes and volcanoes. Students had to incorporate tactile and visual elements and develop a concise pitch to communicate their findings. The project stemmed from an Earth Comm class that combines Earth Science with communications. Find more on the Innovation Tech Facebook page . Students ...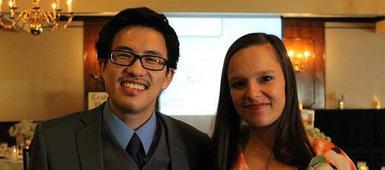 Student of the Year Recognized:

A single mother who received her high school equivalency diploma at OCM BOCES was recently honored as a 2017 Student of the Year by the New York Association for Continuing/Community Education. Rebecca Jones was one of 20 recipients recognized for her intelligence, hard work, determination and commitment to success, said her OCM BOCES literacy teacher, Timothy Y. Jachim. She and the other recipients were also honored because each had to overcome hardships and obstacles to achieve their goals. For Rebecca, of Memphis, the decision to drop out of school as a sophomore had made her life difficult. Later, while pregnant with a son, she decided to pursue a high school diploma to build a better life for both of them. She did not pass the TASC test the first time around, ...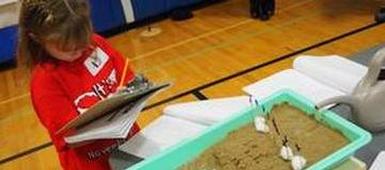 Sold-out crowd expected for "It's Go Time!" conference:

Educators prepare for new state science standards With new state science standards in effect since July 1, another sold-out crowd of teachers and administrators from across the state will converge on Roxboro Road Middle School on Nov. 7 for a conference that brings together national leaders in science education; "live" science lessons featuring Central New York teachers and students; and a special focus on providing equitable and rigorous content for students of all backgrounds. The event marks the second year of a unique collaboration between the Onondaga-Cortland-Madison Board of Cooperative Educational Services (OCM BOCES) and the Syracuse University School of Education. Support is also being provided ...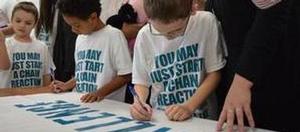 Rachel's Challenge in full swing at OCM BOCES:

Chain Reaction of Kindness Rachel's Challenge is going gangbusters at schools throughout OCM BOCES, with students and staff enjoying "high-five Fridays," complimentary popcorn, walls of inspirational quotes and many more activities designed to promote and sustain a culture of kindness in our schools. In September, students and staff in every building heard emotional presentations from the organizers of Rachel's Challenge, a program that evolved from the deadly Columbine High School shooting in Littleton, Colorado, on April 20, 1999. In that tragedy, 16-year-old Rachel Joy Scott was the first of 13 students killed in the shooting. Rachel's Challenge ...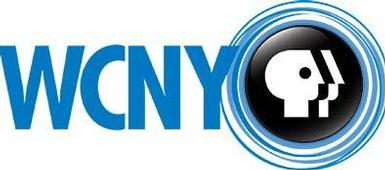 Media Marketing Communications Students become acquainted with new environment in unique way:

Students new to OCM BOCES' Media Marketing Communications (MMC) program, which is embedded at WCNY in Syracuse, received a unique orientation for the 2017-2018 school year. WCNY staff invited the students to participate in a game of Human Bingo for the purpose of becoming acquainted. The object of the game was to find and communicate with someone that met specific criteria and to then place their name in the appropriate square. Participants were required to ask additional questions to learn more about the person. Staff needed to have all student names in a row and students needed to have all staff names in a row. Staff learned students' names and what they aspired to and students learned who staff members were and the role they played at WCNY. ...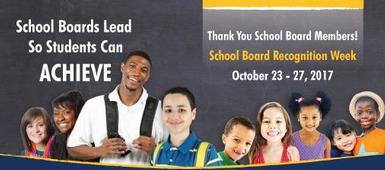 School Board Recognition Week set for October 23-27:

The New York State School Boards Association recognizes October 23-27 as School Board Recognition Week. This is a time to promote awareness and understanding of the important work performed by school board members. OCM BOCES is joining all public school districts across the state as we celebrate School Board Recognition Week in honor of our board of education members' commitment to students. "It takes strong schools to build a strong community, and these men and women devote countless hours to making sure our schools are helping every child learn at a higher level," Dr. Jody Manning, OCM BOCES District Superintendent said. "They make the tough decisions every month and spend many hours studying education issues and regulations in order to provide the ...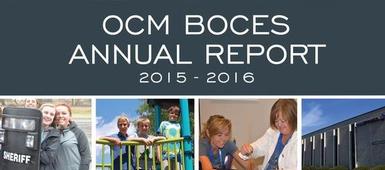 OCM BOCES Receives State PR Awards:

OCM BOCES is pleased to announce that our crew of communications professionals received eight awards in the statewide 2017 New York School Public Relations Association Communications Contest. Our communications professionals work at the main campus of OCM BOCES in Salina and at the Central New York Regional Information Center in Syracuse. They also work for many of our local school districts in the region. Winning entries included: Annual Report ( OCM BOCES 2015-2016 Annual Report ) Video ( OCM BOCES Transitions Program at SUNY Cortland and Onondaga Community College) Overall Graphics and Design (CNYRIC, Digital Signage Displays) Budget/Bond Newsletter (Lansing Central School District, 2017-2018 Budget Newsletter) Calendar (Union Springs Central School District, ...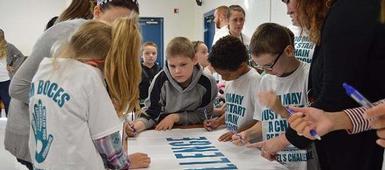 Rachel's Challenge underway at OCM BOCES:

This year, students and staff at OCM BOCES have pledged their commitment to "Rachel's Challenge," a national program that promotes a culture of kindness, respect and compassion in schools and communities. Rachel's Challenge stems from the deadly Columbine High School shooting in Littleton, Colorado, on April 20, 1999. In that tragedy, two armed teens killed 13 people and wounded two dozen others before taking their own lives. Rachel Joy Scott was the first victim of the shooting. "We know this program has created a huge impact in schools and communities across the country, so we are very excited to launch it at OCM BOCES and hopefully see it flourish in the months and years to come," ...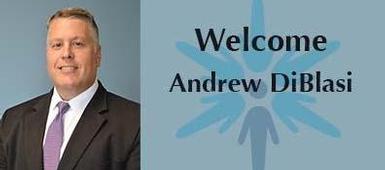 Andrew J. DiBlasi named top OCM BOCES business official:

Andrew J. DiBlasi, an 18-year school business official, has been appointed as the new assistant superintendent for administration for the Onondaga-Cortland-Madison Board of Cooperative Educational Services (OCM BOCES). DiBlasi will replace Deb Ayers, who is retiring in October after 17 years of exemplary service to the organization. The OCM BOCES Board of Education voted unanimously for DiBlasi's appointment at its monthly meeting Thursday. He will start Oct. 2. DiBlasi has spent the past 16 years as the assistant superintendent for business for the Red Creek Central School District. Encompassing portions of Wayne and Cayuga counties, Red Creek is a high-need, high-performing district located along ...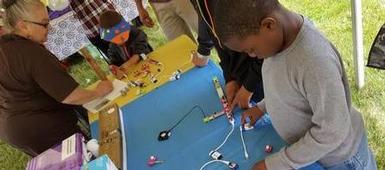 Al Stirpe secures BOCES, OCPL a $31,000 Maker grant:

Onondaga-Cortland-Madison BOCES and Onondaga County Public Libraries (OCPL) will receive $31,000 to pursue a Collaborative Maker Labs project thanks to the efforts of New York State Assemblyman Al Stirpe (D-Cicero). The project is designed to bring experiences with science, technology, engineering, art and mathematics (STEAM) to young learners. "I selected this project because it will bring hands-on STEAM learning to many more children in the region," Assemblyman Stirpe said. "Sharing these kits at libraries and schools across the county multiplies the access to this important educational programming and encourages interests in these fields, which are so crucial to our future.'' The funds will be used to purchase a variety of Mobile Maker Lab kits that ...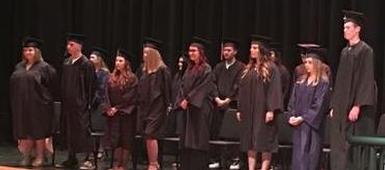 Congratulations OCM BOCES STARS Class of 2017!:

Congratulations OCM BOCES STARS Class of 2017! Alexander Barker - Liverpool Erika Barnes - Baldwinsville Jake Ciferni - West Genesee Arianna Corron - Liverpool Julia Dias - East Syracuse Minoa Derek Dore - Westhill MacKenzie Flynn - Marcellus Jordyn Freeland - Marcellus Shaun Gebo - North Syracuse Madelyn Giudice - West Genesee Kayli Hayes - Liverpool Matthew Hoag - Marcellus Patrick Licaretz - Liverpool Kali Mensch - North Syracuse Joseph Murray - North Syracuse Caighley Ostrander - North Syracuse Curtis Palmowski - Baldwinsville Courtney Radley - Liverpool Erica Ward - Liverpool Esther Clifford - Westhill Brianna Edmonston - Baldwinsville Melody Gromley - Liverpool Cameron LaRiviere - Liverpool Jerrod Sass - Liverpool Merrick VanDerMark ...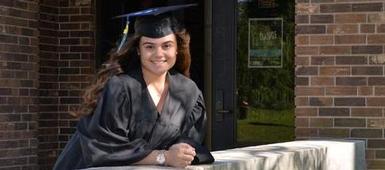 Innovation Tech's Class of 2017 is first-ever graduating class for school!:

The first class of high school graduates from the first "New Tech" school in Central New York walked across the stage recently to accept their diplomas and celebrate their successes. Twenty-three graduates from Innovation Tech in Liverpool graduated June 21 at Onondaga Community College's Storer Auditorium. The school opened its doors in September of 2014 through the Onondaga-Cortland-Madison Board of Cooperative Educational Services (OCM BOCES). Students in the Class of 2017 came from six Central New York school districts: Baldwinsville, Fayetteville-Manlius, Liverpool, Marcellus, North Syracuse and West Genesee. One student, Avery Pearl Frank, attended through the Fayetteville-Manlius School District. During her graduation speech, she said Innovation ...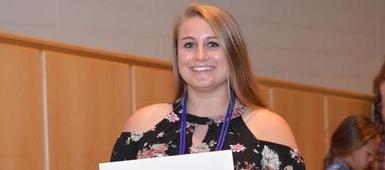 Nearly 400 OCM BOCES students earn CTE Endorsements on their high school diplomas:

Jade Hendricks from the Tully CSD received a CTE Endorsement in Physical Therapy Nearly 400 students from the 23 component school districts of Onondaga-Cortland-Madison BOCES have earned the distinction of receiving a New York State Career and Technical Education (CTE) Endorsement on their 2017 high school diploma. Earning a CTE Endorsement is considered a distinction of honor. Having achieved the designation demonstrates a student's academic strength and signifies their readiness to enter the workforce or enroll in college. "Earning a CTE endorsement is a complex process, requiring a student's excellence in their field of study, as the tests are developed according to industry standards and the endorsement signifies that students have attained the ...
OCM BOCES seeking applicants for Assistant Superintendent for Administration:

OCM BOCES is seeking applicants for the leadership position of Assistant Superintendent for Administration. We are seeking a highly qualified individual to join our focused administrative team. The successful candidate will promote the BOCES ideal of collaboration among school districts, colleges, service agencies and business partners throughout the region. The ability to communicate with and facilitate constituent groups is critical, along with the ability to ensure effective and efficient use of resources. The candidate should be politically informed and have a solid understanding of applicable provisions of the Education Law, regulations of the Comptroller and the Education Department, including but not limited to those pertaining to BOCES and school district funding, BOCES and school ...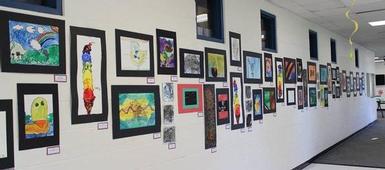 Crown Road Campus students present first art show:

On Wednesday evening, May 24, students from various programs at OCM BOCES' Crown Road Campus presented their First Annual Collaborative Fine Arts Show. The exhibit featured art work from all students in STRIDES, Stellata and Crossroads programs, as well as many instrumental and vocal soloists. We were also fortunate to feature several performances and artwork from students at McEvoy who live in the Syracuse area. Student's in Mrs. Wilkinson's culinary classes provided delicious desserts for over 200 families and friends who came to support our students. We are so proud of all our students' hard work and accomplishments, and grateful to see so many supportive staff members. We hope it will be the first of many! ...
Next >> Viewing 1 - 20 of 112 stories