District News
Next >> Viewing 1 - 20 of 172 stories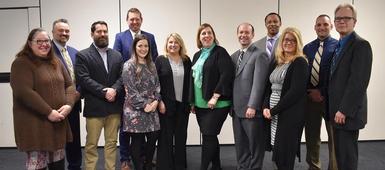 New Aspiring Leaders program kicks off:

Jan. 14, 2020 A new program aimed at developing high-quality school leaders kicked off Tuesday at the OCM BOCES Main Campus, where the first group of seven candidates enjoyed a night of dinner and introductions with their families, mentors and other educators. The Aspiring Leaders Institute will provide candidates with these unique advantages as they start their journey into the world of educational administration: An inaugural leadership course that includes mentor support from their home districts. A guaranteed internship at a school district in our region. A guaranteed acceptance into one of five universities that offer administrative degrees and are partnering with ...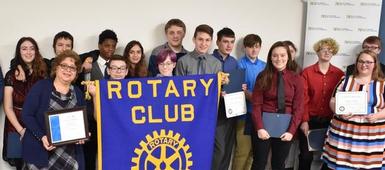 Seven Valleys holds second Rotary Interact Club Student Induction:

Congratulations to the 17 students from Seven Valleys New Tech Academy in Cortland who were inducted into the Rotary Interact Club on Jan. 13. This is the second induction ceremony held at Seven Valleys. The club now has 31 students committed to volunteering in their community. Rotary Interact is a community service organization that offers opportunities for students to do meaningful volunteer work. The "Interact" stands for International Action and serves as a symbol of the impact the club has on not only the immediate Cortland community, but also the international community. The partnership with Seven Valleys and Rotary Interact Club started in fall 2018 and was initiated by Seven Valleys Spanish Facilitator Maria Gimma through the Cortland ...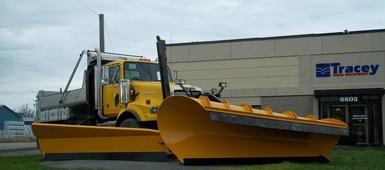 OCM BOCES Partners with Tracey Road Equipment:

Onondaga-Cortland-Madison BOCES is excited to announce a new partnership with Tracey Road Equipment that will offer students the unique opportunity to learn essential skills in the operation and repair of heavy equipment and heavy-duty diesel trucks. The program is set to launch in the 2020-21 school year. An open house detailing this program (and what it will mean for students) will be held from 6-8 p.m. on Monday, Feb. 3 at Tracey Road Equipment (6803 Manlius Center Road, East Syracuse, NY 13057). All are welcome. A presentation will begin at 6:30 p.m. with tours of the facility to follow. The program, called Heavy Equipment Repair, Operation and Diesel Technology, will be an two-year embedded Career and Technical Education program. Students will work side-by-side with ...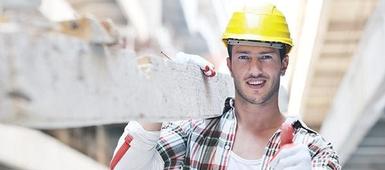 Learn more about Adult Education program openings:

Openings are available for many of our full-time programs, including Central Sterile Processing, Dental Assisting, Medical Assisting, Construction and Welding. Opportunity awaits – learn more by visiting our website, calling 315-453-4400, or stopping by an Open House at 1 p.m. every Thursday at our Main Campus in Liverpool, 110 Elwood Davis Road. Register now for a health-care career in Central Sterile Processing Openings are available in our full-time Central Sterile Processing certification program, which offers comprehensive training and a 200-hour internship for students in the area of procuring surgical supplies and sterile equipment used in patient care. This 21-week training program addresses the basics of medical terminology, infection ...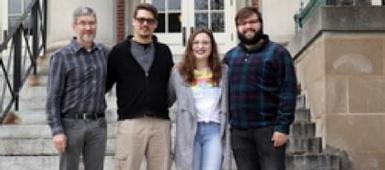 SUNY Cortland writers share expertise with Seven Valleys:

Picutred are the students from the SUNY Cortland Writers Association and professor David Franke. An excellent learning opportunity for students at SUNY Cortland and Seven Valleys took place in November when members of the college's Cortland Writers Association and professor David Franke (in photo) traveled to Seven Valleys to work with students on honing their writing skills. BOCES students were divided into small groups and given a brief creative writing assignment, followed by a group reflection on the work. Both the SUNY students and BOCES students and staff enjoyed the experience so much, they hope to schedule another event in February. Here is the full story on the SUNY Cortland webpage. The same story appeared in the Cortland Standard.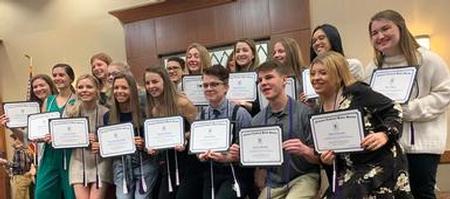 209 students inducted into National Technical Honor Society:

Top-performing students in Syracuse and Cortland honored in National Technical Honor Society OCM BOCES recently inducted Cortland- and Syracuse-area students into the National Technical Honor Society (NTHS). Students who qualify for induction into the NTHS represent the top-performing students in a wide variety of Career & Technical Education programs. To be inducted, students must have an 85 grade-point average or higher, 12 or fewer absences, and a teacher recommendation. Students must also demonstrate attributes that include respect, honesty, skill, responsibility, leadership, service and citizenship. Here is the complete list of students who were honored: SYRACUSE ...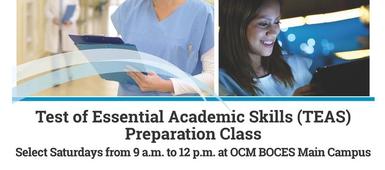 New Class Alert: LPN TEAS Prep Class:

OCM BOCES is now offering a Test of Essential Academic Skills (TEAS) Preparation Class for interested Licensed Practical Nurse (LPN) students. The class will be offered on select Saturdays, from 9 a.m. to 12 p.m. To register for the class, visit our part-time continuing education website registration and use class code CEMED1200.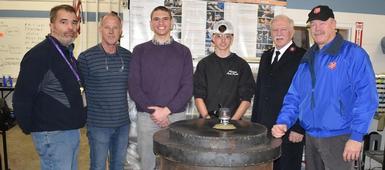 OCM BOCES students make red kettle for Salvation Army:

Photo courtsey of Brandon Roth at CNY Central When the Salvation Army put out the call for help for a new red kettle design, the OCM BOCES Welding and Auto Collision classes answered in a big way. Students at the Thompson Road Campus recently worked together to design, build, and paint a new kettle for the Salvation Army's red kettle campaign. For the OCM BOCES welding and auto collision classes, this was one of the biggest projects they have worked on so far, as the design for the red kettle created at OCM BOCES will now be used as a prototype throughout the state. East Syracuse Minoa junior Caleb Thomas created the design for the kettle after his welding teacher, Duane Debejian, asked if he wanted to work on something "different." Debejian worked ...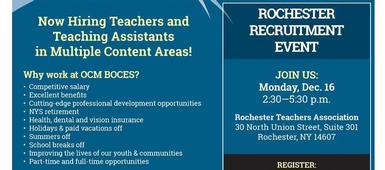 Join us at the Rochester Recruitment Event!:

Onondaga-Cortland-Madison BOCES will be at the Rochester Teachers Association on Monday, Dec. 16 from 2:30-5:30 p.m. for teacher and teaching assistant recruitment . OCM BOCES is now hiring teachers and teaching assistants in multiple content areas, for long-term positions. If possible, please register by calling (315) 433-2638 or emailing tgilligan@ocmboces.org. We hope to see you there! Learn more about career opportunities with OCM BOCES at ocmboces.org/careers .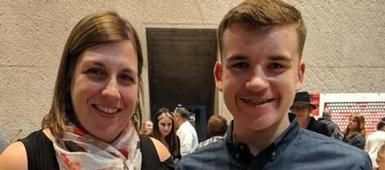 Student photo wins big honor in Everson contest:

Photo by Braeden Hawkins Congratulations to Braeden Hawkins , a student at Innovation Tech, for being one of 23 finalists out of 148 entrants who submitted photos for the 11th Annual Bousquet Holstein Photography Contest at the Everson Museum. The contest was open to high school students in Onondaga County. Its theme, "Reflecting our World," was inspired by the work of Yoko Ono, who had a show on display this fall at the Everson. For the contest, students were asked to "create images that are irreverent, reflect living art and the art of the living, embody the unconventional and the revolutionary, and that champion the art of our everyday lives." In the photo, Innovation Tech Facilitator Christine Alexander poses at the Everson ...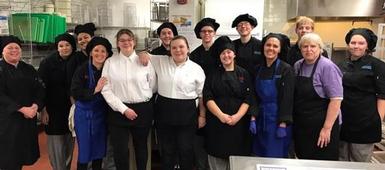 Cortlandville hosts Cortland Madison School Boards Meeting:

Culinary and New Vision Environmental Science students collaborated in a unique way recently at the Cortland-Madison School Boards Association Annual Meeting. Under the guidance of instructor Madison Keehfus , culinary students prepared an elegant dinner, including a salad that used ingredients provided by the New Vision Environmental Science class (led by instructor Chad DeVoe ), including the greens and maple syrup for dressing. Great job to our students for working together to make the dinner a success! At the meeting, ISS Consultant Support Services Coordinator Janel Payette also provided an overview of the vaping epidemic. She discussed the dangers of vaping, the devices being used, the physical and emotional effects, and many available resources ...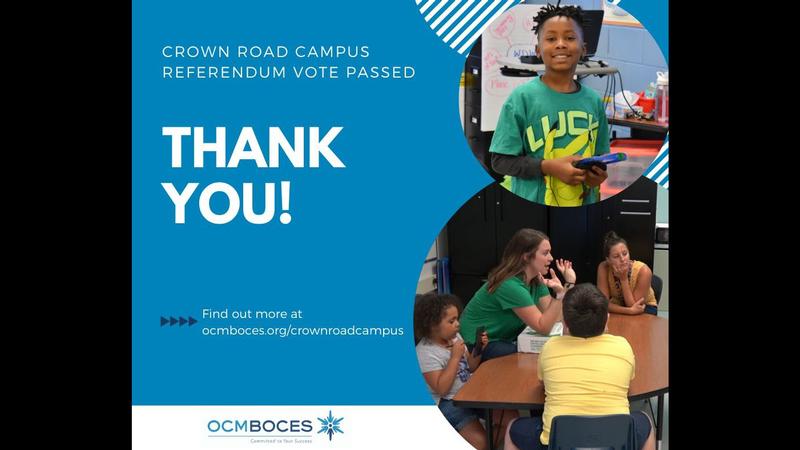 Thank you for supporting the Crown Road referendum!:

Our Crown Road referendum passed! OCM BOCES can now end its 32-year lease at our campus in Liverpool and purchase the site for $12.85 million, resulting in a conservative estimated savings of $2.2 million for our 23 component districts over the next 20 years. The final vote was 772-162 in favor. "The result is a win-win for our districts, our taxpayers, our staff, and most of all, our students," OCM BOCES Deputy Superintendent Colleen Viggiano said. "It is comforting to know that a campus that was built for our OCM BOCES students will continue to provide a quality learning environment in a central location for many of our districts. Thank you to everyone who voted and supported us in any way." The Crown Road Campus at 4500 Crown Road serves about 250 ...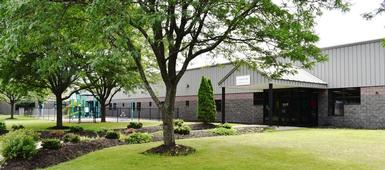 Crown Road Campus purchase public vote Nov. 19:

Picured is the OCM BOCES Crown Road Campus Voters who live within the school districts of the Onondaga-Cortland-Madison BOCES will be asked to decide Nov. 19 if the educational agency should end its 32-year lease for a campus off Crown Road in Liverpool and purchase the facility for $12.85 million. The purchase would result in no additional costs for the 23 school districts that participate in shared services through OCM BOCES, said OCM BOCES Deputy Superintendent Colleen Viggiano. Based on a financial analysis of the proposal, the purchase could save districts an estimated $2.2 million over the next 20 years, she said. The districts in the OCM BOCES region are Baldwinsville, Cazenovia, Chittenango, Cincinnatus, ...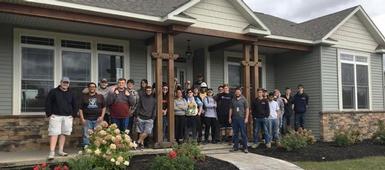 Students get a behind-the-scenes look at Parade of Homes:

Construction students from our Thompson Road and Cortlandville campuses received a "contractor view" of the 2019 Parade of Homes in Clay. While there, they inspected the latest construction techniques, materials, and trends incorporated into the parade's new development, dubbed the "Wildflower" neighborhood. Construction company executives such as Joe Grosso of JMG Custom Homes shared details of current employment opportunities and how young people seeking to enter the home-building business can best prepare for that future. In the photo, students David Hildreth and Dylan Williams , both of Baldwinsville, examine a roof truss feature for one of the homes. The technique was similar to one they practiced on a house they are building ...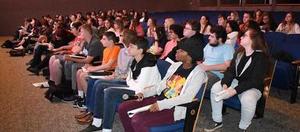 Kickoff project at Innovation Tech focuses on discrimination:

High school students at Innovation Tech jumped into a serious and complicated topic to kick off the new school year. Working with community leaders from several non-profit organizations, students gained multiple perspectives on the history of housing discrimination and racial segregation in Central New York. Later, they researched and pitched proposals for a variety of student-led projects aimed at increasing awareness, promoting diversity and helping those in need. Students have now launched five projects that range from designing and selling a new, artistic clothing line to offering free haircuts and manicures for clients at the Rescue Mission Alliance, an emergency shelter in Syracuse. ...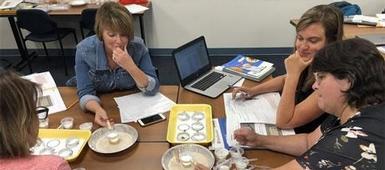 Training Never Stops in ISS:

Our team of trainers in Instructional Support Services (ISS) worked hard over the summer to offer workshops and conferences on multiple topics for educators in our 23 component districts. Some of the most hands-on work focused on the continued rollout of the state's Next Generation Science Standards.The OCM BOCES Science Center has been busy preparing unit materials for the 1,656 classrooms that will be receiving Smithsonian Science units this year. STEM Coordinator Chris Leece and trainer Holly Baldwin have been providing professional development this summer for some of this year's newest titles including: 4th Grade: How Does Motion Energy Change in a Collision? 6th Grade: Space Systems Exploration ...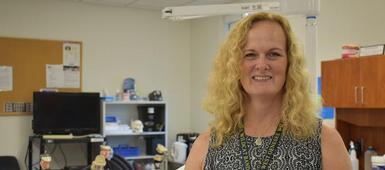 Meet Nancy Chappell, Adult Ed instructor and survivor:

Sept. 23, 2019 Teaching dental assisting students at OCM BOCES is familiar and comforting to Nancy Chappell, who re-joined the Adult Education program this fall after working as the full-time instructor for 14 years, from 2001 to 2015. "It's a good distraction," she said. Those words are an understatement for Nancy, who speaks openly about a tragedy last year that took the life of her 37-year-old son, Stephen Gudknecht, a father of two. In the early morning hours of Sept. 15, 2018, Gudknecht and a co-worker, Kristopher Hicks, 29, were killed by an ex-employee at the Chili's Bar & Grill in DeWitt. Gudknecht worked as a manager there. The gunman, William Wood Jr., was sentenced last April to life in prison without parole. ...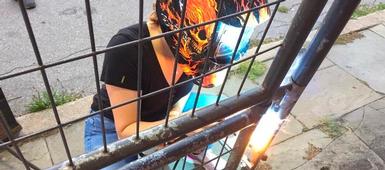 Welding student gives Helping Hounds a hand:

Lending a helping hand, Alivia welds a kennel at Helping Hounds. Alivia Allen, a senior from Baldwinsville, is helping an organization she loves because of the welding skills she picked up in the OCM BOCES Career & Technical Education program at our Thompson Road Campus. Since last spring, Alivia has fixed three kennels at the Helping Hounds Dog Rescue on Kinne Road in DeWitt by welding doors and fixing wiring. Until Alivia volunteered, the organization had put the kennels out of commission and expected to hire a professional welder to get them fixed. Instead, Alivia did the work herself with a little guidance from her father, Randy. "It felt really good to help them out like that and save them hundreds of dollars to hire a welder," said Alivia, ...
Next >> Viewing 1 - 20 of 172 stories